Monster Cookies are among my all-time favorites, but they're huge and more suited for bake sales. Flourless Oatmeal Peanut Butter Cookies are the baby version of Monsters.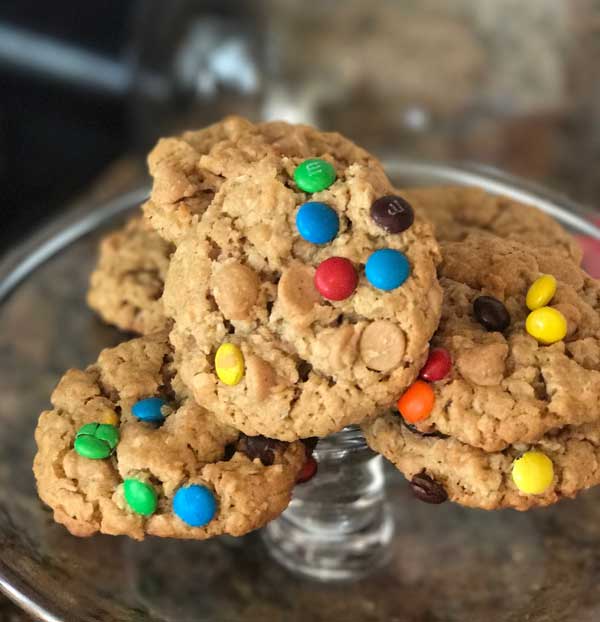 In fact, I would have called them "Baby Monsters" had I not wanted to emphasize the fact the cookies are made without flour and gluten-free. Gluten or no gluten, they're good cookies and easy to throw together.
Small Batch Flourless Oatmeal Peanut Butter Cookies
I love these cookies so I've scaled the recipe down quite a bit using these measurements: 1 tablespoon (14 grams) butter ¼ cup (64 grams) peanut butter (sweetened, like Jif or Peter Pan) 2 tablespoons plus 2 teaspoons (33 grams) of granulated sugar 2 tablespoons plus 2 teaspoons of brown sugar (33 grams) pinch of salt ¼ teaspoon vanilla 2 tablespoons lightly beaten egg (24 grams) ¼ teaspoon plus a tiny pinch of baking soda ¾ cup oats, handful of M&Ms, peanut butter chips, chocolate chips
Soften the butter and put it in a mixing bowl with peanut butter both sugars. Beat with a spoon or a handheld mixer until creamy, then beat in salt, vanilla and egg. Beat for 30 seconds, then beat in baking soda, making sure it is evenly blended. Add the oats and stir until blended, then add the candies. Shape into 8 or 10 balls. Arrange 2 ½ inches apart on a baking sheet and bake until done (350 for 10 to 12 minutes)
Recipe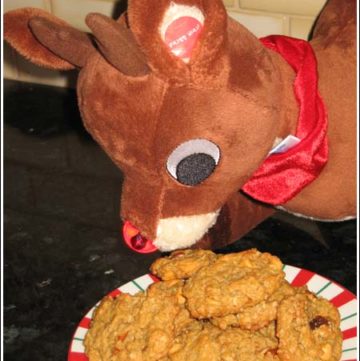 Flourless Oatmeal Peanut Butter Cookies
Flourless Oatmeal Peanut Butter Cookies aka "Baby Monsters" have both peanut butter and peanut butter chips. Mini M&Ms are optional, but cute!
Ingredients 
4

tablespoon

unsalted butter

softened

1

cup

peanut butter

⅔

cup

granulated sugar

⅔

cup

packed light brown sugar

⅜

teaspoon

salt

1 ½

teaspoons

vanilla extract

2

large eggs

1 ¼

teaspoons

baking soda

3

cups

quick cooking gluten-free oats

1 ⅓

cups

peanut butter chips

⅓

cup

Mini M&Ms
Instructions 
Preheat oven to 350 degrees F. Have ready two parchment or foil lined baking sheets.

Beat the softened butter, peanut butter and both sugars until creamy. Add salt, vanilla, eggs and baking soda and beat for about 30 seconds.

Stir in oats, peanut butter chips and M&Ms (if using).

Drop by tablespoons onto a greased or parchment lined baking sheet.

Bake 350 degrees for 10-12 minutes or until edges just start to browln.

Let cool on cookie sheet 5 minutes before removing to cooling rack, then let cool completely.
Notes
Oats are naturally gluten-free, but the ones labeled gluten-free are made in facilities where they won't be cross contaminated with wheat.