Today's recipe was inspired by a sherbet cake in Essentially Lily: A Guide to Colorful Holidays. Mine's not quite the same because I just flipped through the book in the library then came home and made it as I remembered, but it's pretty close.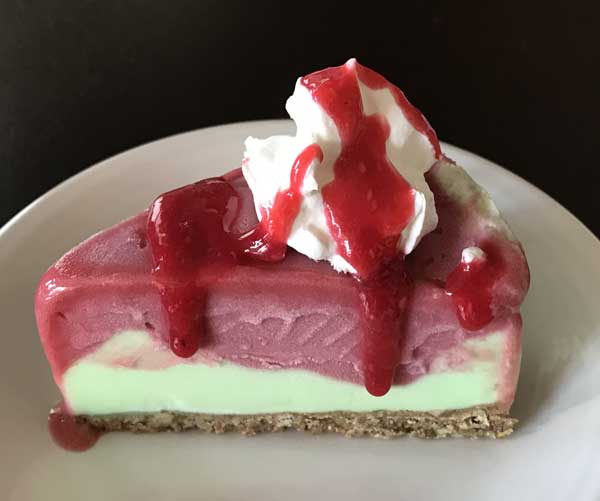 Sherbet Cake or Pie?
It's made in a 9 inch springform pan and has a vanilla wafer & pecan crust, two layers of sherbet and a topping of whipped cream and raspberry sauce. For me, the most helpful tool turned out to be the food processor, which I used for the crumbs, whipped cream and raspberry sauce. The raspberry sauce was excellent and worth making even if you don't want to bother with the sherbet cake. I actually halved the recipe so I wouldn't have to use as many berries.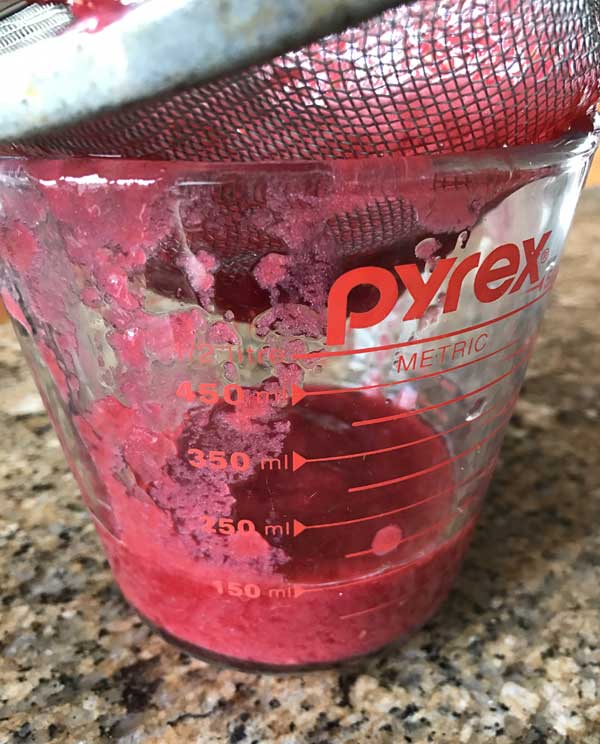 Vanilla Wafer Crust
Another way to save some money on this is to make your own vanilla wafers. A half batch of Alton Brown's recipe will give you more than enough for the crust, plus some leftover for eating.
And finally, for those of you who like the idea but don't have a lot of people around to enjoy the final product, try halving the recipe and using a 6 inch round cake pan. Just line the inside of the pan with nonstick foil, build the sherbet cake as directed, then lift from pan and remove foil before serving and decorating.
Recipe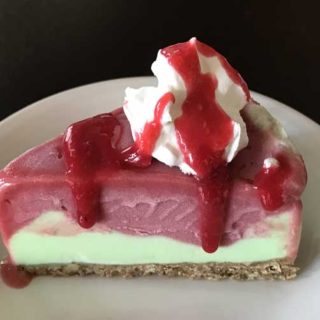 Sherbet Cake
Raspberry Lime Sherbet Pie
Ingredients 
2/3

cup

80 grams vanilla wafer crumbs

1/3

cup

40 grams chopped pecans

2

tablespoons

25 grams sugar

2

tablespoons

28 grams melted butter
Filling
1

quart

lemon or lime sherbet
Raspberry Sauce:
2

cups

fresh raspberries

3-4

tablespoons

granulated sugar

1-3

teaspoon

fresh lemon juice

1

quart

raspberry sherbet

or sorbet
Topping:
1/2

cup

heavy cream

2

tablespoons

confectioners' sugar

1

teaspoon

vanilla extract
Instructions 
Preheat to 350 degrees F. Lightly butter a 9 inch round springform pan.

Process crumbs, pecans and sugar until blended, then add butter and pulse to mix. Empty crumbs into pan and press tightly. Bake for about 10 minutes. Let cool completely on a wire rack.

Soften the sherbet a bit, then place it in a bowl and mash it around to soften even more. Spread evenly over cooled crust, cover with a layer of plastic wrap and freeze until firm. Repeat with the raspberry sherbet (or sorbet), softening and then spreading over the lime sherbet.

Cover with plastic wrap and freeze until firm.

Make the raspberry sauce. Puree raspberries, 2 tablespoons of the sugar and fresh lemon juice in a food processor. Taste. Add remaining sugar and lemon juice as needed, and blend again to dissolve sugar. Strain through fine wire sieve into a bowl. Cover and refrigerate until chilled.

When ready to serve, whip heavy cream, confectioners' sugar and vanilla in medium bowl with an electric mixer or in the food processor.

Before serving, loosen the cake from the pan and remove sides. With a knife dipped in warm water, cut into triangles. Garnish individual slices with whipped cream and raspberry sauce.

Alternatively, you can garnish the cake before cutting it. I like to do one slice at a time so that I can keep the ungarnished cake tightly wrapped and frozen.