This is one of my favorite recipes for big, flat chocolate chunk cookies. The recipe was inspired by some giant, floppy, chocolate filled cookies I used to buy in Chicago. I was never able to replicate those cookies exactly, but I came up with this recipe along the way.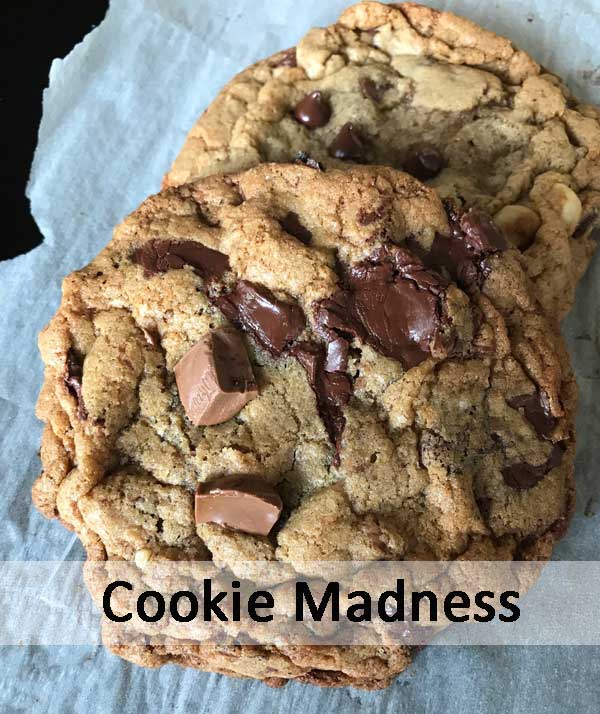 After making them many times and comparing them with the popular pan banging Giant Crinkled Chocolate Chip Cookies, I'd still pick Big Flat Chocolate Chunk Cookies as the favorite.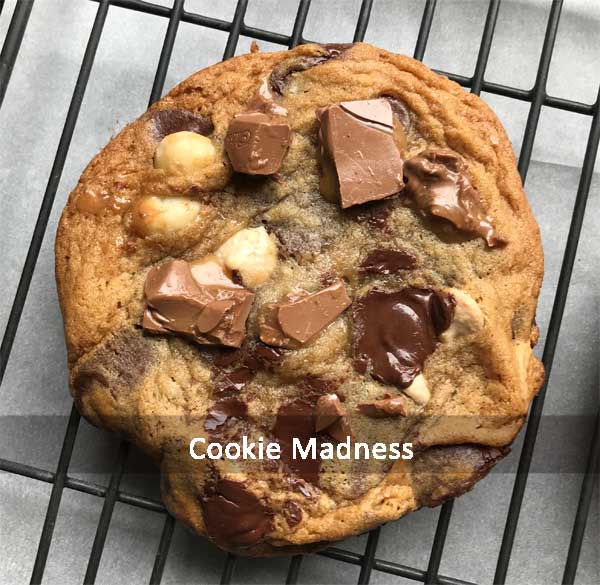 Since posting this recipe I've made a few modifications. The recipe used to call for cake flour, but I've modified it to be made with pastry or all-purpose. You can use any kind of flour so long as the weight is 180 grams. For cake flour that is about 1 1/2 cups plus 2 tablespoons, for pastry flour it's about 1 1/2 cups, for all purpose that is about 1 1/3 cup plus a tablespoon. The only way to get an accurate measurement for the flour is to weigh it. The picture above was made with cake flour, while the picture below was made with Bob's Red Mill whole wheat pastry flour. For the butter I like using European style, but regular unsalted butter works just fine.  Both cookies in the photos were made with store brand butter.
Big Flat Chocolate Chunk Cookie Tips
For this recipe you really need a scale.  You can get by without one, but the cookies won't be exactly the same since I measured by weight.
Flour — You can use 180 grams of cake flour, pastry flour, all-purpose flour or a mix of the two.
The recipe calls for 1 1/2 eggs or egg plus 2 tablespoons. The best way to measure is to just beat two eggs and then weigh out 70 grams total of egg. You'll have about 25 grams left (half an egg) for another recipe.
I've increased the amount of chips to 1 1/3 cups. Use as many chips as you want.
This is a very soft dough! It definitely needs to be chilled.
Recipe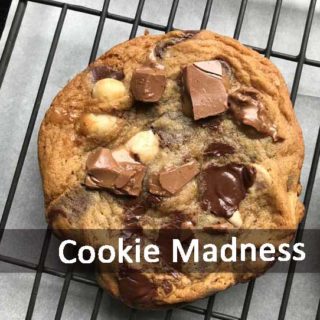 Big Flat Chocolate Chunk Cookies
Chewy Big Flat Chocolate Chunk Cookies
Ingredients 
1

stick

unsalted butter, melted and cooled

(114 grams)

2/3

cup

light brown sugar or mix together light and dark

(140 grams)

1/2

cup

granulated sugar, scant

(90 grams)

1

large

egg

(50 grams)

2

tablespoons

lightly beaten egg

(20 grams)

1 1/2

teaspoon

vanilla

180

grams

cake, pastry or all-purpose flour

Use any flour as long as it's 180 grams.

3/4

teaspoon

baking soda

3/4

teaspoon

salt

1 1/3

cups

bittersweet chocolate chips or 4-6 oz chopped dark chocolate

Optional — macadamia nuts

caramel chips, chopped milk chocolate
Instructions 
Beat melted butter and both sugars with an electric mixer for 1 minute. Add egg and beat again for 30 seconds. Let rest for 5 minutes, then beat again for another minute. Beat in the vanilla.

Mix together the flour, baking soda and salt, then add the flour mixture and stir to form a soft dough. Stir in the chocolate. Dough should be fairly soft at this point.

Chill dough for about 10 minutes or just until it is firm enough to scoop. Scoop about 1/4 cup batter for each cookie onto a couple of foil lined plates or a baking tray (8-10 total). Cover loosely with plastic wrap and chill for two hours or until dough blobs are firm enough so that you can shape them into neater rounds. When they are firm, shape them into neater balls and press down slightly so you have discs. For best results chill overnight, or go ahead and bake.

Preheat oven to 375°F. Line a large baking sheet with parchment paper. Arrange cookies 3 inches apart on the sheet. Put in the oven.

Put the cookies in the 375 degree oven, then close door and reduce heat to 325 degrees F.

Bake cookies for about 15 to 18 minutes, checking at 10 and rotating the pan.

If using milk chocolate, pull from oven and immediately stick milk chocolate pieces into the hot cookies.

Let cool on baking sheet for about 5 minutes, then transfer to a wire rack and let cool completely.