When people ask me for a good chocolate chip cookie recipe, I usually recommend what I call "The New York Times Chocolate Chip Cookie". Popularized in an article by David Leite, it's the recipe made with a mix of bread flour and cake flour. Also, the dough must be chilled for 24 hours. So those are my usual "The New York Times" cookies, but now there is a new New York Times cookie recipe. It's Sara Kiefer's Giant Crinkled Chocolate Chip Cookies aka Pan Banging Cookies,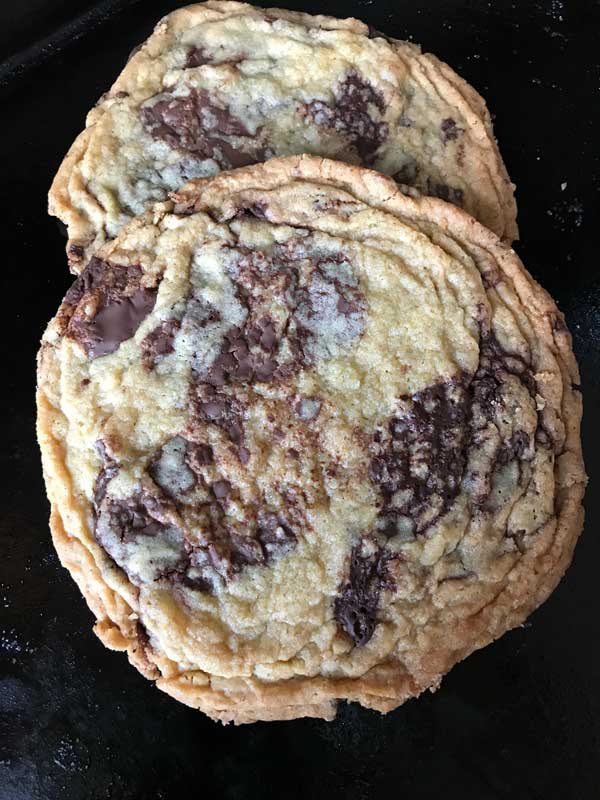 Giant Crinkled Chocolate Chip Cookies
Sara's recipe is also from Julia Moskin, who shared it in the New York Times recipe section. The cookies are flat and wrinkly thanks to a little trick of banging the baking sheet to deflate the puffed dough. I first learned this technique from Sherry Yard's book The Secrets of Baking, but from what I remember Sherry only did it once to make flat cookies. Kiefer bangs the cookies against the rack after the first 10 minutes and then again at 2 minute intervals so that the cookies develop ridges. The cookies spread out into very flat, 5 inch cookies that really showcase the chocolate. The cookie part is sweet and tastes fine, but in my opinion this cookie is all about the big shards of chocolate rippling through.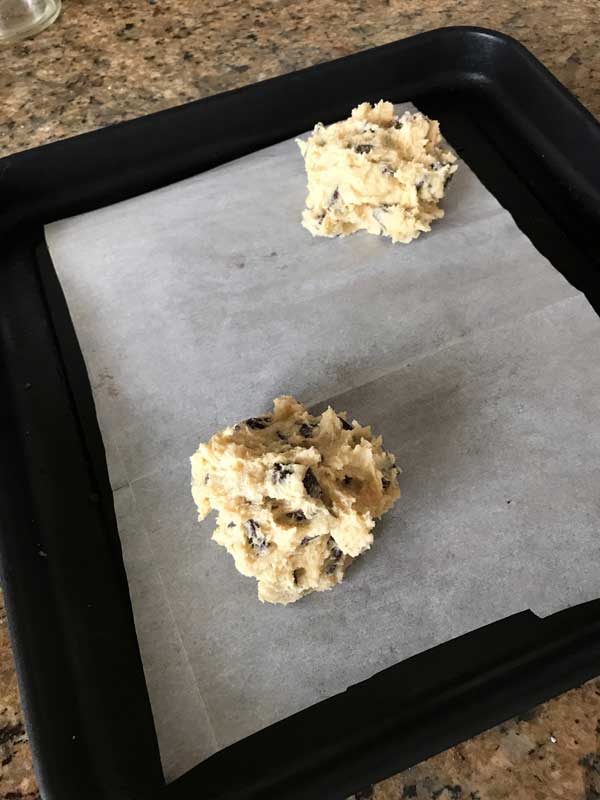 Makes 10 Giant Cookies
This recipe is definitely worth a try. The drawback is it makes only 10 giant cookies. They're great for the family, as gifts for friends or bake sales. Of course for bake sales you'd have to make multiple batches. They do require some babysitting with the 2 minute interval banging. My cookies took even more time because the only tray that would fit in my freezer was a toaster oven tray, and I had to bake 2 cookies at a time.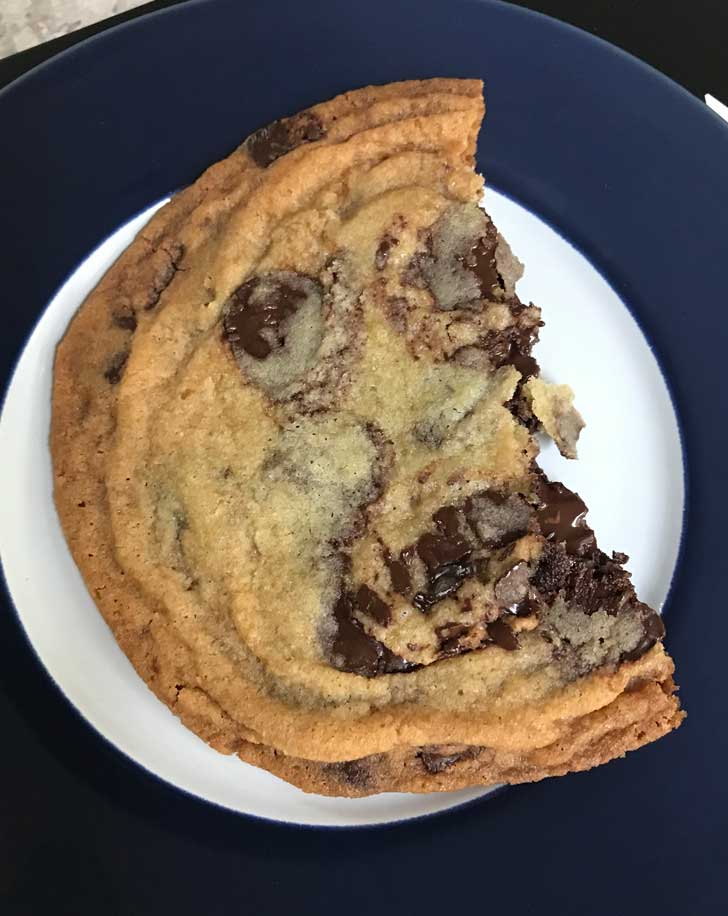 How to Halve an Egg
Now if you are happy about the small yield of the recipe and wouldn't mind an even smaller one, the recipe halves quite nicely. To halve an egg, crack it into a little bowl, beat it with a fork until it is fully blended, then measure out about 2 tablespoons or 22 to 25 grams.
Other Recipes of Interest
Recipe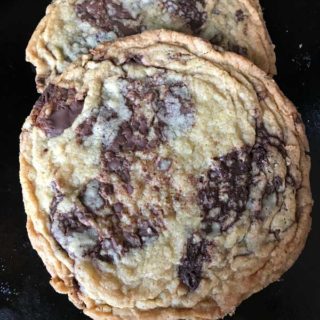 Giant Crinkled Chocolate Chip Cookies
Giant Crinkled Chocolate Chip Cookies are made by baking the cookie dough for 10 minutes, then banging the pan against the rack (or counter) every 2 minutes until the cookies are baked through and have wrinkles.
Ingredients 
2

cups

all-purpose flour

260 grams**

½

teaspoon

baking soda

¾

teaspoon

salt

2

sticks unsalted butter

227 grams

1 ½

cups

granulated sugar

300 grams

¼

cup

light or dark brown sugar

55 grams, I use light

1

large

egg

1 ½

teaspoon

vanilla extract

2

tablespoons

of water

6 to 8

oz

bittersweet chocolate

about 60 percent cacao solids, chopped or use Scharffen Berger Chocolate Chunks
Instructions 
Preheat the oven to 350 degrees F.

Find 2 baking sheets that you can fit in your freezer and line them with foil or parchment.

Whisk together the flour, baking soda and salt; set aside.

With an electric mixer (hand held is fine), beat the butter on medium until creamy. Add both sugars and beat on medium until light and fluffy, scraping bowl.

Add the egg, vanilla and 2 tablespoons water, and mix on low to combine.

Add the flour mixture, and mix with a spoon until combined. Stir in the chocolate.

Scoop the dough up with a ⅓ cup measure and form about 10 balls that weigh in at about 100 grams. Place 4 balls an equal distance apart on a prepared pan that can fit in your freezer. Freeze the pan with the cookie dough on it for 15 minutes.

Place the chilled baking sheet in the oven and bake 10 minutes, until the cookies are puffed slightly in the center. Lift the baking sheet and let it drop down against the oven rack, so the edges of the cookies set and the inside falls back down. Bake for another 2 minutes, then repeat -- lifting and dropping (banging). Repeat again banging at 2 minute intervals until you've baked the cookies for 16 or 17 minutes. This may vary depending on your oven. Do not overbake! The cookies are much better when slightly underbaked. Also, remember to put the second pan with dough in the freezer while the first batch is baking.

Allow the cookies to cool on the baking sheet until they are firm enough to transfer, then let cool completely on a wire rack. I like to continue cooling in the refrigerator to set the chocolate (or leave gooey if you prefer).
Notes
If you don't have a scale, fluff up the flour before measuring and make sure not to pack it into the cup.