Whenever I'm lucky enough to have some good pecans, these are the cookies I make. They're called Pecan Crispies, and they're made with pecans, egg whites, powdered sugar, cocoa, salt and a dash of vanilla.  There's no flour, so they're naturally gluten-free.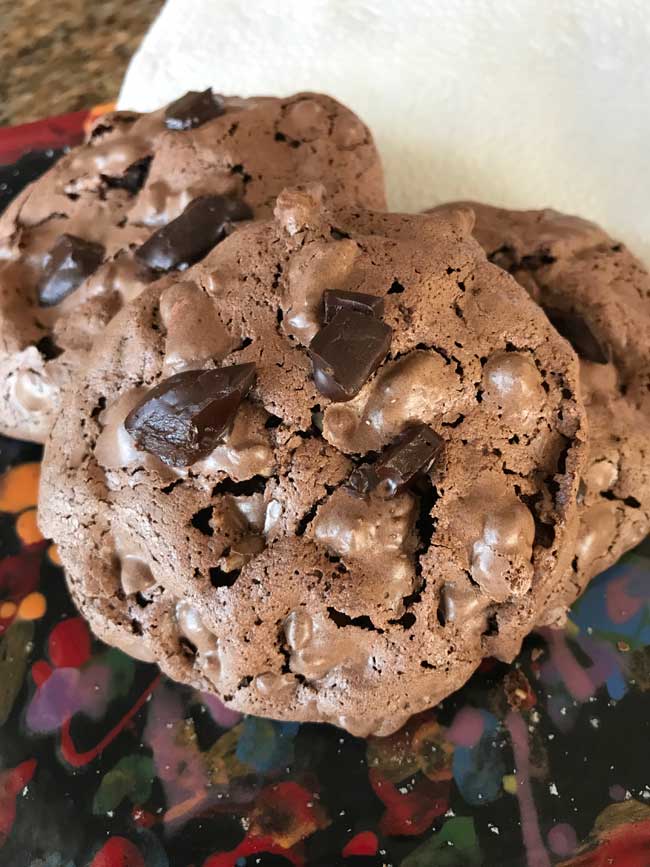 There are several variations on the recipe, but of all the versions this one is my favorite.  Since the ingredient list is fairly simple, it's best to use the freshest pecans you can find  (I like Berdoll's) and high quality cocoa powder.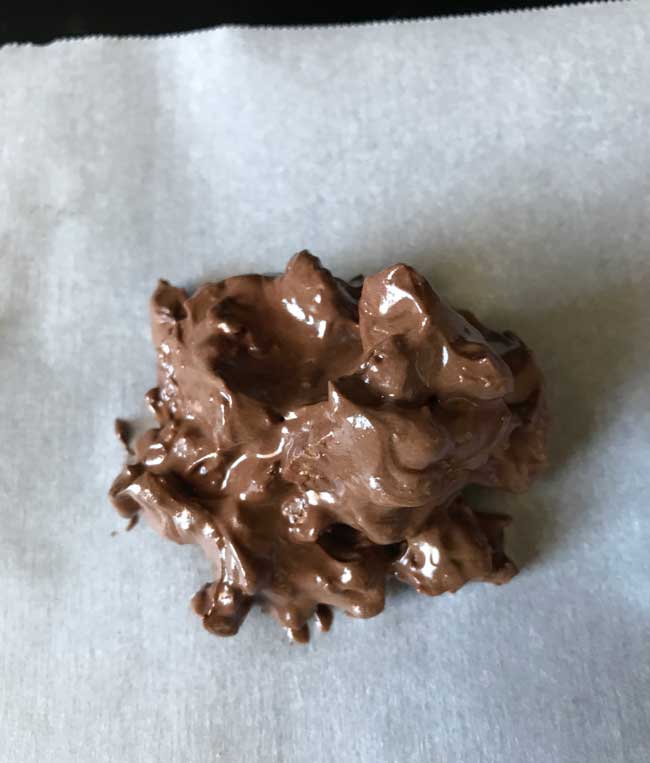 Overall these are pretty simple, but the consistency of the batter can be unpredictable depending on the size of your egg whites, brand of cocoa powder and powdered sugar, you may get a runny or thicker batter.  But even when the batter is runny and you think the cookies won't turn out, they usually do.  The above photo is batter from my last batch, which was not runny, and the cookie below is how it baked up.  The cookie in the photo at the top was made with a runnier batter (the egg white was slightly larger and I used different powdered sugar) so it spread more.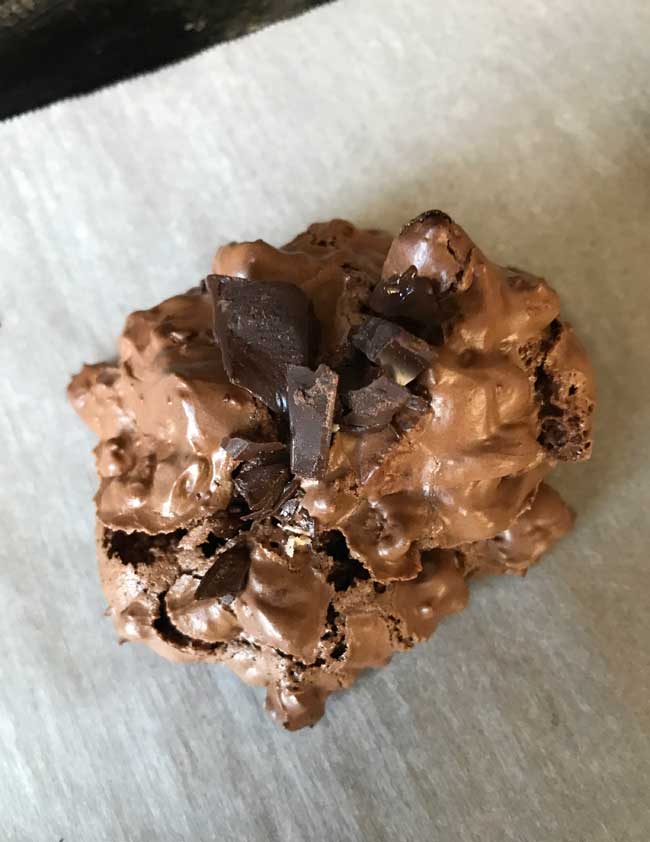 For best results, use ingredients weights rather than volume.
Recipe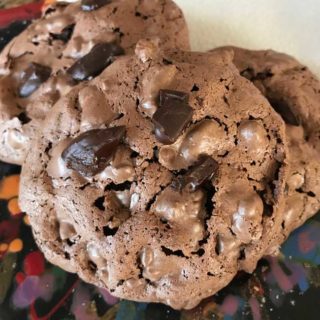 Pecan Crispies
Pecan Crispies
Ingredients 
1 ⅓

cups

pecan halves

150 grams

1 ¾

cup

powdered sugar

190 grams

⅓

cup

unsweetened cocoa powder

30 grams

⅛

teaspoon

salt

2

large cold egg whites

70 grams

½

teaspoon

vanilla

Chopped chocolate or chocolate chips
Instructions 
Preheat oven to 400 degrees F. Lay pecans on a rimmed cookie sheet and toast for 6-8 minutes or until they start to release their oils and become shiny. Let the pecans cool, then coarsely chop.

Have ready two large baking sheets lined with parchment.

In a medium bowl, stir or sift (I just stir) together the powdered sugar, cocoa powder and salt.

In a large metal or glass mixing bowl, beat the egg whites with an electric mixer (I use a handheld) until soft peaks start to form.

Turn off mixer and using a heavy duty scraper, stir in powdered sugar/cocoa mixture, scraping sides of bowl. With the electric mixer, beat on high for minute or until smooth and shiny (mixture will not be stiff, but more like a thick glue). Beat in vanilla. Fold in the pecans. The mixture may still be runny at this point, so you may need to work quickly.

Drop the nut mixture onto the baking sheets (6 to a sheet) by rounded tablespoonfuls spacing about 2 inches apart. Bake the cookies or 5 minutes at 400,

Reduce heat to 325 and continue to bake the cookies for another 8 to 10 minutes or until they appear dry and set.

Allow the cookies to cool completely on the baking sheet, then peel away from the parchment.
Notes
I like to make these with good quality natural cocoa powder, but Cocoa Rouge, a Dutch chocolate powder, also works well.