Sliced Cranberry Cookies are a yearly tradition, as well as a solution to the "problem" of what to do with half a bag of fresh cranberries. Every Thanksgiving I buy a whole bag of cranberries and use less than half the bag to make a very small batch of cranberry sauce. A few days later I use the leftover fresh cranberries in these thin, crisp, cranberry cookies.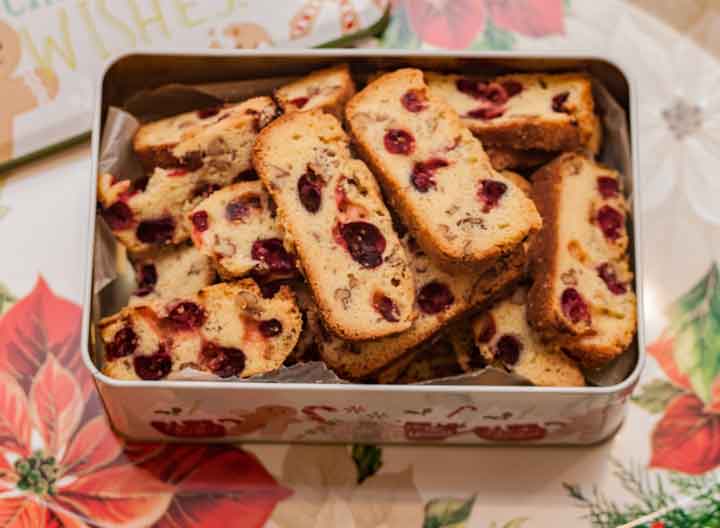 The recipe is adapted from Cranberry Nut Bars which is a bar cookie recipe baked in an 8 inch square pan. To make Sliced Cranberry Cookies, you bake the batter in two loaf pans, freeze the loaves, then cut it into thin slices which you then bake again until crisp. Here's a picture of the sliced thins ready for their second bake.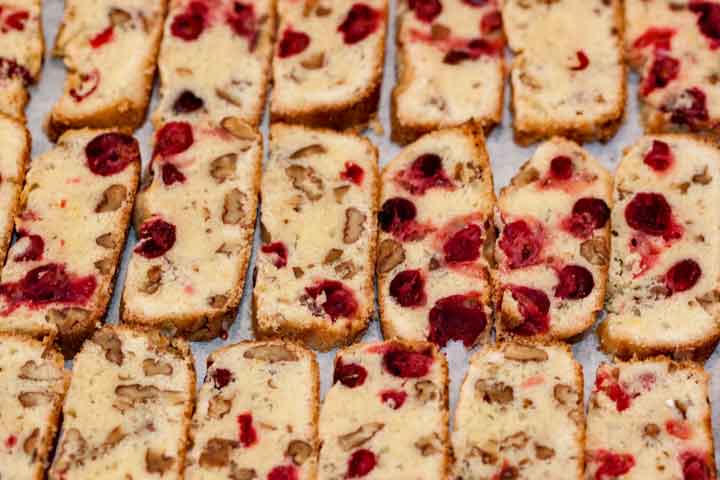 At first glance these may remind you of Almondina cookies or thin biscotti, but Sliced Cranberry Cookies are different. They have more sugar, which counteracts the tartness of the cranberries. Given the moisture from the cranberries, it takes a little patience to dry the cookies out, so you may need to return them to the oven for a third bake. Getting them to the exact level of crispness takes practice, but don't worry because they taste great chewy as well. You really can't ruin them.
Recipe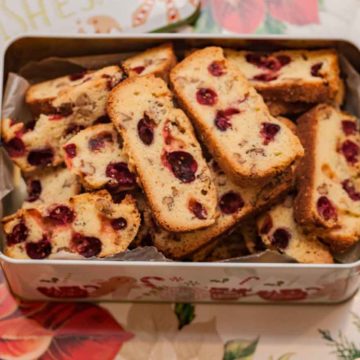 Sliced Cranberry Cookies
A great way to use up leftover fresh cranberries.
Ingredients 
2

large eggs

1

cup

granulated sugar

200 grams

½

teaspoon

vanilla

¼

teaspoon

orange zest

can use a little more if desired

1

cup

all-purpose flour

130 grams

⅓

cup

unsalted butter

melted 80 grams

⅜

teaspoon

salt

reduce to ⅛ if using salted butter

1 ¼

cups

fresh cranberries

½

cup

chopped toasted pecans
Instructions 
Preheat oven to 350°F. Line two 8x4 inch loaf pans with parchment paper or foil. Grease the parchment or foil.

Beat eggs in a medium mixing bowl until thick. Gradually add sugar, beating for another 2 minutes or so or until pale and slightly thicker. With the mixer going, drizzle in the melted butter, then add the salt. Using lowest speed of mixer (or by hand), add flour and stir until blended. Fold in the cranberries and toasted pecans.

Divide the batter between the two loaf pans and smooth the top.

Bake for 40 to 45 minutes or until loaves are golden brown on the top.

Let cool for about 20 minutes, then remove from loaf pans and transfer to a freezer. Freeze until very firm. This should take about 2 hours. If you plan on doing the next step the next day, then wrap the loaves tightly before cooling.

For the second bake, preheat the oven 300 degrees F. Have ready a large baking sheet lined with parchment.

Using a serrated knife, saw the loaves into slices a little less than half inch thick and arrange on the baking sheet. No need to space. Bake at 300 degrees F for about 25 minutes. After 25 minutes the edges will be browner and they will appear more baked, but the crisps will still be soft. Turn off oven and let sit in the warm oven for another 20 minutes. Remove from oven and let cool completely.