I wish I had a more exciting story to go with these maple oatmeal cookies, but the fact is I made them mainly because I had all the ingredients and liked that the words "pecan" and "pepita" both start with P.  That, plus I wanted to try out my new small cookie scoop. In the past I've made these cookies large, but I had a feeling they'd work better as small cookies and needed to test the theory.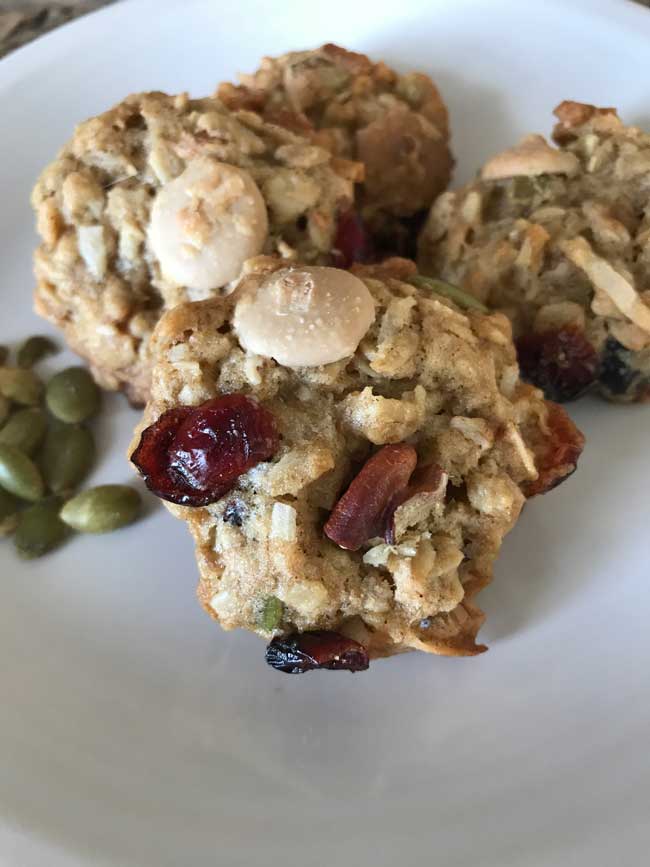 Okay, tested!  The small cookies are very good, but you can still make them larger if you'd rather. If you make them large you'll get about 25 or 26 cookies. The dough does a fairly modest amount of spreading, so I suggest shaping them into balls and flattening a bit before for baking.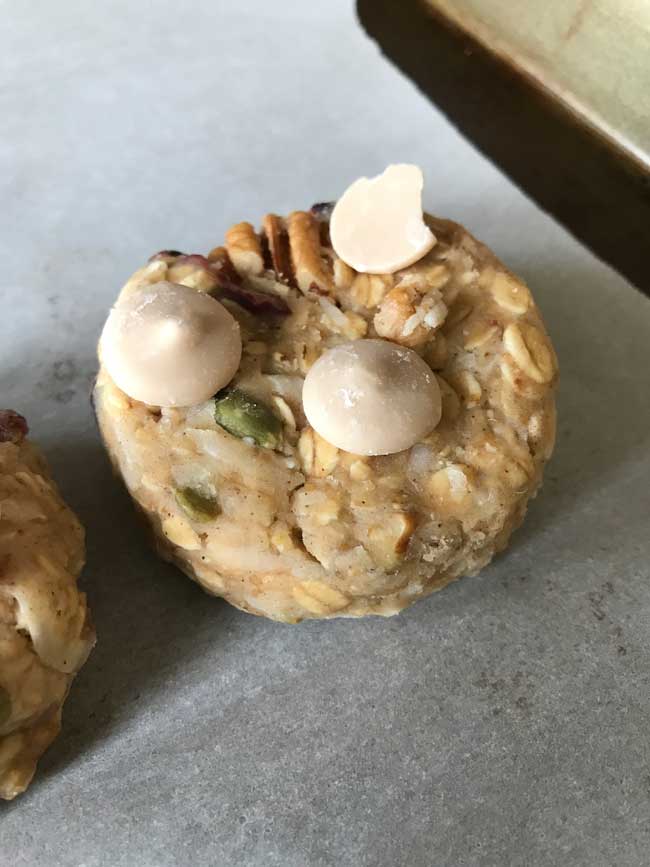 Ingredients for Maple Oatmeal Cookies
Flour -- I have been using bread flour in these because that's the flour I had when I first came up with this recipe. Regular all-purpose should be fine so long as you use 190 grams. 
The maple syrup adds a very subtle maple flavor, but mostly it just makes the cookies chewy. For a stronger maple flavor you could add a tiny dash of maple extract.
Pepitas -- I like the extra saltiness from the roasted salted type, but use whatever you like.
Caramel or White Chips -- Totally optional but they really enhance the cookies.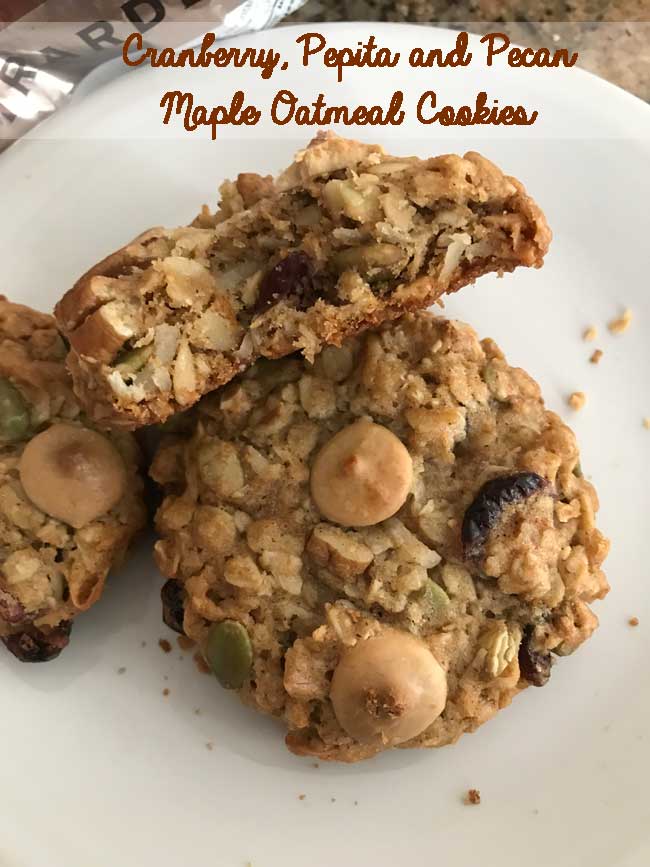 Recipe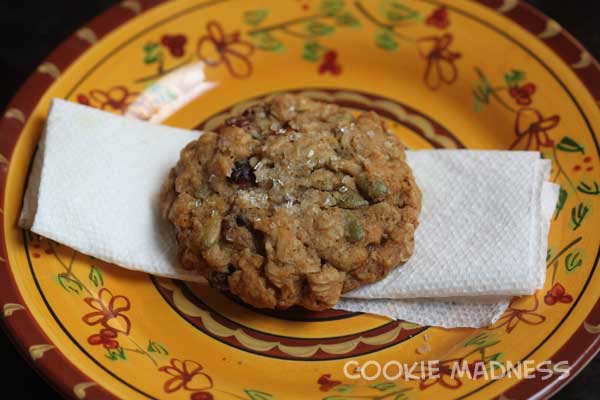 Cranberry, Pepita and Pecan Maple Oatmeal Cookies
Cranberry, Pepita and Pecan Maple Oatmeal Cookies
Ingredients 
2

sticks

unsalted butter, softened

(230 grams)

1

cup

packed light brown sugar

(200 grams)

1

large egg

1 ½

teaspoon

vanilla extract

⅓

cup

maple syrup

1

cup

very lightly packed sweetened flaked coconut

80 grams

1 ½

cups

bread flour

6.8 oz/190 grams)

1

teaspoon

baking soda

1

teaspoon

kosher salt

1

teaspoon

cinnamon

3

cups

old fashioned oats

240 grams

1

cup

toasted and chopped pecans

½

cup

pepitas

1

cup

dried cranberries

½

cup

white chips or caramel flavored chips

feel free to use more!
Instructions 
Preheat the oven to 350 degrees F. Line a couple of baking sheets with parchment paper.

In the bowl of a stand mixer with a paddle attached, beat the cool butter until creamy. Gradually add the brown sugar and beat until fluffy. Reduce mixer speed to low and add egg and vanilla, beating only until blended. Beat in maple syrup and coconut.

In a second bowl, thoroughly stir together the flour, baking soda, salt and cinnamon. Add to the batter and mix until incorporated. Stir in the oats, pecans, pepitas, cranberries and chips.

Scoop dough by tablespoons or small cookie scoops onto the baking sheets.

Bake for 12-15 minutes or until cookies appear set. Let cool for 5 minutes on the baking sheet, then transfer to a wire rack and let cool completely.

Notes: For slightly puffier cookies, use half shortening, half butter.

Makes 64 small cookies (small cookie scoop) or 24-26 large cookies. For the large cookies, use a ¼ cup scoop (2 oz), shape into rounds, then press the rounds to about ¾ inch thick before baking.