This recipe is one I've had for years, but I often forget about it because it gets lost amidst all the other oatmeal cookie recipes out there. I call these Chewy Honey Oatmeal Cookies because they are big, flat, chewy and have a bit of a honey flavor.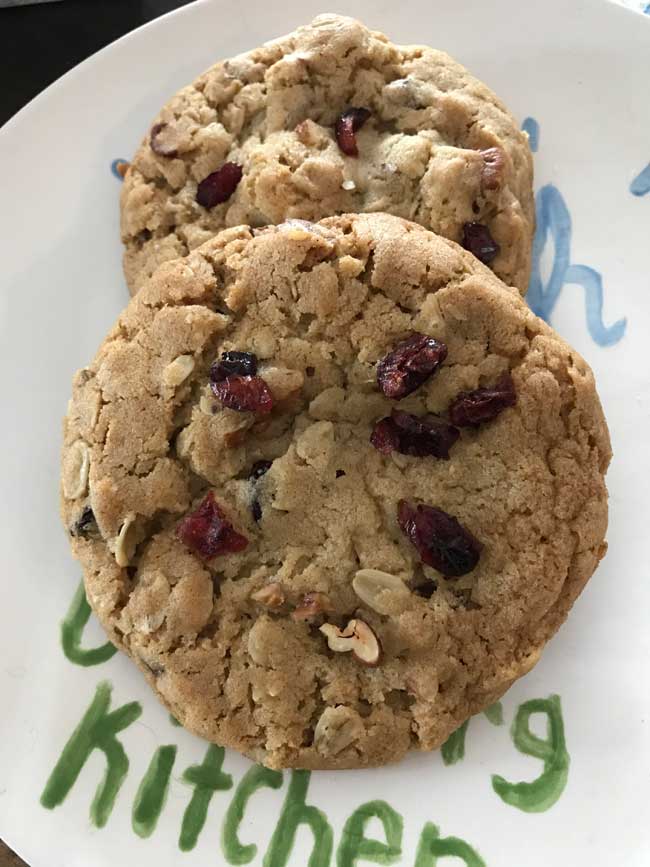 They do call for ¼ cup of shortening in addition to the butter because it really helps the shape and texture. One day I may try swapping the ¼ cup of shortening for clarified or browned butter, but it would probably mess up the texture so I'm keeping the shortening for now.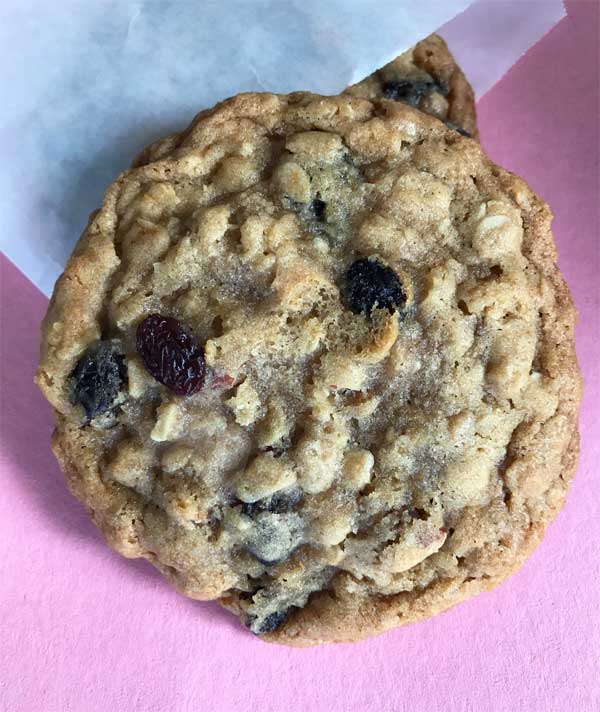 Chewy Honey Oatmeal Cookies are fairly sweet, but part of the great texture comes from all the sugar and of course the honey, so in my opinion the best way to cut the sweetness is by adding nuts. I always make these with pecans. For the fruit I prefer them with raisins, but dried cranberries work too. White chips might be good, but chocolate chips would be weird unless you like the combo of chocolate and honey.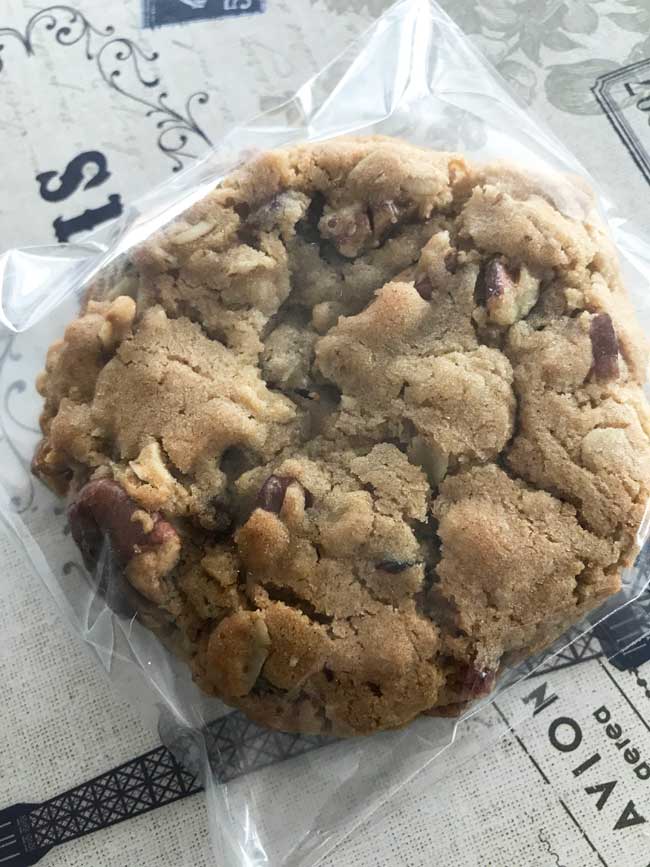 Chewy Honey Oatmeal Cookies are bake sale size and perfect for packaging individually. They (usually!) fit snugly in 4x6 size self sealing bags and loosely in the 5x7 inch self sealing bags. The drawback is that the recipe only makes 12 large cookies. I've never doubled it, so feel free to try. But first see if you like the cookies! You may think they are quite terrible -- or maybe not salty enough, and that is perfectly okay.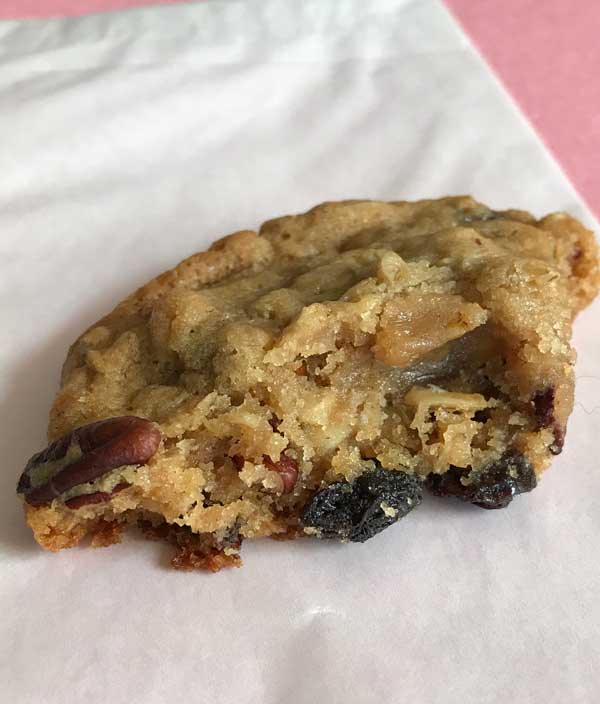 Honey Oatmeal Cookies Dough
The cookies in the top photo are today's batch. I only chilled the dough (photo below) for about 2 hours.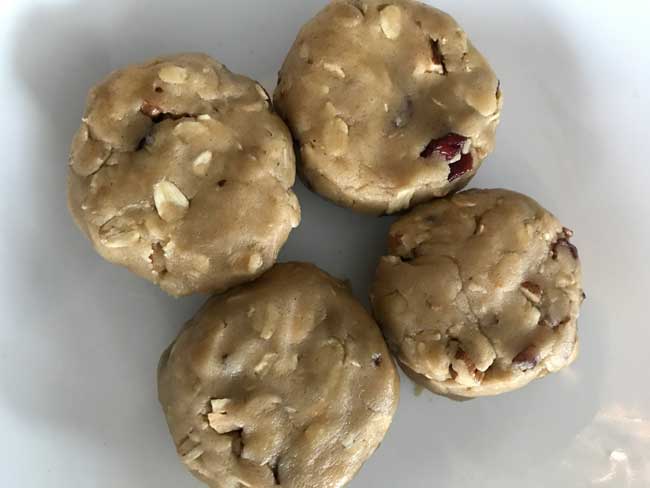 Recipe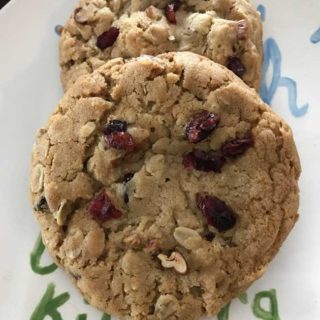 Chewy Honey Oatmeal Cookies
These are big and flat oatmeal cookies made with a mixture of melted butter and shortening.
Ingredients 
1

stick unsalted butter

114 grams

¼

cup

shortening

Spectrum, Nutiva or Crisco

½

cup

granulated sugar

100 grams

¾

cup

light brown sugar

150 grams

½

teaspoon

vanilla extract

2

tablespoons

honey

40 grams

1

egg

1 ½

cups

unbleached all purpose flour

200 grams

½

teaspoon

salt

½

teaspoon

baking soda

½

teaspoon

cinnamon

1 ¼

cup

old fashioned oats

½

cup

pecans -- toasted and coarsely chopped

½

cup

raisins or dried cranberries
Instructions 
Place butter and shortening in a microwave-safe bowl heat for 30 seconds. Stir and repeat until butter is melted. Shortening will probably be only partially melted. Pour the hot butter mixture into a mixing bowl and add both sugars, then stir in vanilla extract, honey and egg.

Mix together flour, salt, baking soda and cinnamon. Stir flour mixture into sugar mixture until thoroughly combined. Stir in oats, pecans and raisins.

At this point the dough should be a bit soft. Put the bowl in the refrigerator and chill the dough just until it is firm enough to hold its shape when scooped.

Using a generous (heaping) ¼ cup measure, scoop dough into 10 equal portions. Roll each portion into a ball and shape into a neat mound with a flat top. Place dough mounds in refrigerator and chill, covered, for at least 3 hours or preferably overnight.

If you do not chill them thoroughly, the cookies will spread more.

Preheat oven to 325 degrees F. Line a cookie sheet with parchment paper or nonstick foil.

Place 4 or 5 chilled dough mounds on a cookie sheet.

Bake for about 20 to 22 minutes or until cookies appear set. Allow them to cool for a few minutes on the baking sheet, then transfer cookies to a rack and let them cool and crisp on rack.

Repeat with remaining cookies. The cookies get sturdier and sturdier the more they cool. The should be sturdy enough to be individually wrapped and propped up in an appealing manner. This one is not propped up, but it is individually wrapped.