I'm a big Joanne Chang fan and can't wait to get my hands on her new book, Pastry Love. Until then, there's this recipe -- Very Thin Crunchy Chocolate Chip Cookies. The adapted version is in The Boston Globe. This is my adapted version with notes on what I had to change to get the cookies crunchy throughout.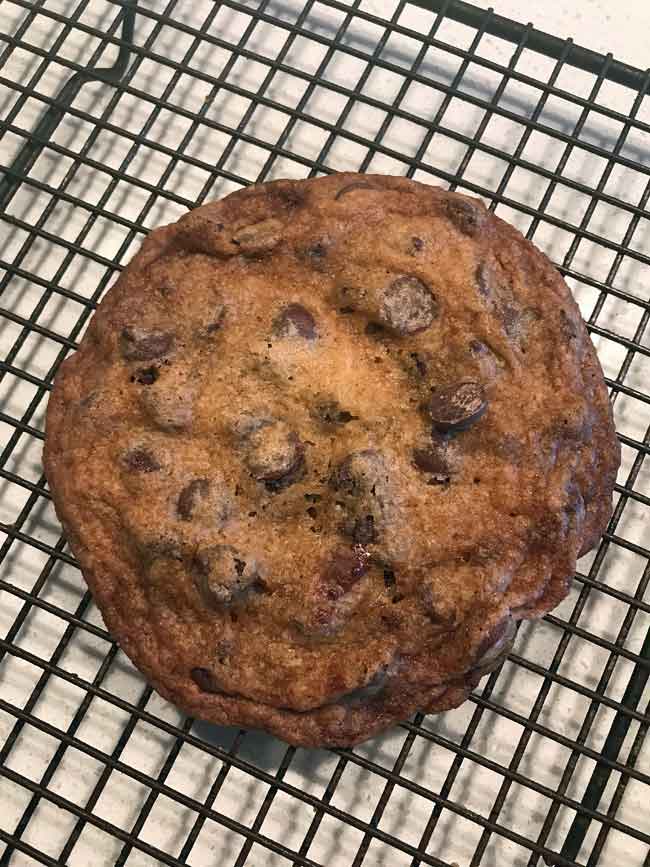 These are excellent cookies!! They are packed with flavor and definitely crunchy, but mostly on the outside. The centers are still chewy. Or at least mine were. I wanted cookies that were crunchy throughout (like Tate's).
So to get the cookies evenly crunchy, I did a few things. First, I pressed the tops down flat. That usually helps cookies bake evenly. I also scooped out dough portions before chilling, because that's just more convenient for me and I like having pre-formed dough pieces ready to go.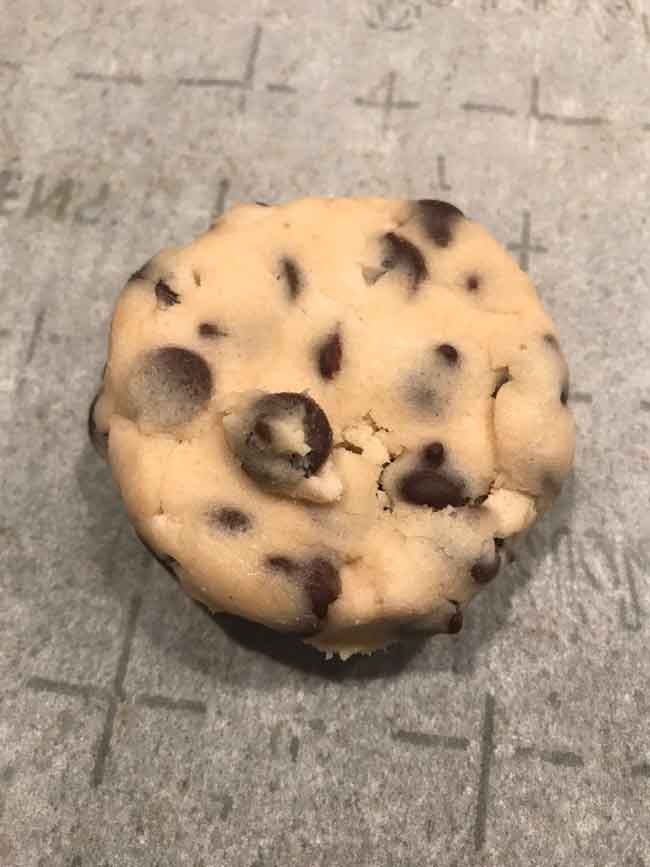 The other thing I had to do was reduce the heat from 350 to 325 degrees F. I tried 350, but after about 16 minutes the dough was very dark around the edges and the cookies were still soft in the center.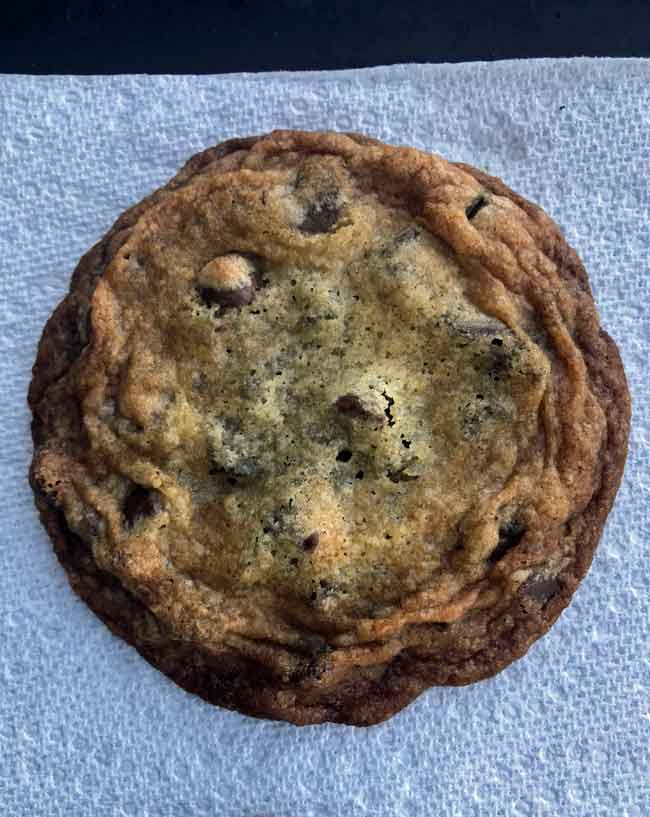 So as mentioned I reduced the heat to 325 and baked the cookies for about 25 minutes. They were evenly brown and crunchy throughout.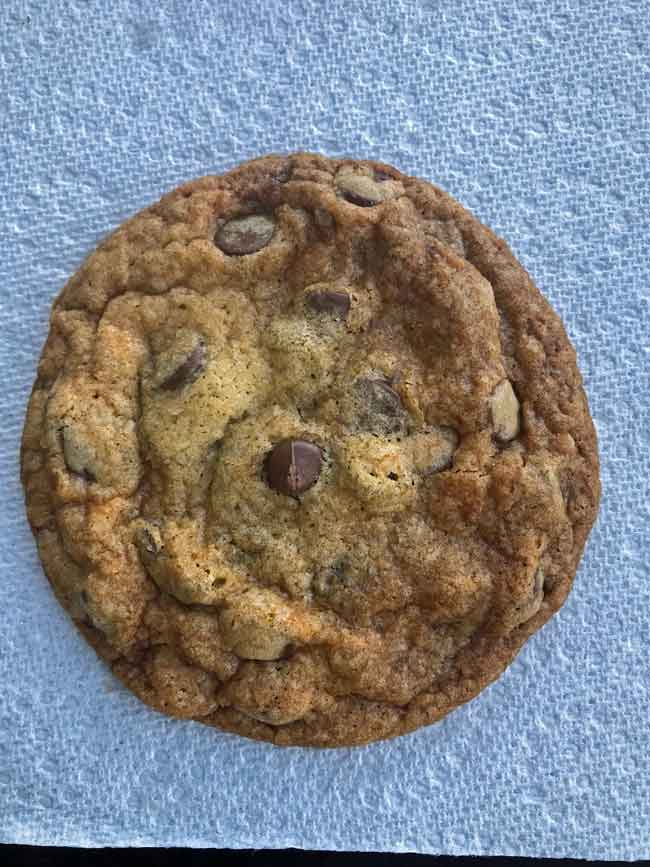 There are so many variables involved in baking, but whatever temperature you end up using you'll be happy with the flavor of these cookies.  Plus they are also convenient, with only one slightly unusual ingredient which is the superfine sugar.  I usually just run regular sugar through the food processor, but I discovered that the Nutribullet works even better.
Superfine Sugar Tip!
To make superfine sugar, buzz ½ cup of sugar in a Nutribullet or food processor.  The Nutribullet will get it VERY fine to the point where it would probably work perfectly as confectioners' sugar with a little cornstarch added in.
But back to the cookies. I am looking forward to hearing what others think of the thin crunchy cookies.  Of course if a thick and chewy cookie is more your style you should try these.
Recipe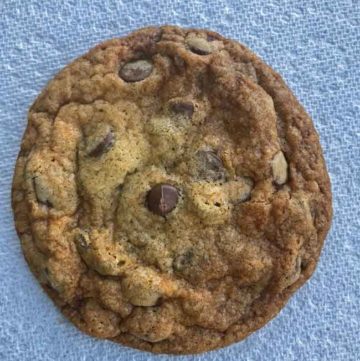 Almost Joanne Chang's Very Thin and Crunchy Chocolate Chip Cookies
These are thin and crunchy cookies that can be made large or small. The original recipe called for a temperature of 350 degrees F, but I bake the cookies at a lower temperature for a longer time to get the texture evenly crunchy. I've used both 325 and 300 successfully. I recommend baking a couple of test cookies to see how the cookies bake in your own home oven.
Ingredients 
1

cup

228 grams unsalted butter, at room temperature (2 sticks), slightly cool butter

1

cup

superfine sugar

200 grams

½

cup

light brown sugar

100 grams

1

egg

at room temperature (50 grams)

3

tablespoons

plus 1 teaspoon water

2

teaspoons

vanilla extract

2

cups

unbleached all purpose flour

260 grams (see note)

1

teaspoon

salt

I use Morton kosher (measures like table salt)

1

teaspoon

baking soda

2

cups

semisweet or bittersweet chocolate chips

1 ½ cups
Instructions 
With an electric mixer, beat the butter and sugar for about 5 minutes.

Add the egg, water, and vanilla and beat for 2 to 3 minutes, scraping side of bowl well, until thoroughly combined.

In a separate bowl, mix together the flour, salt, and baking soda. Add the chocolate chips to the flour mixture and stir to coat. Using lowest speed of stand mixer (or by hand without the mixer if you used a handheld), gradually add the flour and chip mixture and stir until combined.

Portion the dough into 16 quarter cup (approx) portions, press them down slightly, set them on dinner plates, and cover with plastic. Chill for about 4 hours or until ready to bake.

When ready to bake, press the portions into disks about ¾ inch thick.

Preheat oven to 325 degrees. Line one or two baking sheets with parchment paper.

To determine the best heat for these cookies, you may want to bake 2 or 3 cookies first just to get the timing right.

Arrange some of the dough rounds on a parchment lined baking sheet spacing 4 inches apart and bake in the 325 oven until they are evenly browned. This should take around 20 to 25 minutes, but check at 15.

If your oven runs hot or you are still getting cookies that are brown around the edges and underdone in the middle, try using 300 degrees and baking for a longer time (25 to 30 minutes).

Remove the baking sheet from the oven and set the sheets on wire racks to cool for 10 minutes. Transfer the cookies to the racks to cool completely. Bake the remaining dough in the same way.

Store cookies in the freeze to keep them crunchy.
Notes
I used 260 grams flour.  If you are comparing this recipe to one of the other versions, you may notice that the other version calls for 2 cups/280 grams of flour  For some people, 2 cups of flour weighs 280 grams.  My 2 cups weighed 260 so I'm sticking with 260.  This is just an example of why weights are more accurate than volume when baking.  
You can make these large or divide the dough pieces into smaller bits and make tiny cookies.  If making the cookies smaller, you'll need to check them at 12 to 15 minutes.