Originally from Joanne Chang, this recipe is adapted from one in The Atlantic, where Joanne Chang gives tips on how to make the Flour Bakery Chocolate Chip Cookies.  Since posting this adapted version of the recipe I have made the cookies many, many times and they're always good.  They have a great texture with crispy edges, soft centers and brown sugar flavor. They're up there with the greatest of all times chocolate chip cookies.  For best results, use the weights rather than volume. Also, chill the dough! You can bake a couple of cookies right away, but the cookies are so much better made with dough that's been chilled overnight.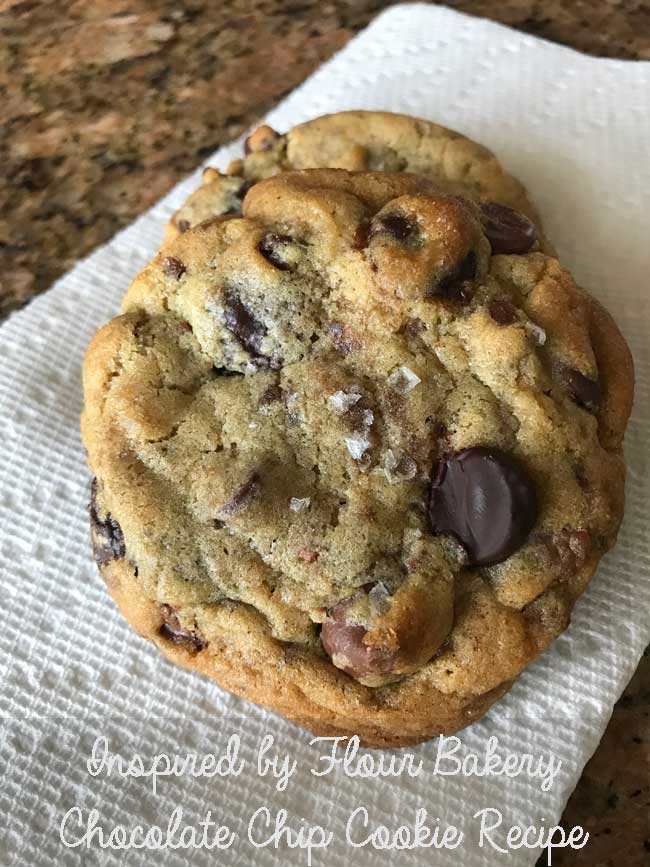 UPDATE: Be careful what type of chocolate you use for Joanne Chang's Chocolate Chip Cookies. I love Lindt, but it melts fast and can cause these cookies to spread. Some other smooth, high quality, melting chocolates will also give you more spread.
More Joanne Chang Recipes
Since posting Joanne Chang's Chocolate Chip Cookies recipe, she's shared another. Here's a link to a thin and crunchy version. She also has a great blueberry muffin recipe.
Recipe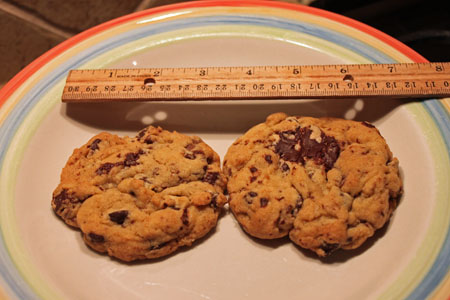 Joanne Chang's Chocolate Chip Cookies (Or Chocolate Chunk!)
Chocolate Chunk Cookies like the ones from Flour Bakery in Boston. For best results, use weights. You can get approximate volumes from different sources, but weight is the only way to get consistent results.
Ingredients 
175

grams

all-purpose flour

could be anywhere from 1 ¼ to 1 ⅓ cup

160

grams

bread flour

about 1 cup and 2 tablespoons

1

teaspoon

baking soda

½

teaspoon

salt

230

grams

1 cup unsalted butter, softened

150

grams

granulated sugar

¾ cup

165

grams

packed brown sugar (I sometimes use 150)

¾ cup, but VERY tightly packed**

2

large

eggs

¾

teaspoon

vanilla

255

grams

chopped bittersweet chocolate or quality chocolate chips

70

grams

chopped milk chocolate
Instructions 
Whisk the dry ingredients (flour through salt) together in a medium size bowl. Set aside.

In a large mixing bowl, beat butter and sugars together until very light and fluffy, scraping down the side of the bowl as needed. Beat in the eggs, one at a time, mixing until well combined after each. Mix in vanilla.

Toss bittersweet and milk chocolates into the dry ingredients - mix to coat. Add dry ingredients to mixing bowl and mix until completely combined. Cover and place cookie dough into the refrigerator to chill for 24 hours.

When ready to bake, preheat oven to 350 degrees.

Scoop out about ¼ cup worth of dough per cookie and roll each into a ball - place onto parchment lined baking sheets two to three inches apart, then flatten each slightly.

Bake one sheet at a time until the cookies are golden brown around the edges, yet the center is still slightly soft, about 14 to 17 minutes. Remove and place baking sheets onto a wire rack and allow cookies to cool (still on the baking sheet) for 5 to 10 minutes. Transfer cookies to the rack and allow to cool completely.
Notes
(Adapted from Flour: Spectacular Recipes from Boston's Flour Bakery and Cafe)
Brown sugar, like flour, can vary by weight/volume.  My brown sugar typically weighs 200 grams to 220 grams per 1 cup.  For this recipe, some recipes use 175 grams for ¾ cup.  I use more like 150 to 165.