Most Texas Sheet Cake are baked in huge pans and designed to feed a crowd. Not this one! It's a small Texas Sheet Cake baked in an 11×7 inch pan.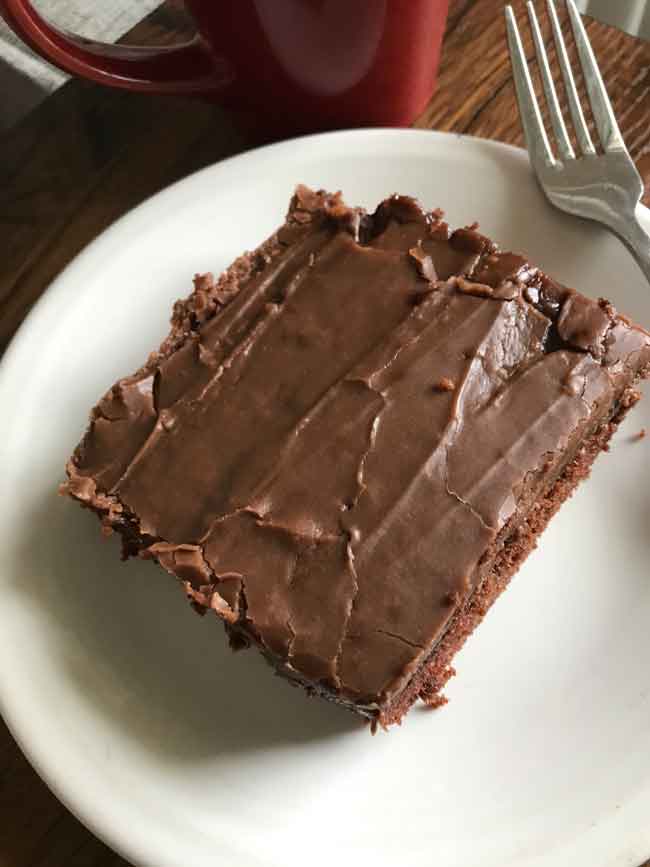 Like the pie pans I've been using lately, this was another $1 pan from Dollar Tree. And while I do not plan to buy all my bakeware at a dollar store, I'm super impressed with how well the cheap pans are performing.  Plus I love the 11×7 inch size because it's perfect for small families.  With Fuzz off at college, it's just the two of us and small cakes are all we need.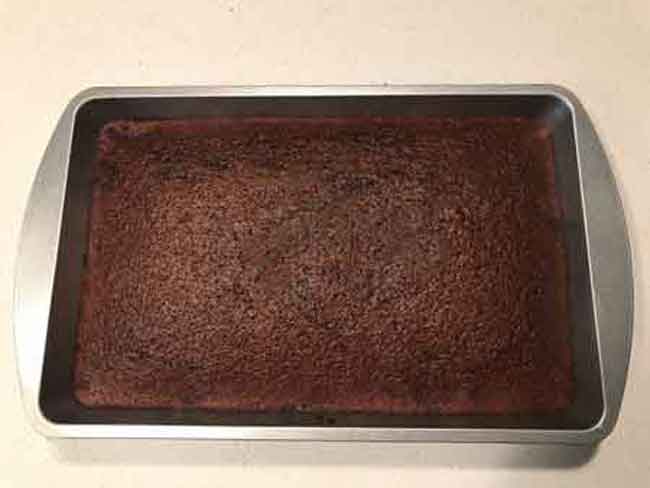 So here's the latest, greatest recipe based on my usual one, but halved. It's not overly sweet like some, and the sour cream in the fudge frosting gives it a very distinct (and delicious!) flavor.  If for some reason you don't want to use sour cream you can definitely substitute milk.  Also, if the chocolate/cinnamon combo is not your thing you can leave out the cinnamon.  For a while I always left out the cinnamon, but these days I think a tiny pinch separates Texas Sheet Cake from other chocolate cakes.
If you can't find yourself a $1 pan, Wilton has a nice two pack on Amazon (#ad).
Recipe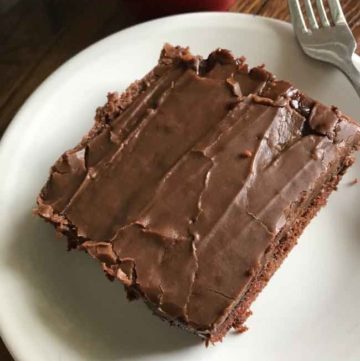 Small Texas Sheet Cake
Half recipe for a Texas Sheet Cake baked in an 11×7 inch pan.
Ingredients 
Butter for greasing pan

1

cup

all-purpose flour

(125 grams)

1/2

cup

granulated sugar, scant

(95 gram)

3/8

teaspoon

salt

1/8

teaspoon

cinnamon

8

tablespoons

unsalted butter

(114 grams)

1/2

cup

light brown sugar

(100 grams)

2

tablespoons

plus 2 teaspoons unsweetened natural cocoa powder

1/2

cup

water

1/4

cup

buttermilk

1

large egg

1/2

teaspoon

vanilla

1/2

teaspoon

baking soda
Texas Sheet Cake Icing
1 ½

cups

confectioners' sugar, sifted

(200 grams)

4

tablespoons

unsalted butter

(56 grams)

1/8

teaspoon

salt

2

tablespoons

unsweetened natural cocoa powder

3

tablespoons

full fat sour cream

1/2

teaspoon

vanilla extract
Instructions 
Preheat oven to 375 degrees. Grease bottom only of an 11×7 inch pan with butter.

In a mixing bowl, mix the flour, granulated sugar, salt and cinnamon.

Melt butter in a 3 ½ quart saucepan. Stir in the brown sugar, cocoa powder and water and bring to a boil. Pour the boiling cocoa mixture into the bowl with the flour mixture and stir until blended.

In the saucepan you used for the butter/cocoa mixture, stir together buttermilk, egg and vanilla. Add the egg mixture to the chocolate mixture and stir by hand until blended. Lastly, stir in the baking soda.

Pour batter into the pan and bake for 12 to15 minutes. Cake should spring back when touched.

While cake bakes, weigh out your confectioners' sugar and sift it to remove any lumps. Set it aside.

Rinse the saucepan and melt the 4 tablespoons of butter. Add the salt and cocoa powder and stir over medium heat until smooth. Remove from heat and stir in the sour cream. Add the confectioners' sugar about 1/2 cup at a time, stirring until smooth. If icing seems to be thickening you can put the pan over a low heat, but the residual heat from when you boiled the cocoa/butter mixture should be enough. Stir in the vanilla, then spoon over cake and spread quickly before icing starts to set.