Texas Sheet Cake is quite popular here, and for good reason. It takes about 20 minutes to bake, doesn't require an electric mixer, and because you ice it while hot, it can be baked and served in an hour. But even if Texas Sheet Cake were difficult, it would still be special because of the icing. That's the best part! It's shiny, sets up like fudge but is soft on the bottom and flaky on the top, and can be made with or without nuts. As for the cake, it's usually made in 15×10 inch pan, always calls for either buttermilk or sour cream, and can be made with or without cinnamon. Lady Bird Johnson's Mexican Chocolate Cake, which some claim to be the original Texas Sheet Cake, is made with cinnamon.
This weekend I made a Texas Sheet Cake. I thought about taking it to my family at Lake LBJ, but the cake is my sister-in-law's "thing" and I didn't want to infringe. She ended up bringing cookies, so now I wish I'd taken it, but hey – more for us. And by more, I mean a whole 15×10 inch cake. If you want to half the recipe, give it a try. If I were halving it, I'd use a 9 inch square pan.
Here are a few more photos. They were taken in different light, but I think they give you a good idea of the texture — especially that of the icing.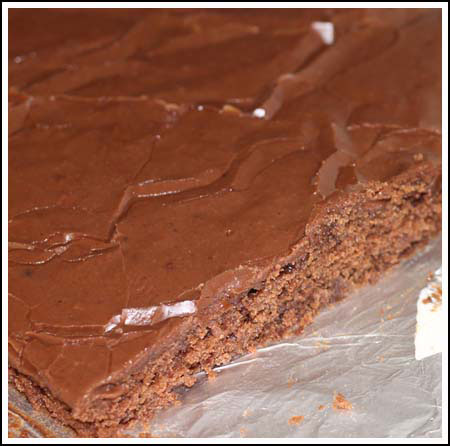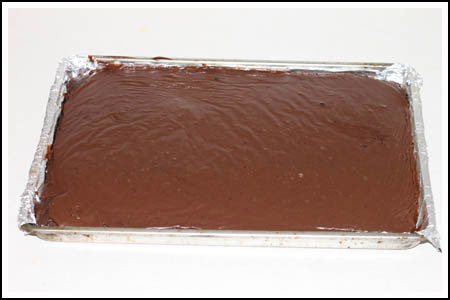 Texas Sheet Cake
Perfect Texas Sheet Cake with a smooth, glossy, fool-proof frosting
Ingredients
2 cups all-purpose flour (9 oz)
2 cups minus a tablespoon of granulated sugar
1/2 teaspoon salt
1/2 teaspoon cinnamon (optional)
2 sticks unsalted butter (8 oz)
1/3 cup unsweetened natural (not Dutch) cocoa powder
1 cup water
2 large eggs
1/2 teaspoon vanilla
1/2 cup buttermilk
1 teaspoon baking soda
Frosting:
1 pound (3.8 cups) confectioners' sugar
1 stick (4 oz) unsalted butter
1/4 scant teaspoon salt -- omit if using salted butter
4 tablespoons unsweetened natural cocoa powder
7 tablespoons milk
1 teaspoon vanilla extract
Instructions
Preheat oven to 375 degrees. Grease a 15x10 inch jelly roll pan.
Mix the flour, sugar, salt and cinnamon (if using) in a large mixing bowl and set aside.
Melt butter in a medium size saucepan. Stir in the cocoa powder and water and bring to a boil. Pour the boiling cocoa mixture into the bowl with the flour mixture and mix with a spoon until blended.
In a second bowl, whisk together the eggs, vanilla, buttermilk and baking soda. Add the egg mixture to the cocoa mixture and stir until blended – do no overbeat. Just do your best to blend the ingredients.
Pour batter into the pan and bake for 20 to 25 minutes (check at 15), or until a toothpick inserted into center of cake comes out clean. As soon as you pull the cake from the oven, start the icing. To get a head start, you might want to sift the sugar while the cake bakes.
Icing: Sift the confectioners' sugar into a mixing bowl and set aside. You can skip the sifting step if you must, but sifting helps it to blend easier and the icing will be smoother.
Melt the butter in a saucepan set over medium heat. When butter is almost melted, add the 4 tablespoons cocoa and 7 tablespoons milk and bring just to a boil. As soon as the mixture reaches a good boil, remove from heat. Pour the hot boiling cocoa mixture into the bowl of sifted confectioners' sugar. Add the vanilla and stir with a wooden spoon until smooth. Work quickly so that icing won't start to set in the bowl. Pour over the cake and let sit until firm
Notes
-- I make the cake in a 15x10 inch cake and it is very thin. That's the way it's suppose to be, but you can always play around with pan size. If you make the full cake in a smaller (9x13 inch) pan, you'll probably need to increase the bake-time slightly because the cake will be deeper.
-- Some people add the flour mixture directly to the saucepan. I like mixing the flour, sugar and salt in a separate bowl to ensure they are thoroughly mixed. Also, I like stirring things in a bowl rather than a saucepan. My saucepan is on the small side and I tend to slop things all over the place.
-- It's important not to over-beat the cake batter, so I whisk the eggs, buttermilk and baking soda together in a separate bowl then stirred the already whisked mixture into the flour/cocoa mixture.
-- A lot of recipes use less milk in the icing. This recipe uses 7 tablespoons (a little less than half cup) which should be just right.