Texas Sheet Cake is very popular in Texas, and for good reason. The ingredients are relatively inexpensive, it doesn't require an electric mixer, and it can be baked and served in an hour.  And of course like most Southern desserts, it's rich and very sweet -- especially the icing, which is my favorite part.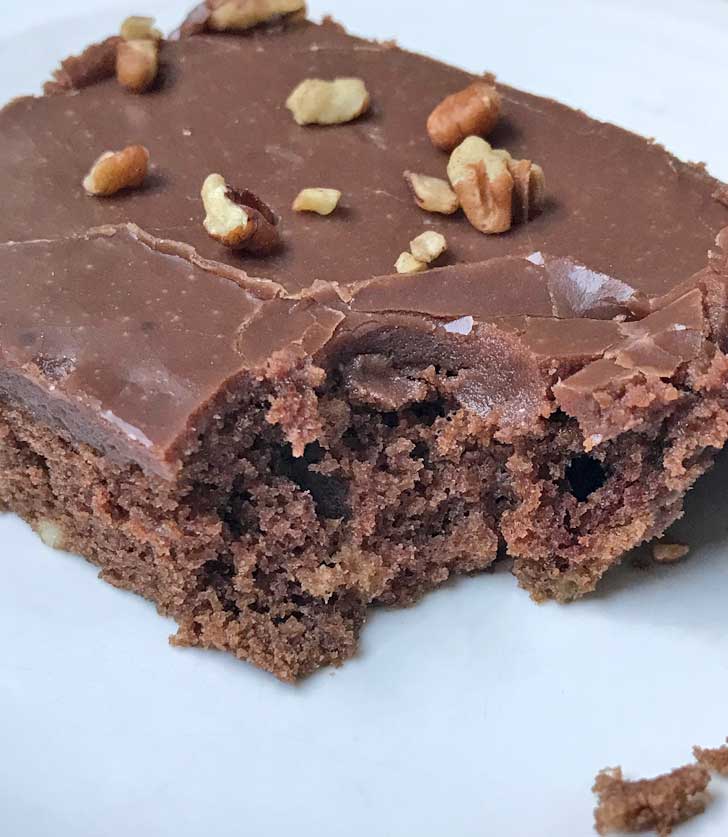 Half Sheet Pan Size
One thing to remember about this cake is that it's supposed to be very thin. We tend to take liberties with pan sizes, most often substituting 9x13 inch cake pans for the the sheet pan. There's no crime in substituting pans, but for authenticity's sake the cake should be very thin and served out of a big pan. After all, its original purpose was to be a potluck dessert, something to satisfy people who have already eaten, but need a few bites of something with chocolate. So do try to use a half sheet pan. I really like my Nordicware Lidded.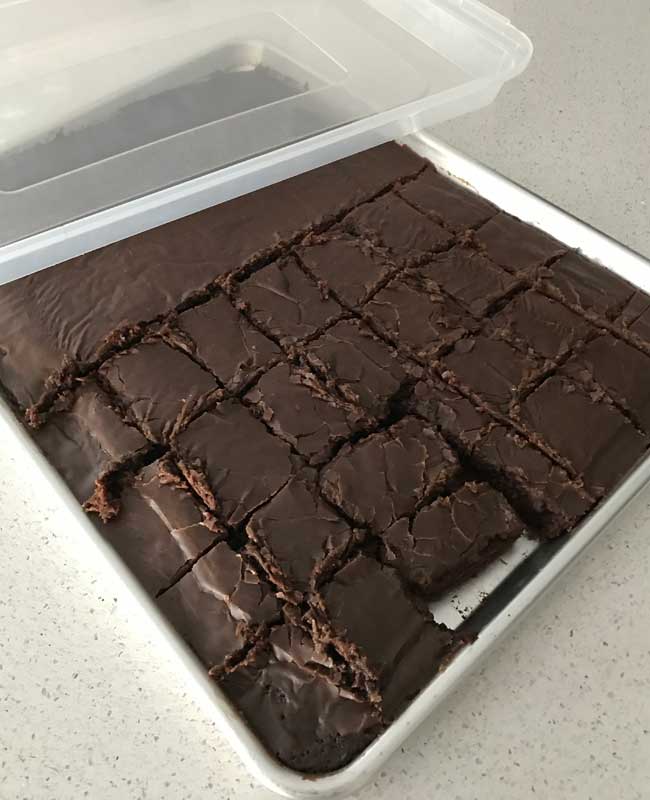 Now I'd like to say that as a Texan I'm very experienced at making this cake, but the truth is it's too big to make for just our family so I don't make it as often as I'd like. And even when there's a big event or sharing opportunity, I still don't make it because odds are a relative will.  So usually when I do make it I mess around with the pan size and make small batch Texas Sheet Cake.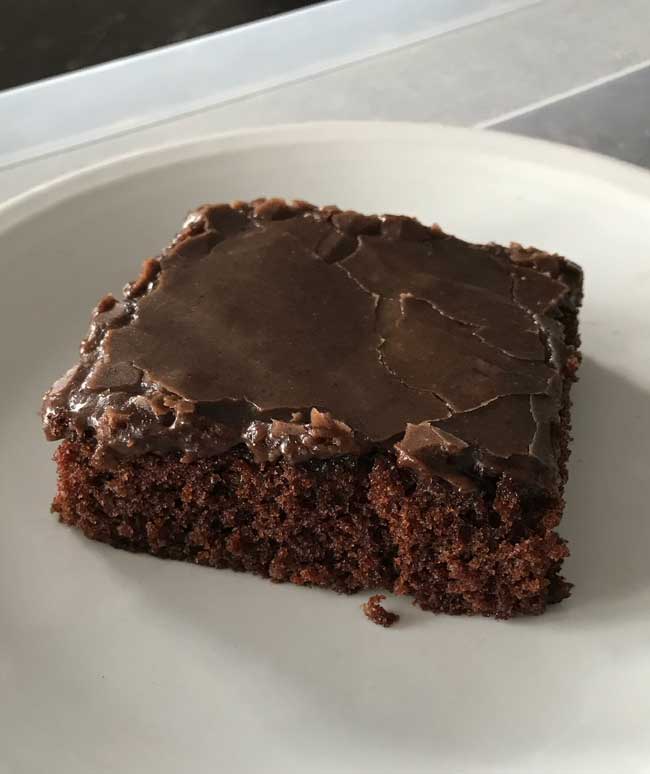 What Makes This Cake Different
So what makes this cake special? Brown sugar in the batter is what makes it taste a little different from the usual recipe with 2 cups of granulated sugar. The traditional version is very good and some may actually find it has a clearer chocolate flavor than this version with brown sugar, but I think the brown sugar makes the cake more memorable and not in a bad way. The other thing that's different in this cake is the frosting, which calls for sour cream.
Texas Sheet Cake Tips
So this is a normal size version of the cake with a delicious pour-on sour cream icing. It is supposed to be a thin cake. I'll add more tips later, but these are the most important ones I can think of.
Make the cake with natural cocoa powder (preferably Hershey's) rather than Dutch process.
Add cinnamon to the cake -- ⅛ to ¼ teaspoon is all you need.
Sift the sugar (unless you like lumps of it in your frosting).
Use sour cream in the icing. Sour cream cuts the sweetness a bit.
Serve the cake right out of the pan.
Serve with Blue Bell Homemade Vanilla (Gold Rim)
Recipe
Texas Sheet Cake
This Texas Sheet Cake is baked in a 12x17 Nordicware lidded pan. If you use a smaller pan, the cake will be slightly thicker and should take a a few minutes longer to bake.
Ingredients 
2

cups

all-purpose flour

(270 grams)

1

scant cup

granulated sugar

(185 grams)

1

teaspoon

salt, scant

⅛ to ¼

teaspoon

cinnamon

optional

2

sticks

unsalted butter

(230 grams)

1

cup

light brown sugar, packed

(200 grams)

⅓

cup

unsweetened natural (not Dutch) cocoa powder

1

cup

water

2

large

eggs

1

teaspoon

vanilla

½

cup

buttermilk

1

teaspoon

baking soda
Frosting:
2 ¾

cups

confectioners' sugar, measure by weight if possible

(390 grams) sifted

1

stick

unsalted butter

(114 grams)

¼

teaspoon

salt -- omit if using salted butter

4

tablespoons

unsweetened natural cocoa powder

(20 grams)

⅓

cup

full fat sour cream

room temperature

1

teaspoon

vanilla extract
Instructions 
Preheat oven to 375 degrees. Grease bottom only of a 12x17 inch sheet pan with salted butter or margarine.

In a large mixing bowl thoroughly mix the flour, granulated sugar, salt and cinnamon (if using).

Melt butter in a 3 ½ quart saucepan. Stir in the brown sugar, cocoa powder and water and bring to a boil. Pour the boiling cocoa mixture into the mixing bowl with the flour mixture and stir until blended.

In the saucepan you used for the butter/cocoa mixture, stir together eggs, vanilla and buttermilk. Add the egg mixture and the baking soda to the chocolate mixture and stir by hand until blended.

Pour the very liquid batter into the pan and bake for 15 minutes. Cake should spring back when touched and have an internal temperature of about 200 degrees. It will be pretty obvious if it's done.

While cake bakes, weigh out your confectioners' sugar and sift it to remove any lumps. Set it aside.

Clean out the saucepan and melt the 1 stick of butter. Add the salt and cocoa powder and stir over medium heat until smooth. Remove from heat and stir in the sour cream. Add the vanilla, then add the confectioners' sugar about 1 cup at a time, stirring until smooth. If icing seems to be thickening, you can do this over low heat, but the residual heat from the cocoa/butter mixture should be enough. Pour over cake gradually, tilting pan so that it covers the cake evenly. Let set.