Lately I've been thinking of all the places I've been and all the places I want to go. Scotland is high on the list, followed closely by Germany, Singapore, Iceland, Russia and possibly Chile. It's a long list! Denmark is on it too, and this dessert I found yesterday brought that to mind. It's for a Danish Frozen Chocolate Torte.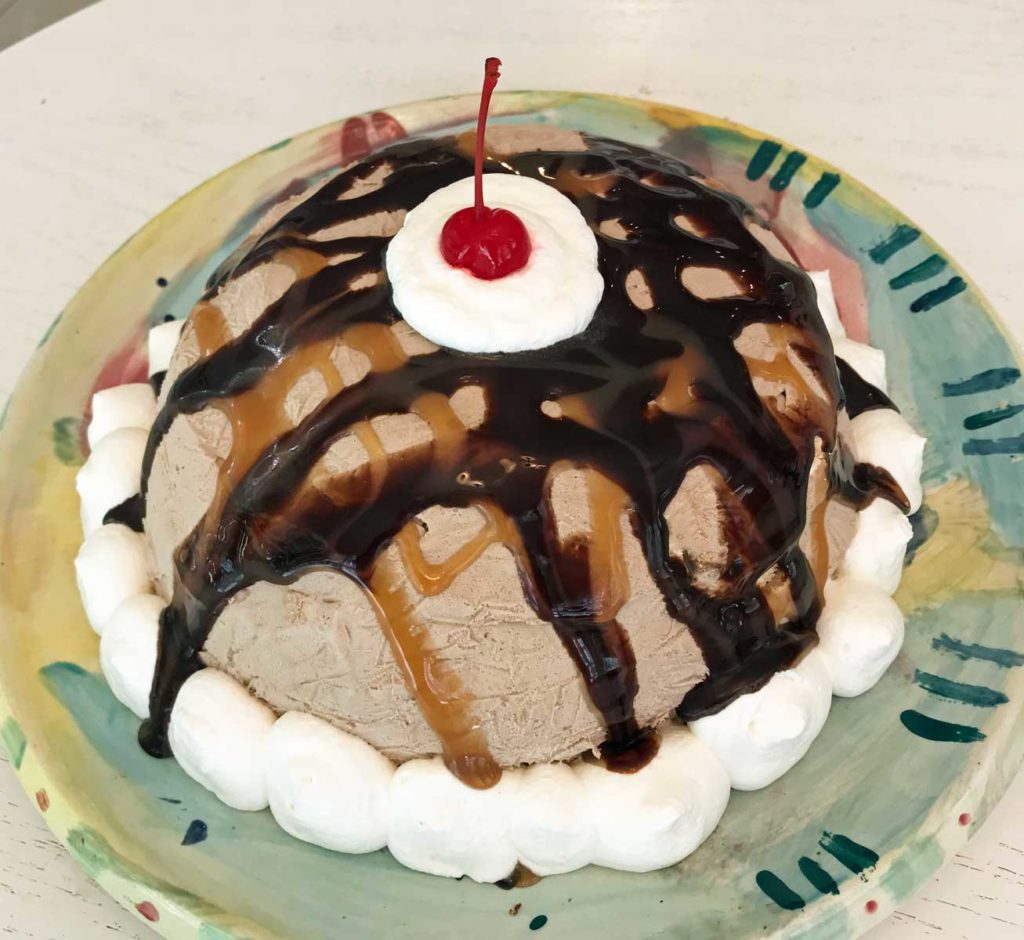 This dessert is adapted from one of my most treasured cookbooks, The Junior League of Palo Alto Private Collection. Its title is Frozen Chocolate Torte, but the Junior League knows it as "Inge-Lise's Dessert". They describe it as a heavenly confection created by a member of our community who honors her Danish heritage by being a superb cook. With a description like that, it's hard to pass up.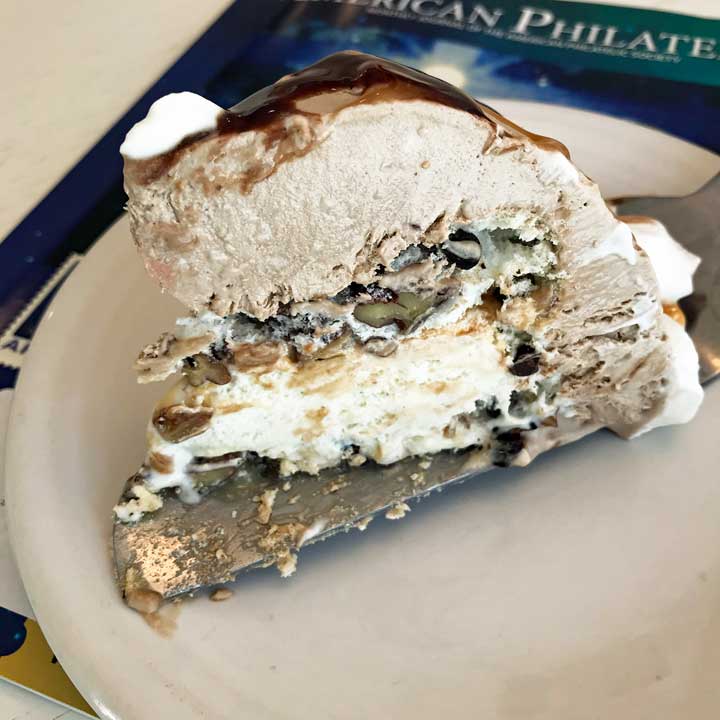 Plus you may have everything on hand. That's what's great about Danish Frozen Chocolate Torte is that even though it sounds and tastes "fancy", it is made with some pretty basic pantry ingredients -- egg whites, sugar, pecans, ice cream, whipped cream and chocolate syrup. It kind of reminds me of Luby's Butternut Brownie Pie, but with chocolate (and without graham crackers).
But here's where I have to apologize. As I started making the recipe, I went completely rogue and changed some important things. I don't think Inge-Lise would mind. The little changes were to use vanilla ice cream in the center and put chocolate whipped cream all over the cake instead of just on top of each layer. My torte is also a bit smaller.
Meringues for Frozen Chocolate Torte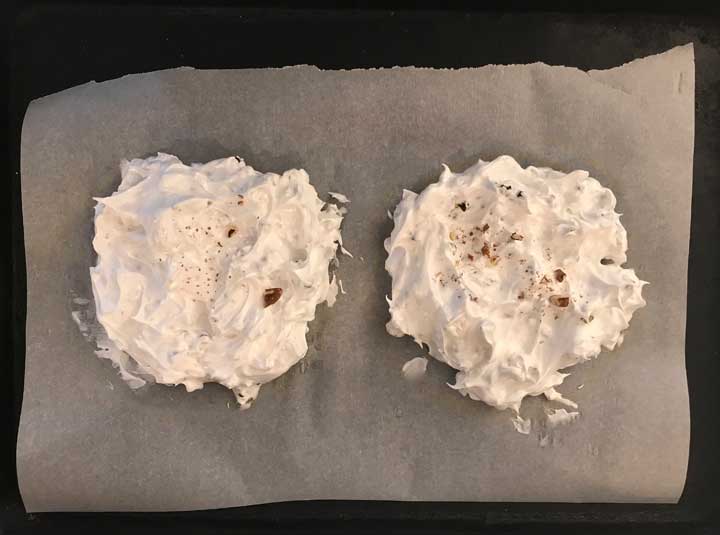 Here are a few photos to give you an idea of the process. You make two large round meringues using 3 egg whites, cream of tartar and sugar, pecans and maybe some chocolate chips if you're in the mood. In this photo, the meringue is spread into two 6 inch circles. You'll have extra meringue after making the circles, so use it to make some smaller cookies.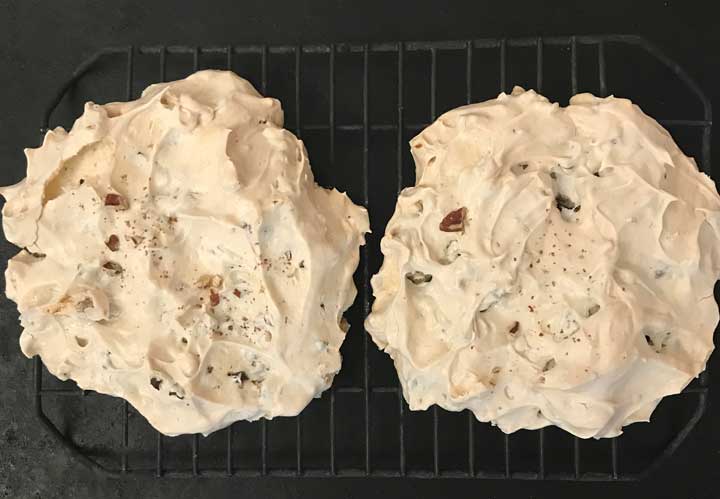 Here's are the meringues after being baked at 275 for 45 minutes and kept in the closed oven for another. Along with the big circles, I baked up four or 5 cookie sized meringues (pictured below). The cookie size were surprisingly good and I wouldn't hesitate to use this recipe just to make meringue cookies.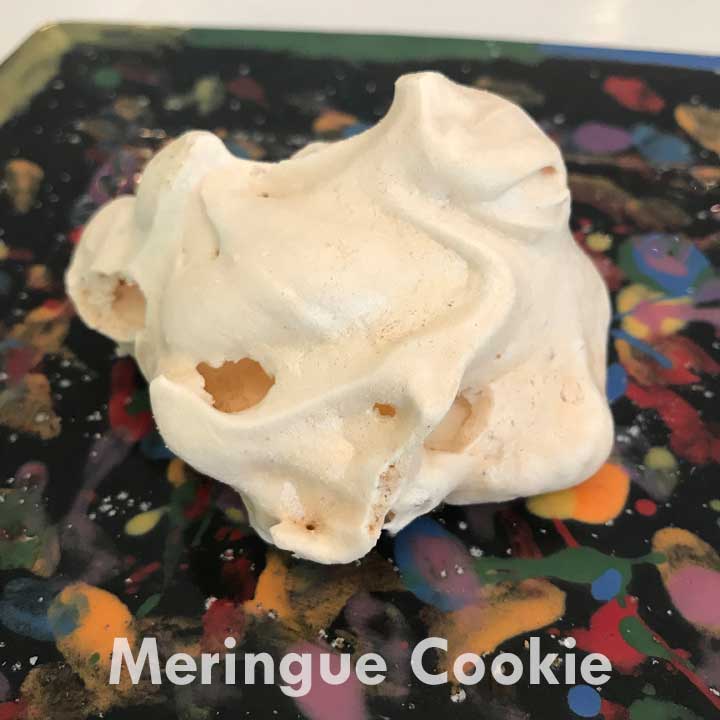 Once the meringues are baked, the fun starts! You layer softened vanilla ice cream between the two large meringues, then cover the whole thing with chocolate flavored whipped cream made with fresh whipping cream and chocolate syrup.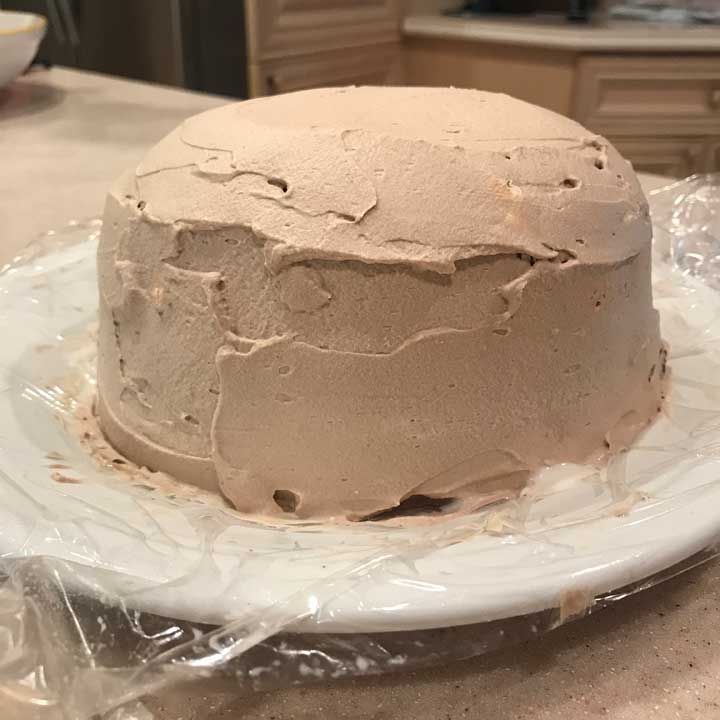 After covering the whole thing with chocolate whipped cream, you freeze it for 8 hours or overnight. Before serving, grab your flavored syrups, whip up some vanilla flavored whipped cream and garnish away!
Recipe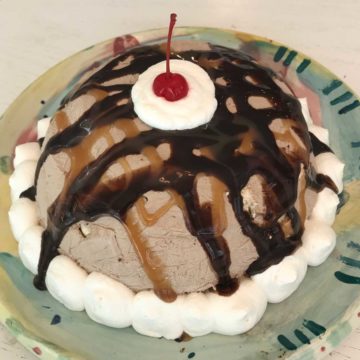 Danish Frozen Chocolate Torte
An easy dessert made with meringues, pecans and chocolate flavored whipped cream.
Ingredients 
3

large

eggs

½

teaspoon

cream of tartar

¾

cup

sugar

½

teaspoon

vanilla extract

¾

cup

pecans

chopped

2

cups

ice cream

2

cups

heavy whipping cream

divided use

3

tablespoons

chocolate syrup

plus more as needed

1

teaspoon

vanilla extract

chocolate syrup & pecans for garnish, maybe some caramel syrup too
Instructions 
Preheat oven to 275 degrees F.

Line a large rimmed baking sheet with parchment paper. With a pencil, draw or trace two 6 inch circles. A 6 inch cake pan works well for tracing.

Beat egg whites until frothy. When frothy, add the cream of tartar and continue beating until foamy. VERY gradually add the sugar as you continue beating on high until whites are very stiff. Add vanilla, then fold in the pecans.

For the two big circles, you won't need all of the egg white mixture. Spoon egg white mixture into the circles you drew and spread to make two 6 inch circles a little over an inch thick. You'll have used maybe a little more than ¾ or so of the meringue. Spoon gobs of whatever meringue you have left around the edges of the pan for some meringue cookies.

Bake the circles (and the cookies) for 45 minutes at 275, then turn off the oven and leave them in the oven with the door closed for another 45 minutes.

Let the meringues cool while you prepare the cream. They won't take long to cool because they've just been sitting in a warm oven.

Soften some ice cream and spread it evenly over one of the meringue layers. Luckily the meringues are sturdier than they appear due to the nuts. Stack the second meringue on top, wrap in plastic wrap and freeze while you make the chocolate whipped cream.

Whip 1 cup of the cream until stiff peaks form. Fold in the chocolate syrup. Take your frozen ice cream and meringue cake out of the freezer and cover it with chocolate whipped cream. Wrap very loosely and put back in the freezer. Check after about 40 minutes to see if the cream has firmed up a bit (frozen), then wrap tightly and chill overnight or for about 6 to 8 hours.

If you did a messy job of putting on the chocolate whipped cream, you may want to make a second batch and touch up the frozen cake with the new round of cream. Let's assume you didn''t make it messy and proceed Okay, whip up the remaining 1 cup of cream and flavor with 3 tablespoons of sugar and a little vanilla. Pipe it around the edges of the cake. If you are tired of whipping cream you can just use Cool Whip for this part.

Pour chocolate syrup (and maybe some caramel syrup too) over the top of the torte. Garnish with mini chocolate chips or chocolate shavings if you feel like it., Cut and serve.
Notes
Junior League Variation:  Make the meringue as directed, but draw 9 inch circles instead of 6 inch circles. Omit the ice cream completely and make your chocolate whipped cream with 2 cups of heavy whipping cream and ⅓ cup of chocolate syrup.  Put the chocolate whipped cream on the top of each meringue and stack.  The sides stay unfrosted, and the whole thing is garnished with chocolate shavings (and maybe some syrup).