Served at a popular Texas cafeteria called Luby's, Luby's Butternut Brownie Pie is one of our family's favorite pie.  To be honest, I haven't been to Luby's in ages nor do I remember seeing this pie, but my mother recalls it quite vividly and says this version is similar.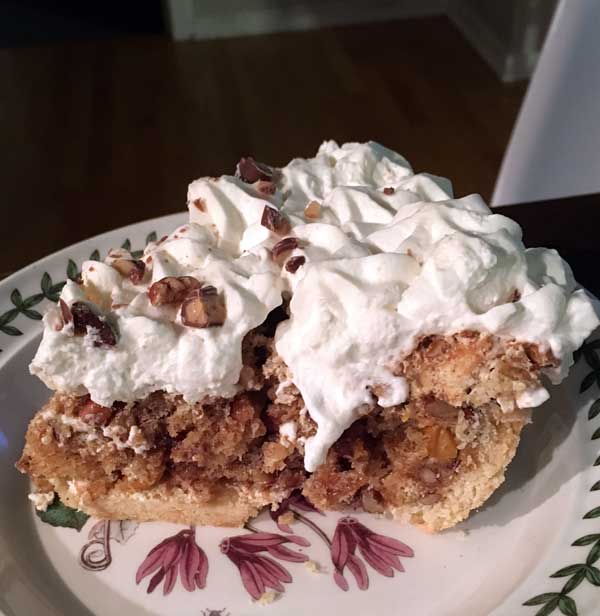 And here's a slightly better photo. I had to wait until daylight when the light was better. The one above it was taken at night.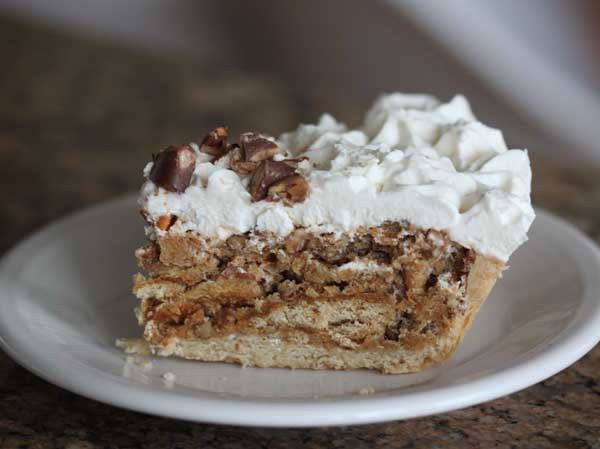 Oddly enough, there is no chocolate in this pie, yet it still has "brownie" in the title. It is kind of a brownish color, though, so maybe the name Butternut Brownie Pie comes from that.
Here's what it looks like assembled in a pie dish. In this shot it is baked, but not topped with whipped cream.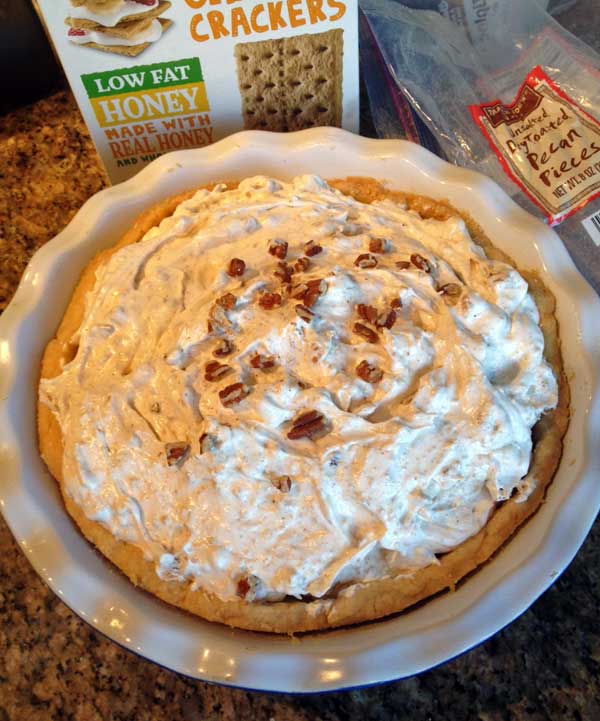 And here it is with a whipped cream topping.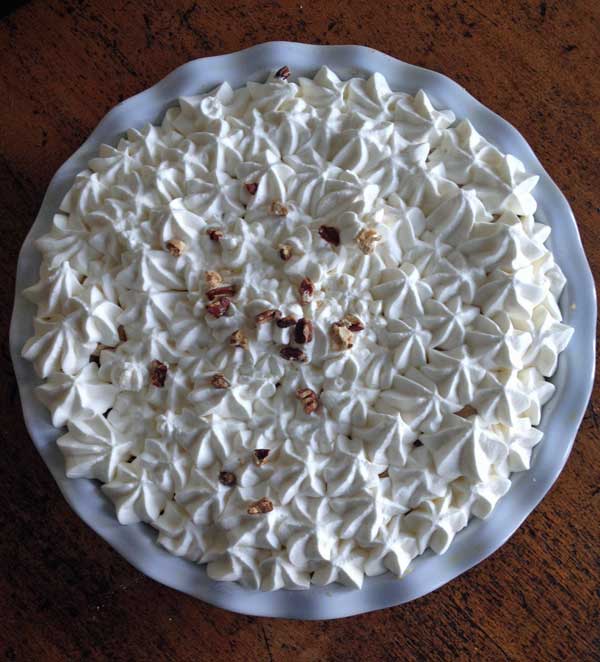 Here's an older shot from back when I didn't put a crust under it.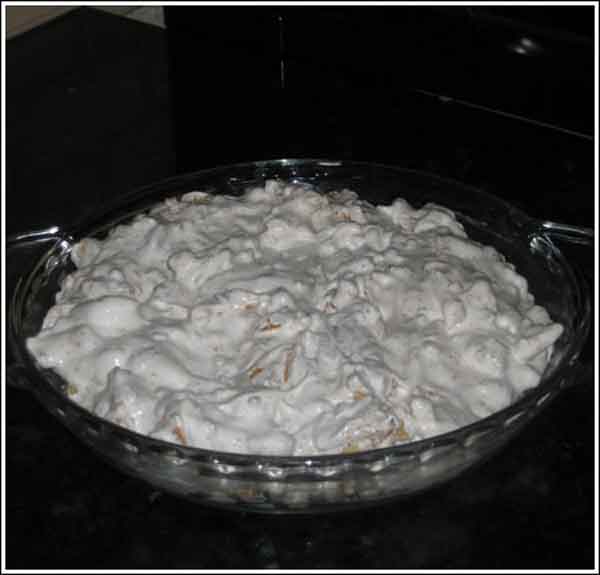 And again -- an old photo of the no-crust version taken out of the oven.  The orange stuff is crushed Butterfinger candy. It's marking the small quadrant where I mixed a bit of Butterfinger into the pie filling to see how it would taste. It's probably going to be too sweet, but I will let you know (Update:  Okay, but not great.  Don't bother with the Butterfinger).
Update: I've made this pie many times since posting, and since then I've started building the pie on a baked pie crust.  It slices neatly with a crust underneath and looks better.  However,  no crust is necessary. The original recipe is baked in a greased pie dish with no crust.  Also, I do bake it at 350 rather than 300.  The original version in the Luby's cookbook calls for 300 degrees, but at some point I changed the temperature to 350. Here are a few pictures of the latest pie.
The filling is in the crust and ready to go.
Just out of the oven. The pie puffs up quite a bit, but will settle as it cools.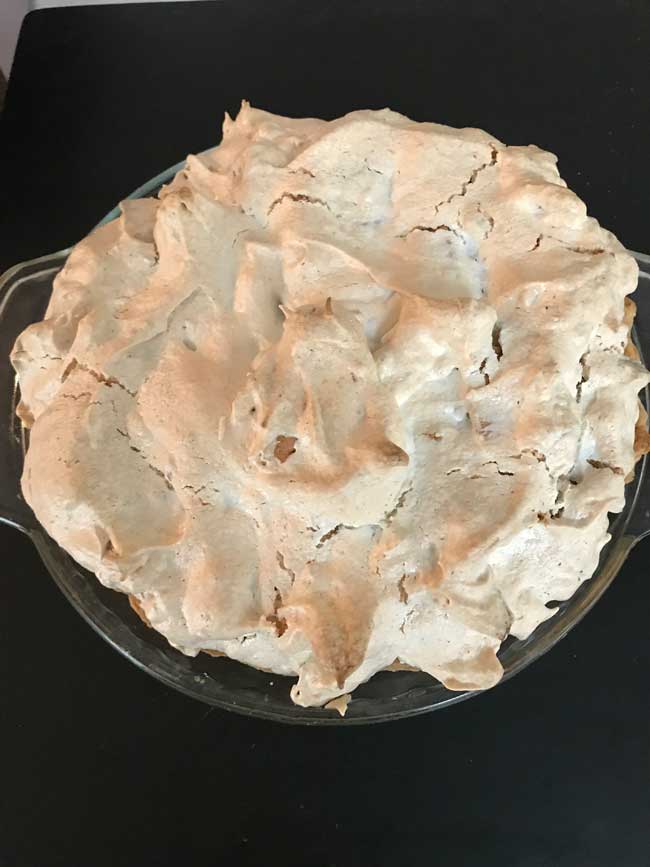 Here it is with getting topped with whipped cream. Hooray!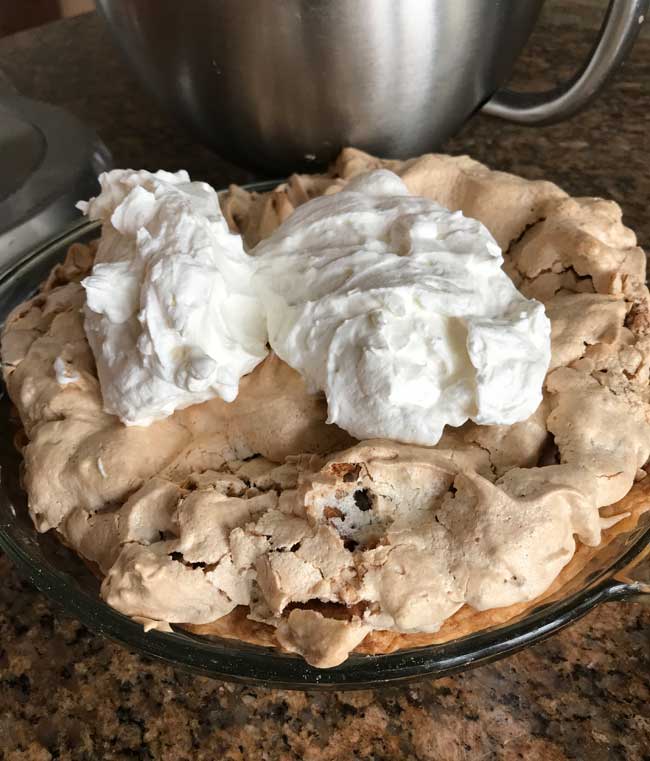 Ready to eat! I sprinkled some crushed graham crackers over this one just for fun.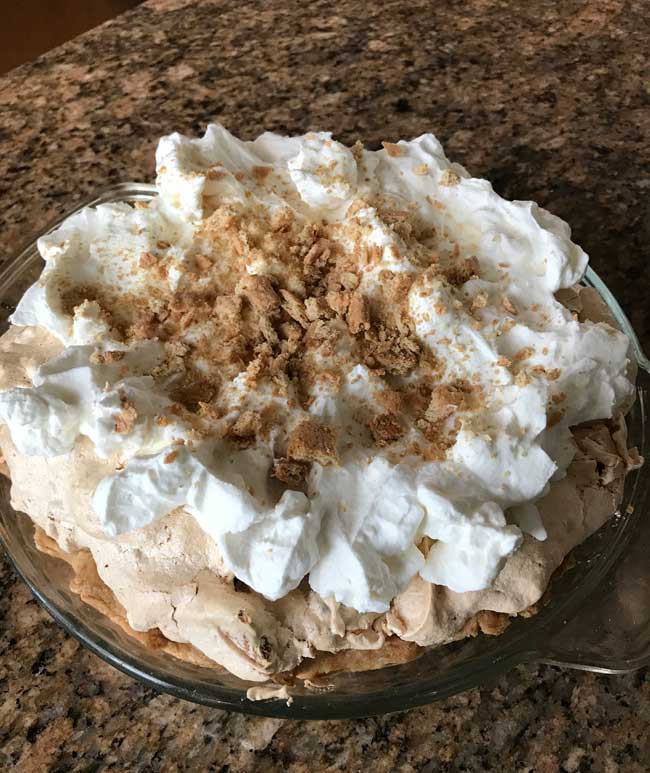 Recipe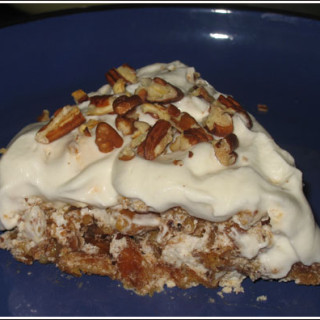 Luby's Butternut Brownie Pie
Luby's Butternut Brownie Pie is a unique pie made with egg whites, pecans, sugar and graham crackers.
Ingredients 
Butter or shortening for rubbing pie plate

about 1 tablespoon OR 1 fully baked pie crust

5

large or 4 "extra large" egg whites

⅛

teaspoon

baking powder

⅛

teaspoon

cream of tartar

or just leave it out

1

cup

granulated sugar

200 grams

1

teaspoon

vanilla extract

14

graham cracker squares

broken into half inch pieces or crushed

1

cup

chopped

toasted pecans

Optional: ¼ cup of butterscotch chips

worth throwing in if you have some
Topping:
1

cup

whipping cream

3-4

tablespoons

granulated sugar or ¼ cup powdered

½

teaspoon

vanilla
Instructions 
Preheat oven to 350 degrees F. (Note: Other recipes use 300, but I use 350).

Rub a 9 inch glass pie plate (I use a deep dish) generously with butter. Alternatively, have ready a pre-baked pie crust.

In a mixing bowl, beat egg whites and baking powder until soft peaks form. Add cream of tartar, beating constantly. Add 1 cup of sugar, 1 tablespoon at a time, beating constantly until stiff peaks form. Beat in vanilla. Using a rubber scraper, fold in graham crackers and chopped, toasted pecans. Pour mixture into pie plate (or baked pie shell) and bake for 30 minutes.

Let cool completely on a wire rack. The pie will sink a bit as it cools.

Prepare topping. In a chilled bowl, using chilled beaters, beat cream until it begins to thicken. Add sugar and vanilla and continue beating until stiff peaks form. Do not overbeat. Top pie with whipped cream. Garnish with extra pecans if desired.
Notes
As mentioned, the crust is optional. Since i enjoy making it, I usually use the quick Crisco recipe and bake it covered with foil and weighed down with pie weights at 425 for 20 minutes. I then remove the foil and bake at 375 for about 8 minutes. After that I let it cool completely before filling and re-baking.
The graham crackers should be broken or coarsely crushed with a rolling pan. If they are crushed too fine, the texture is kind of mealy. In the original recipe they are broken, but I usually take a rolling pin to them and have a big mess of broken and crushed. Feel free to use more graham crackers. For the pecans, make sure they're toasted. I love buying the pre-roasted, pre-chopped pecans from Trader Joe's. In addition to the graham crackers and pecans, about ¼ cup to ⅓ cup of butterscotch chips in a nice addition, but they do increase sweetness.
Here are some older Butternut Brownie Pie photos which I'm keeping for posterity.