This is just a basic pie dough recipe formatted in a table with measurements for a 1 crust or 2 crust pie. I'm posting it to refer back to for pie making. If making a 1 crust basic pie dough recipe, I use grated butter. If making a 2 crust recipe, I use the food processor.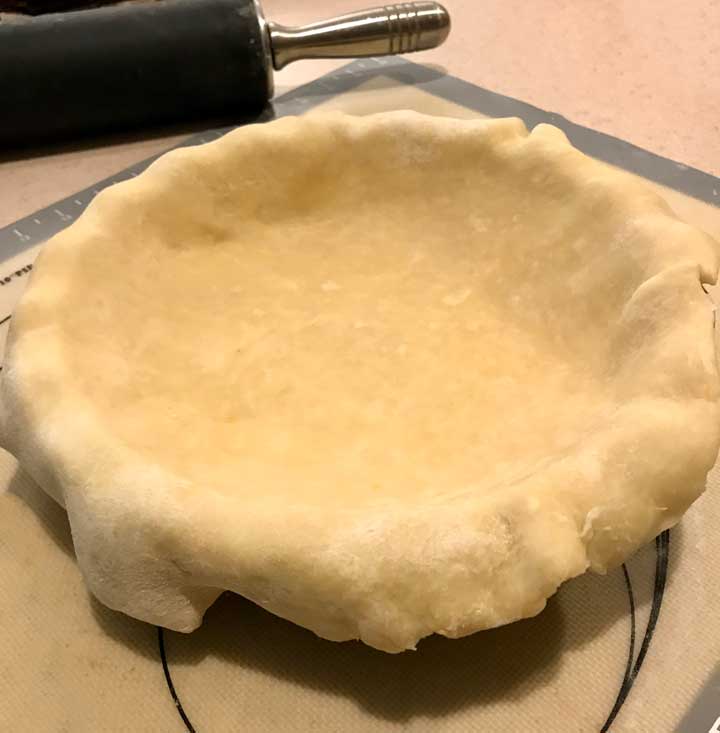 Basic Pie Dough Recipe
| | | |
| --- | --- | --- |
| 1 Crust | 2 Crust | |
| 1 ½ cups (200 grams) | 2 ½ cups (330 grams) | all-purpose flour |
| 1 ½ teaspoons (7 grams) | 2 ½ teaspoons (12 grams) | sugar |
| ½ teaspoon (3 grams) | ¾ teaspoon (4 grams) | salt |
| 6 tablespoons (84 grams) | 11 tablespoons (154 grams) | unsalted butter, cold |
| 1 ½ tablespoons (18 grams) | 2 ½ tablespoons (30 grams) | shortening |
| 3 tablespoons (more as needed) | 5 tablespoons | cold water |
Combine the flour, sugar, and salt in the bowl of a food processor or in a large mixing bowl. Pulse to mix if using a processor, or just stir well if using a bowl. Add chunks of butter and shortening and pulse just until mixture is coarse. If using a bowl, shred the butter and toss with the flour mixture. Add 2 tablespoons of cold water and pulse (or stir), then continue adding water just until mixture holds together when you pinch it with your fingers. Empty onto a pastry mat and shape into a big ball. Press down into a disk, then wrap in plastic wrap and chill for two hours or until ready to use.
Blind Baking Pie Dough
To blind bake your pie crust, roll it out into a large circle and fit it over the pie dish. Trim the overhang neatly, then tuck the ends under so that they are sitting on the rim of the pie pie dish. Crimp with your fingers or press down with a fork. After fitting the pie dough in the pan, put it in the refrigerator for 2 or 3 hours to rest. When ready to bake, press a piece of nonstick foil over the dough and weigh down with pie weighs. Bake at 400 degrees F. for 15 minutes. Remove from oven, carefully remove foil and weights, and prick holes in the partially baked dough. Reduce oven heat to 375 degrees F. (reducing heat will help prevent shrinking) and bake for another 15 to 20 minutes or until the crust is slightly browned.