It took me a while to appreciate making homemade English muffins, but now I'm hooked, and these Apple Spice English Muffins are the latest creation. My daughter loves them, too. They're made with apple juice, apples, walnuts and spices, so they are sweet enough to be eaten with just a pat of butter or without anything at all. Cinnamon chips are are an excellent addition, but totally optional.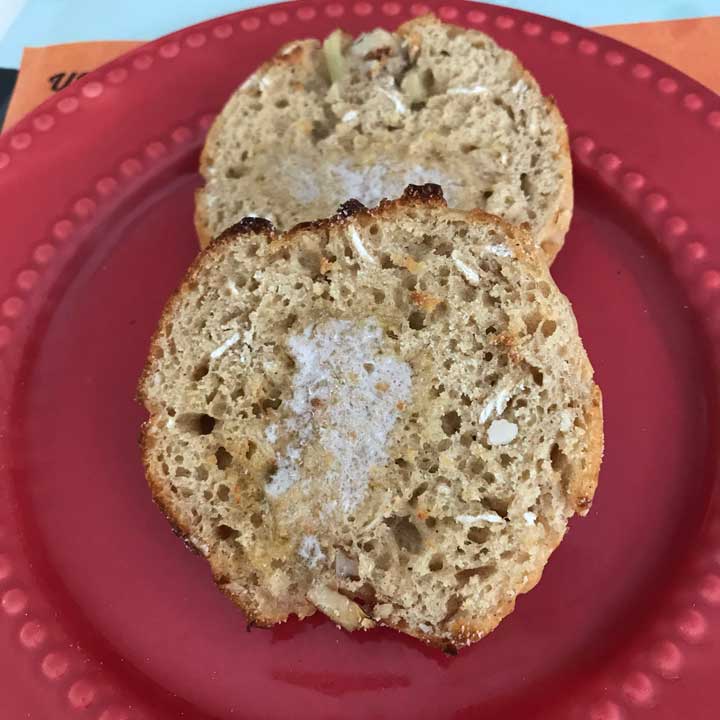 We usually make the Sourdough English Muffins and top them with peanut butter. I tested a sourdough version of Apple Spice English Muffins and felt the apple spice flavor was better without the sourdough. So while I still love the sourdough recipe, these are a little heavier textured and sweeter. The fresh apples and walnuts make the edges a little raggedy so they are not the most beautiful muffins, but they taste good.
A nice thing about the recipe is that it doesn't require kneading. You make the dough -- which is very wet and almost like muffin batter, then let it rise for 30 to 40 minutes. It doesn't completely double, as you can see here, it just kind of puffs up.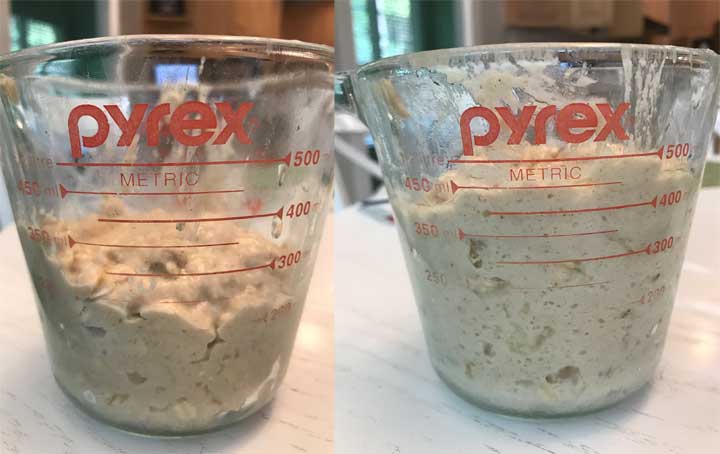 Once the dough puffs up, you scoop it out and cook it in English muffin rings in a lidded skillet. I'm sorry that the recipe requires English muffin rings, but you can find English muffin rings on Amazon (#ad), and once you buy a set you'll probably find other ways to use them. Plus they're not very expensive. You could also make your own rings using nonstick foil or water chestnut cans with the top and bottom cut out, but it really is nice to just have a set of rings.
Cooking the Apple Spice English Muffins
As mentioned, I wasn't always keen on making English muffins because cooking muffins over the stove didn't feel like actual baking, and I love to bake.  Now I'm "skillet baking" nonstop and kind of like the leisurely flow of it.  The key is keeping the heat really low so that the outsides of the outsides of the muffins won't burn before the insides bake.  Covering the skillet with a lid helps, so a lidded skillet such as the Calphalon Every Day Chef's Pan works perfectly. I could go on and on about how much I love this pan and why, but I'll spare you and just move right to the recipe.
Ingredient Notes
All Purpose Flour -- I've been using all-purpose, but bread flour should work just fine. When I test with bread I'll add a note.
Oats -- Just a small handful of old fashioned.
Quick Rising Yeast -- 1 ⅛ teaspoons is around half a packet. I haven't tested with active dry, but I think that might work really well in an overnight version
Nonfat Dry Milk Powder--Like powdered buttermilk, powdered nonfat dry milk is such a handy ingredient to have in the house.  It's worth buying and keeping around for this recipe or any recipe where you need milk.  You can always reconstitute it.  Unfortunately, you can't substitute regular milk in this recipe because it requires apple juice.
Brown sugar and spices -- Feel free to increase or reduce the spices as needed.  I kept the amounts pretty modest, I was worried the spices salt would inhibit the rising, but they didn't.
Butter -- Light olive oil works too.
Apple Juice --- I just use the cheapest brand of apple juice I can find, but a good apple cider might make the muffins even better. The apple juice adds plenty of sweetness.
Apple -- I've been testing with Gala, but Granny Smiths would be ideal. Use your favorite apples.
Walnuts -- Rather than toast ¼ cup, you can microwave them on a small plate for 1 minute.  Keep an eye on them.  Let cool before chopping.  Also, I add the apples and nuts after the first rise so that they won't inhibit the rising. 
This is a small batch recipe because we like making muffins in different flavors and I didn't want to fill the freezer with just apple spice muffins.  Try the recipe, and if you like the muffins you can always double it.
Recipe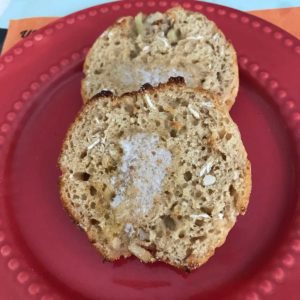 No Knead Apple Spice English Muffins
An easy recipe for sweet and spicy apple flavored English muffins.
Ingredients 
1

cup

all-purpose flour

sifted (130 grams)

¼

cup

old fashioned oats (25 grams

1 ⅛

teaspoon

quick rising yeast

half a packet

¼

cup

non-fat powdered milk

1

tablespoon

brown sugar

¼

teaspoon

salt

maybe more

¼

teaspoon

cinnamon

⅛

nutmeg

⅛

allspice

½

tablespoon

butter

softened (margarine okay)

½

cup

plus 2 tablespoons apple juice

¼

cup

chopped apple

can use a little less or a little more

¼

cup

walnuts

toasted and chopped**

2

tablespoons

cinnamon chips

optional

Rice flour or cornmeal or semolina
Instructions 
In a mixing bowl, combine the flour, oats, yeast, powdered milk, brown sugar, salt, cinnamon, nutmeg and allspice and stir until evenly blended. Add the softened butter, but do not stir – just plop it on top of the dry ingredients.

Warm ½ cup of the apple juice in the microwave until it is about 120 degrees (warm, but not piping hot), then pour over the flour mixture and stir. Add the other 2 tablespoons of apple juice one by one to make a very soft, wet, dough – it should be almost a batter, but not quite. Maybe something like a muffin batter.

Cover the bowl and let the dough sit for 30-40 minutes. It should rise, but won't quite double in bulk.

Fold the walnuts and apple into the risen dough, doing your best not to deflate it too much though it will go down somewhat).

Put a lidded skillet over low heat. Sprinkle with rice flour (or semolina or cornmeal). Using greased 3 inch muffin rings, set the rings on the skillet.

Spoon ⅓ cup of batter into each ring. Spoon the batter right in the center of the ring so that it spreads and barely touches the sides of the ring. It will expand more as it bakes.

Cover with the lid and cook the muffins for about 10 minutes, then flip and cook the other sides for another 10 minutes. After the first couple of minutes, lift lid and check to see that the muffins are browning slowly and evenly.

To test to make sure if they are done, insert a probe thermometer. They should be 190 degrees or more.
Notes
If you can find them, Cinnamon Chips are great in these!  Just throw in a few tablespoons along with the apples & walnuts.