It's been a while since I posted an English muffin recipe, but now that I have thriving sourdough starter I couldn't resist sharing this one for Small Batch English Muffins. The recipe calls for only ⅓ cup of sourdough starter or discard -- both work. It's also a pretty straightforward recipe that doesn't require an overnight rise.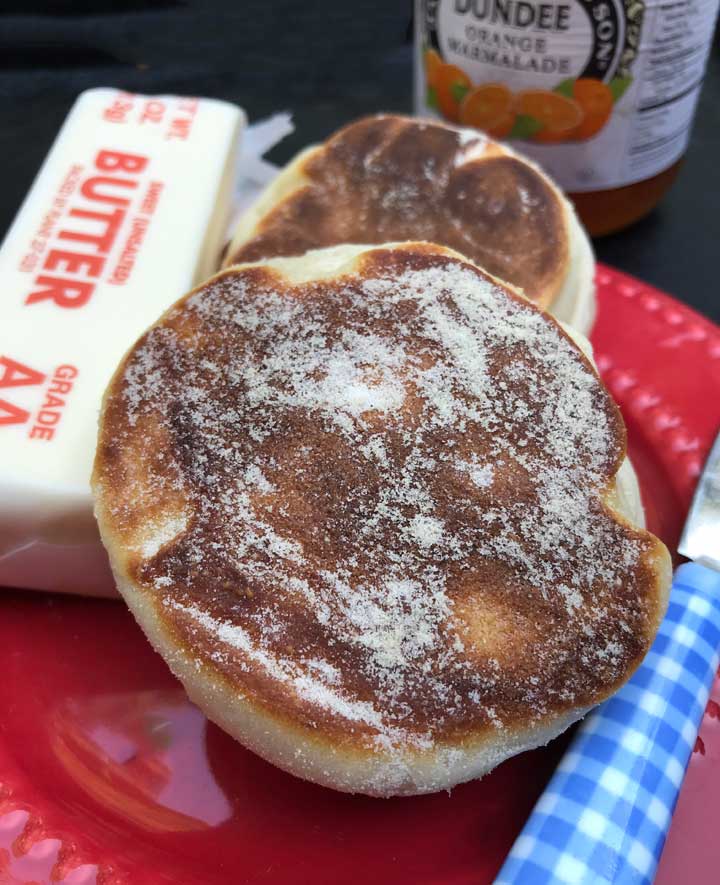 The recipe is "small batch", but depending on how big you make the muffins you should get at least 7. For a small household it seems to be a pretty reasonable yield. But feel free to double!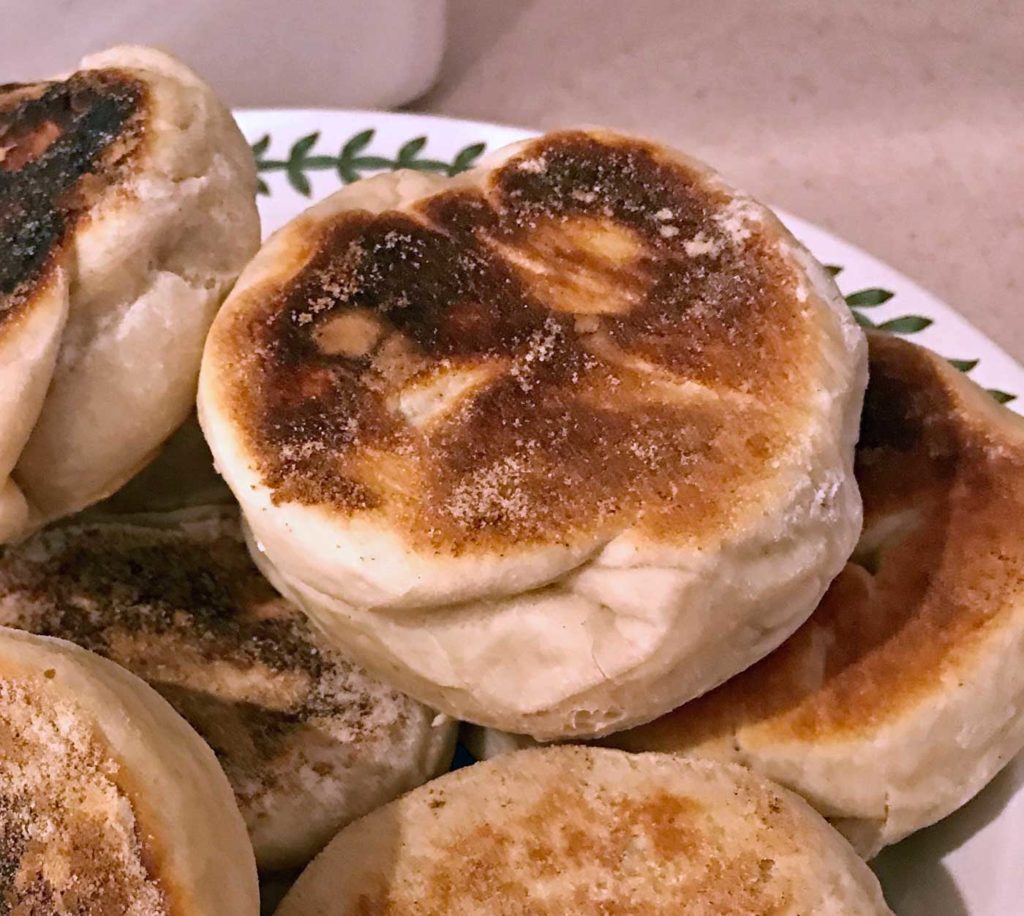 Small Batch Sourdough English Muffins do not require muffin rings. Instead you just punch out circles of risen dough, allow them to rise for 40 minutes, then cook for 7 to 10 minutes per side in a large skillet. There's no real baking involved, but the muffins rise perfectly and are always cooked through. It is easy to deflate the dough when putting it in the skillet so you do have to be careful with that, but otherwise they are fairly light and high rising English muffins.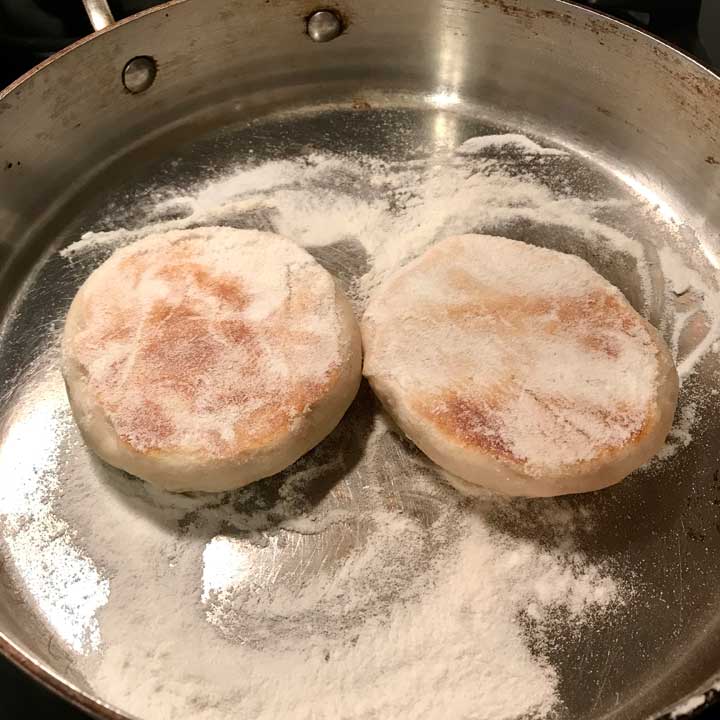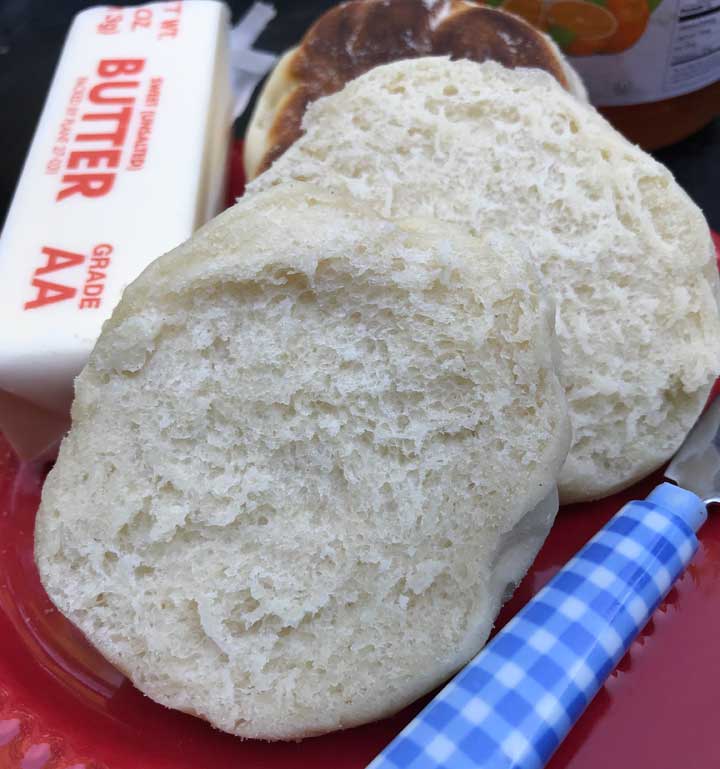 The only caveat with this recipe is that Small Batch Sourdough English Muffins don't have a lot of nooks & crannies, but rather are tight crumbed. My family doesn't seem to care because the chewy texture and flavor make up for that. If you are looking for recipe with nooks & crannies you may want to try one that has an overnight rising period or a wetter batter which requires rings.
No Sourdough?
If you don't have a sourdough starter and just want a good recipe for English muffins, Mr. Paul has a very easy and basic recipe. Or you could check out the ones I made in 2011 (Alton Brown's recipe) and 2014 (All Bran Cereal English Muffins). I wasn't as good of a bread maker then and the pictures aren't great, but the recipes are good. Alton Brown's recipe requires muffin rings, but the All Bran recipe does not. I have plans to go back and make the bran ones again, but for now I'm too enamored with the sourdough muffins and have made them at least 5 times. Given that, here are some notes!
Sourdough English Muffins Ingredient Notes
Bread Flour -- I like to use bread flour, but all-purpose should be fine. I'll note when I test with all-purpose. The AP flour may yield more nooks & crannies.
Dry Milk Powder -- This is a pantry staple these days. We don't drink a lot of regular milk, so when I need milk for a recipe I reconstitute the powder. If you don't have any milk powder you can use warm milk instead of water.
Sugar does not make the muffins sweet, but it brings out the other flavors.
I've only tested this recipe with instant (fast rising) yeast. Active dry should work as well, but the rising time might be longer. I'll update when I test with active dry.
You can use active, bubbly starter or room temperature discard. In this recipe the yeast does most of the work and the starter just adds flavor.
You'll inevitably need more than ⅔ cup of water, but it's easier to add more than take it out or add more flour, so start with ⅔ cup and go from there.
You can use all butter or a mixture of oil and butter.
I prefer the texture of rice flour (and I always have it because I use it in shortbread!) over cornmeal or semolina, but use whatever you have.
I've only tested with a stand mixer and dough hook, but you could also knead by hand if you are careful with the water and flour.
Recipe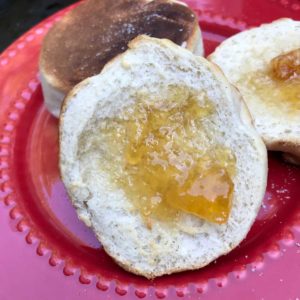 Small Batch Sourdough English Muffins
Small batch English Muffin recipe that uses sourdough discard
Ingredients 
2

cups

bread flour

280 grams, plus more if needed

2 ½

tablespoons

dry milk powder

2

teaspoons

sugar

1

teaspoon

salt

1

teaspoon

instant yeast

⅓

cup

bubbly sourdough or sourdough discard

at room temperature 85 grams

⅔

cup

warm water

plus more as needed**

4

teaspoons

softened butter or use a mixture of oil and butter

Rice Flour

optional
Instructions 
Mix all ingredients (except rice flour) together in the bowl of a stand mixer.  Stir well. You should have a very dry dough at this point.  Add more water about a tablespoon at a time just to moisten, then begin kneading with dough hook.  Dough should clear the side of the bowl as it's being kneaded. Knead for about 8 to 10 minutes. After 10 minutes of kneading it should be a little sticky, yet very elastic.

Transfer dough to a greased bowl, then cover and let rise for 1 hour.

Roll dough to about ¾ inch thick and cut into circles. Cut rounds with 2 ½ or 3 inch round cutter. You should get 8 or 9 muffins depending on what size cutter you used -- maybe fewer if you went with all 3 inch rounds. I always do a mix of sizes.

Set the circles on a baking sheet which you've lined with parchment and dusted with rice flour. Let the muffins rise for about 40 minutes.

Heat a large, dry, stainless steel saute pan or skillet. Keep the heat on low. It's important to use a pan that gets very hot, but you will also need to control that heat and keep it LOW.

Add a little rice flour to the skillet. If you don't have any, you can get by without it, but it helps prevent sticking and adds a little texture.

Using a thin spatula, carefully lift the risen muffin dough rounds and transfer to the skillet. Try not to let them deflate! The rice flour really helps here because the risen muffin dough just rolls off and you don't have to pry it. Prying causes deflation.

Set about 3 of the rounds in the hot skillet. Cook for 7 to 10 minutes -- 7 if you made your muffins smaller than 3 inches, but up to 10 if you made 3 inch muffins. Check the bottoms and make sure they are nicely browned, then turn and bake for another 7 to 10 minutes. Note: You might have to experiment a little with the heat settings. These are not difficult to make, but you have to get the heat just right so that it's neither too low nor too high.
Notes
The muffins can be made with ⅓ cup of discard or ⅓ cup of bubbly sourdough starter. Since the recipe also calls for yeast, the muffins will rise either way.
Cinnamon Raisin Version
Instead of 2 cups of flour, use 1 cup bread flour and 1 cup of whole wheat or white whole wheat.  Omit granulated sugar and use 4 teaspoons of brown sugar.  After the first rise, punch down the dough and knead in ¼ teaspoon cinnamon and ⅓ cup (or however many you want) of raisins).