This time of year I usually make Gingerbread Biscotti, but we've been in a pumpkin spice mood, so naturally it's Pumpkin Spice Biscotti. I've made this about four times already this week — not because we need it, but because there's something really enjoyable about making biscotti. Maybe part of it is aromatherapy from how good it makes the kitchen smell? I don't know, but I love making this biscotti and just about any kind, really.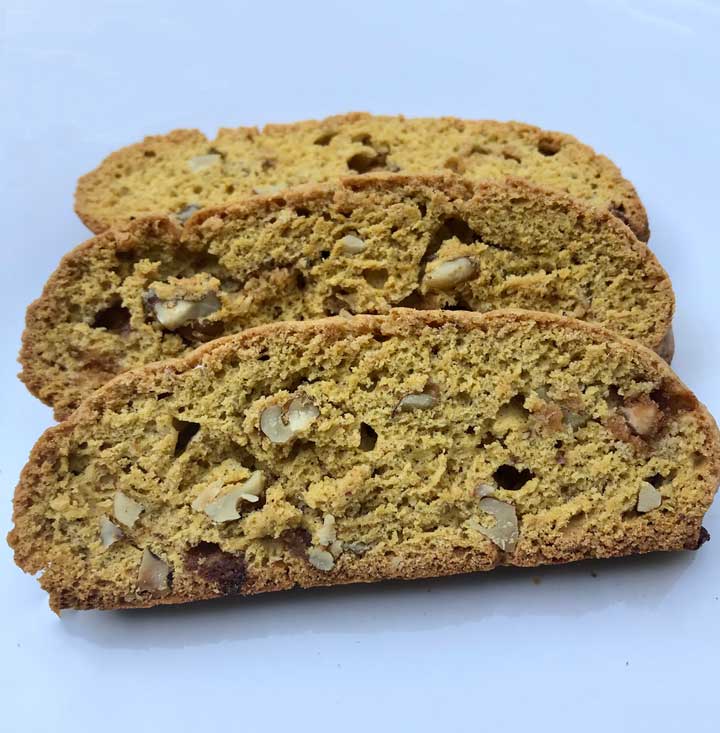 So this one's called Pumpkin Spice Biscotti, but it only has 1/4 cup of pumpkin. Believe it or not, that small amount really does add enough pumpkin flavor. I think pumpkin spice is usually all about the "spice" anyway. As for add-ins, feel free to use whatever nuts and chips you want. I chose walnuts and caramel chips this time, but I've also made these with dried cranberries, raisins and walnuts. They're great with dried fruit, but my daughter prefers just the chips and nuts. Speaking of which, the Hershey's caramel chips don't dry out as much as the white or cinnamon chips. They seem creamier and even melt faster than other flavor chips, which is odd. You'd think they'd all be kind of the same composition.
Biscotti Shaping Tips
Sometimes a log of baked biscotti crumbles when you slice it. In an attempt to curtail crumbling caused by nuts or chips poking out the top, I took out 1/3 of the dough before adding the chips and nuts, shaped the log, then molded the nut-free section of dough over the top of the log to conceal any nuts and chips. This gives the log a smoother top which is easier to slice. Plus the slices just look better.
Pumpkin Spice Biscotti
Pumpkin Spice Biscotti recipe with lots of fall flavors! If you have maple extract, I recommend using it instead of vanilla. The vanilla is good, but for some reason the maple extract really works well and doesn't overpower the other flavors (as maple extract can do).
Ingredients 
1 1/2

cups

all-purpose flour

190 grams

3/8

teaspoon

baking powder

(see note)

1/4

teaspoon

salt

1/2

teaspoon

cinnamon

1/4

teaspoon

ginger

1/8

teaspoon

nutmeg

1/8

teaspoon

cloves

1

large egg

separated

1/2

cup

sugar

100 grams

1/4

cup

canned pumpkin

60 grams

1/2

teaspoon

vanilla extract OR maple extract

2

tablespoons

unsalted butter plus 2 teaspoons

40 grams

1/2

cup

nuts, walnuts or pecans

Use more if desired

1/3

cup

white or caramel flavored chips

optional
Instructions 
Preheat oven to 350 degrees F. Line cookie sheet with parchment or a silpat.

Stir together flour, baking powder salt and spices and set aside.

With a handheld mixer, beat the egg white until soft peaks start to form. Gradually add half of the granulated sugar and beat until thick and peaks just start to form.

In another bowl, using the electric mixer, beat the egg yolk with the rest of the sugar. With the mixer going, pour in the melted butter and continue beating, then beat in the pumpkin and vanilla.

Fold the egg white mixture into the pumpkin mixture.

Gradually add the flour mixture and stir until blended. Remove a little less than 1/3 of the dough, then stir the nuts and chips into remaining. Dampen hands and shape dough directly on a parchment lined baking sheet into 4×10 inch log. Take the reserved dough and press it evenly across the top of the log to conceal any nuts and chips.

Bake the log at 350 for about 30 minutes. Remove from oven and allow to cool for about 20 to 30 minutes. Place on a cutting board.

Reduce oven heat to 300 degrees F.

Cut the log into 1/2 inch thick slices. Lay slices on baking sheet cut side down. Return to oven and bake at 300 for another 25 minutes, turning about halfway through.
Notes
You can use baking soda or baking powder.  Baking powder is the usual leavening agent, but baking soda will give you a browner biscotti.
Apple Spice Variation:  Drain 1/2 cup of applesauce on a stack of paper towels.  You'll end up without about 1/4 cup after the towels soak up the moisture..  Use the 1/4 cup applesauce in place of the canned pumpkin, add 3 tablespoons chopped fresh apple and 3-4 tablespoons cinnamon chips instead of caramel chips.  For the spices, use 1/2 teaspoon cardamom, 1/2 teaspoon cinnamon, 1/4 teaspoon nutmeg and 1/8 teaspoon allspice.