Last week was bittersweet. Fuzz, who has been taking all her college classes remotely, went back to campus in New England. Even with all the Covid restrictions, she couldn't be more thrilled to go back. I'm happy for her, but will miss my number one cookie tester.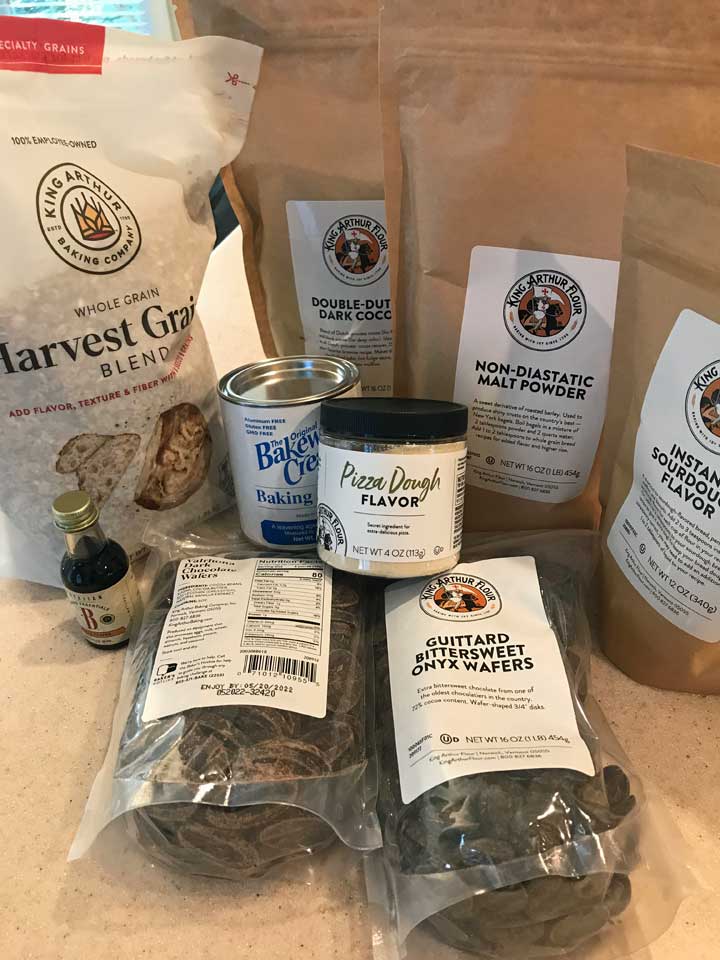 Anyhow, Todd softened the blow a little bit. On the way through Vermont he stopped at the King Arthur store and picked up some goodies! One thing in the haul was a bag of Harvest Grains Blend, a mix of seeds and grains to add crunchiness and nutrition to breads, cookies and whatever you choose. I gave it a test run today by using it in a batch of big, flat, chewy oatmeal cookies.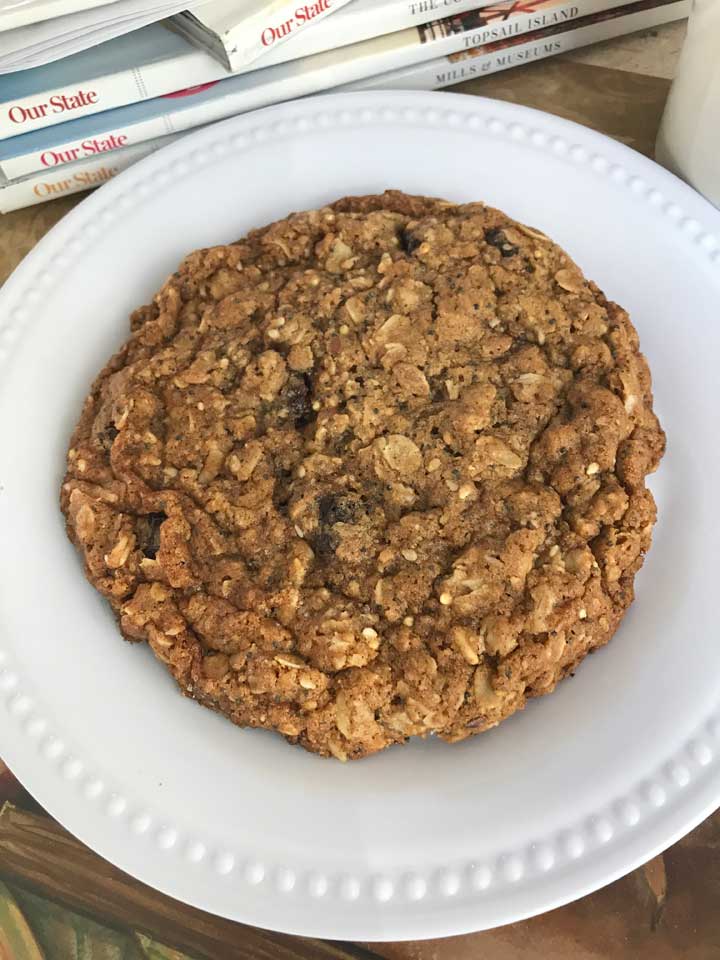 The base recipe is Thomas Keller's Oatmeal Raisin Cookies from Bouchon Bakery Cookbook. Ah, more good memories -- eating giant cookies at Bouchon in Columbus Circle. The ones I bought at the bakery were always chocolate chip, but Thomas Keller's homemade oatmeal version is just as good. And I think adding the Harvest Grain Blend made them a little better, even! Without the Harvest Grains the cookies are delicious, but adding the grain blend gives them a little crunchiness from the variety of seeds and millet.
Here's the Thomas Keller oatmeal cookie recipe with the Harvest Grains twist!
Bouchon Cookbook
Update: I now have the actual recipe from the Bouchon Bakery Cookbook and I feel the need to note that this one is similar, but not the same. The book is way more detailed. The ratios are close and this recipe will give you awesome cookies, but if you have any interest in recipes from Bouchon you should get a copy of the book. So far it is one of the best baking books I have ever read. I missed it when it came out in 2012 (probably busy with a new job), but there's lots of good info.
Recipe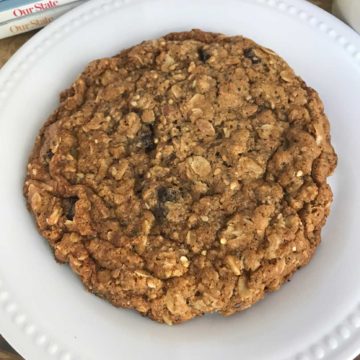 Harvest Grains Oatmeal Cookies
Thomas Keller's oatmeal cookie recipe with a bit of extra grains thrown in. If you don't have any Harvest Grains blend, just use more oatmeal or any 7 grain cereal.
Ingredients 
1

cup

all-purpose flour (plus an extra teaspoon)

(I use 140 grams)

1

tablespoon

ground cinnamon

1 ½

teaspoons

baking soda

1 ¼

teaspoons

Diamond Kosher or ¾ teaspoon Morton Kosher

**

½

cup

plus 3 ½ tablespoons granulated sugar

(140 grams)

¼

cup

plus 1 ½ tablespoons tightly packed dark or light brown sugar (I use dark)

(70 grams)

11

tablespoons

unsalted butter, room temperature

(154 grams)

1

large

egg, room temperature

2

teaspoons

vanilla extract (TK uses 1 ¼ tsp vanilla paste)

1 ¾

cups

old-fashioned oats

¼

cup

King Arthur Harvest Grains or 7 Grain Cereal

Or just use more oats!

¾

cup

raisins (can use more if you want or leave out)
Instructions 
Whisk together the flour, cinnamon, baking soda and salt.

In another bowl, whisk together the sugars until no lumps remain.

In the bowl of a stand mixer, cream the butter on medium speed. Add the sugars and mix for 3-4 minutes until mixture lightens a bit. Scrape down the sides and bottom of the bowl.

Stir in the egg by hand or using lowest speed of mixer. Once egg is blended, add the flour mixture, with the mixer on low, stopping to stir until incorporated. Add the vanilla, the oats and Harvest Grains and stir until blended, then add the raisins.

For this recipe, it's a good idea to portion the dough BEFORE you bake the cookies. It just makes shaping easier. Empty the dough onto a mat and divide it into either six (for giant cookies) or 12 ( for large-ish) cookies. Roll into balls, then flatten into disks about ¾ inch thick. Put on a plate or in a zipper bag, cover and chill for 30 minutes or overnight.

When ready to bake, line your baking sheets with parchment paper and preheat oven to 325.

For the giant cookies, bake at 325 for 21 to 23 minutes (check earlier if you want). For the smaller cookies, bake at 325 for about 15 to 20 minutes.

Let cool on a rack for 5 to 10 minutes, then transfer the cookies to the rack to cool completely.
Notes
Diamond crystals are larger so you need more salt to get the equivalent of Morton.  I'm not sure what brand Thomas Keller used, but  the original called for 1 ¼ teaspoons of kosher salt.  That seemed like a lot and led me to believe it was Diamond.  ¾ teaspoon of Morton kosher was plenty, especially since the baking soda also adds saltiness.