I read somewhere that Thomas Keller likes Progresso Lentil Soup. I'm not sure it's true and I'm betting they don't serve it at The French Laundry, but whenever I heat up a bowl of Progresso lentil soup I tell everyone I'm making a Thomas Keller dish. See, based on the skill level required for The French Laundry cookbook, canned lentil soup might be as close as I get. Or so I thought until today when I read about "Ad Hoc at Home". It's TK's newest book and it's geared for home cooks. It even has a recipe for chocolate chip cookies and yes, I've already tried it even though I don't have the new book.  Thanks "Foodgal" for posting the Thomas Keller Chocolate Chip Cookie recipe
This recipe looks interesting on paper It calls for dark brown sugar, two kinds of chocolate and starts with cold butter which usually gives cookies rounded edges and a great texture. Also, it lacks vanilla. I've heard people say that leaving out the vanilla gives the cookies a more "pure" flavor. Hmmmm. Maybe. I love vanilla, but I left it out and followed the recipe as written.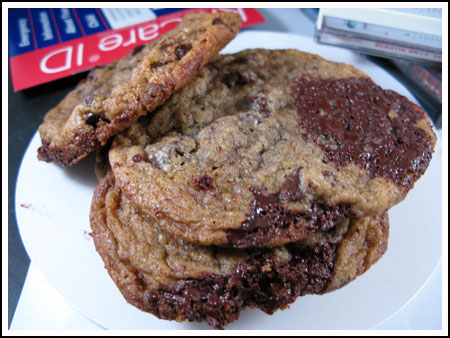 The dough was very stiff, but the cookies still baked up kind of flat and the chocolate (Green and Black's 70%) melted into big pools. I like how easily good chocolate melts when I'm using it in brownies and I love Green & Black's, but I don't like when it puddles up in chocolate chunk cookies. I also wonder if maybe the butterfat content of the chocolate played a part in the cookie's lack of thickness. To test, I made a cookie with chocolate chips and no G&B and it did come out slightly thicker.
Another thing I tried was throwing more flour into the remaining dough. Thinking I'd err on the side of too much flour just for experiment's sake, I add more to the remaining dough. The cookies with the extra flour were slightly thicker and better, so I think TK must use around140 grams per cup rather than 135 grams per cup. Then again, I don't know. But next time I'd scoop the flour and pack it a tiny bit more than I did or I'd weigh a good 140 grams per cup.
Either way, the cookies are really good and I'm looking forward to buying the book. Oh, and finding molasses sugar! I'd never even heard of that until today. I thought brown sugar was molasses sugar but there's another one.