Years ago while on our way to Canada, we drove through Ann Arbor and made a quick stop at Zingerman's Bakehouse for coffee and treats. It wasn't a spontaneous stop. I was already familiar with their catalogue and had been looking forward to visiting their home base for Magic Brownies and coffee cake samples. It was a lively place, and I remember thinking how nice it would be to live in Ann Arbor and be able to go to Zingerman's anytime.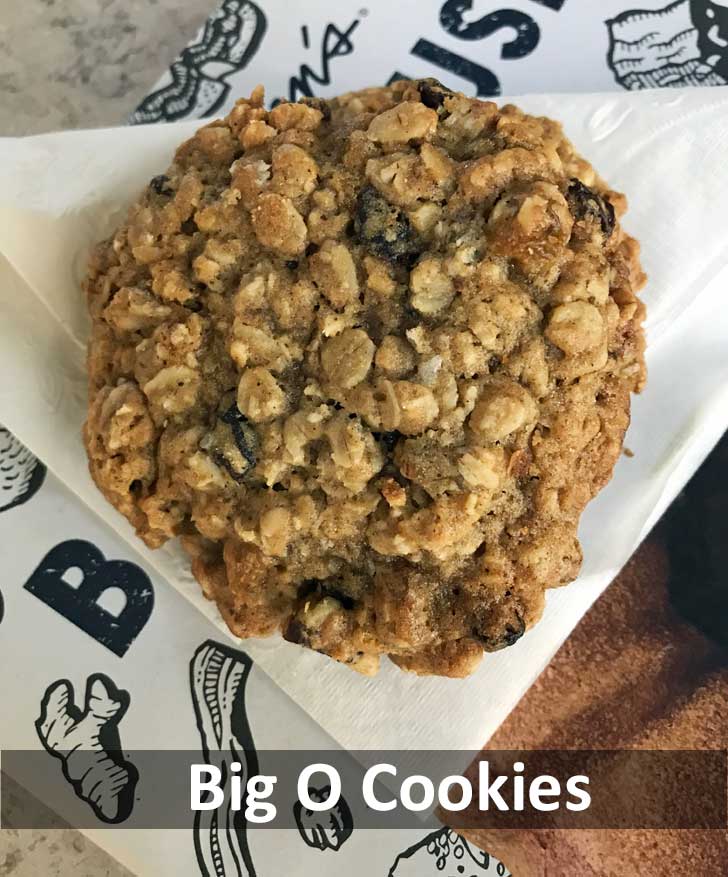 Luckily, I do have a friend who lives near Zingerman's and who was nice enough to buy me a signed copy of the Zingerman's Bakehouse cookbook. So far I've tried the Tunisian Orange Olive Oil Cake, the Boston Cream Pie (which is somewhat over the top considering they put a layer of buttercream between the cake and the chocolate glaze) and the Zingerman's Big O Cookies.
Big O Cookies (the O stands for oatmeal) have been on Zingerman's menu for over 20 years. What makes them special is a mixture of maple syrup and brown sugar for extra chewiness, along with a good amount of raisins. Zingerman's uses Flame raisins, but any raisins will work. I really like them with golden raisins or a mix of golden and Flame. Zingerman's leaves out the nuts, but I think a handful of walnuts is a great addition, and I also think adding a little (or even a lot!) more cinnamon wouldn't hurt. But with or without those additions, this is a good oatmeal cookie recipe.
Recipe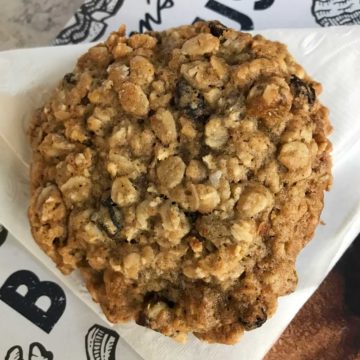 Zingerman's Big O Cookies
Spicy, chewy, oatmeal cookies sweetened with maple syrup and brown sugar.
Ingredients 
1

cup

plus 2 tablespoons unsalted butter

room temperature (250 grams)

¾

cup

plus 2 tablespoons packed dark brown sugar

(154 grams)

½

cup

plus 1 tablespoon pure maple syrup

(172 grams)

1

large egg

(54 grams)

1

teaspoon

pure vanilla extract

1 ¾

cup

plus 1 tablespoon all-purpose flour

(256 grams)

1 ¼

teaspoon

baking soda

1 ¼

teaspoon

sea salt

1

teaspoon

ground cinnamon

¼

teaspoon

ground nutmeg

3

cups

old fashioned rolled oats

300 grams

2 ¾

cups

raisins

½

cup

walnut pieces
Instructions 
Preheat oven to 350 degrees F. Line two baking sheets with parchment.

In the bowl of a stand mixer, beat the butter and sugar until light and fluffy. Gradually beat in the maple syrup, scraping sides of the bowl. Add the egg and vanilla and beat until blended.

In a separate bowl, mix together the flour, baking soda, salt, cinnamon, and nutmeg, then add to the butter mixture and stir util blended. Stir in oats, raisins and nuts (if using).

Divide dough into about 20 to 21 balls and arrange on parchment lined baking sheets. Flattento ½ inch disks. Alternatively, arrange your dough balls on dinner plates lined with plastic wrap and cover and chill until ready to bake.

Bake cookies 15-17 minutes (will take slightly longer with cold dough), rotating the sheets halfway through, until golden brown and just barely set in the middle. Let cool completely. You can let them cool completely on the tray for chewier cookies or let them cool briefly on the tray and transfer to a wire rack.