Are you in the mood to pulverize a whole orange? Are you flush with olive oil? If so, the Tunisian Orange Olive Oil Cake is what you should bake today! This is a great little cake recipe from Zingerman's Bakehouse, and it's perfect for when you want a small cake to go with your fresh berries and whipped cream.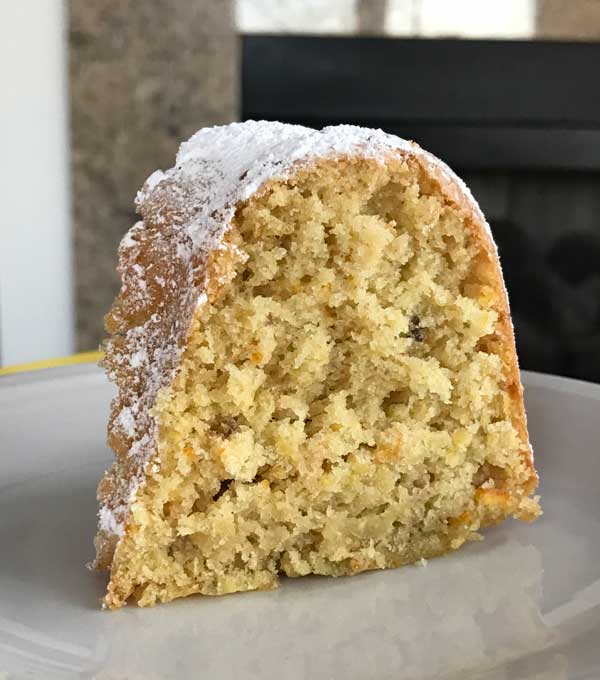 The recipe is from the Zingerman's Bakehouse Cookbook, a book sent to me by my good friend Taneka who attended a signing at their bakery in Ann Arbor.  This is one of the first recipes I've tried from the book.  Given that the title of the recipe is Tunisian Orange Olive Oil Cake, it would have been fun to use Tunisian olive oil, but what I hand on hand was Greek and it worked just fine. The original recipe calls for a 9 inch round pan, but I used a 6 inch Bundt pan and had perfect results without altering the time.
Best Olive Oil for Cake
We love trying different brands of olive oil, and because we use it for dipping we prefer olive oils that are more robust and flavorful.  Occasionally we'll buy one that's just a little too mild for our tastes, and when that happens I usually use it in baking.  This Tunisian Orange Olive Oil Cake is one recipe where a milder flavored extra virgin olive oil works well.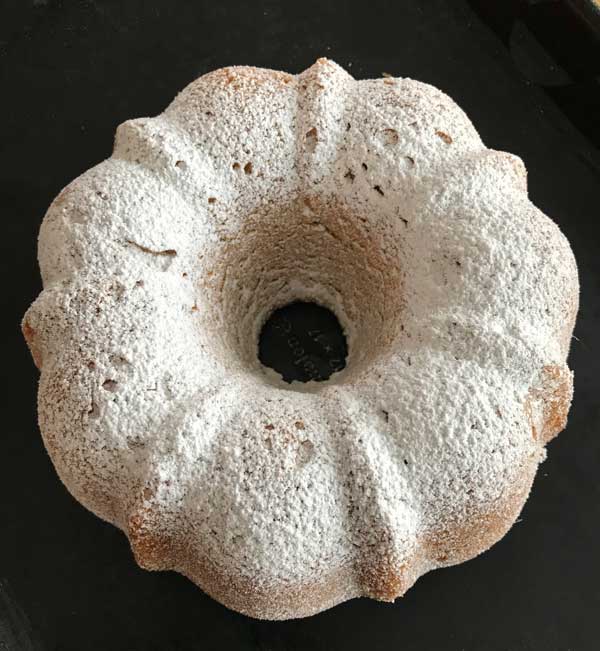 Recipe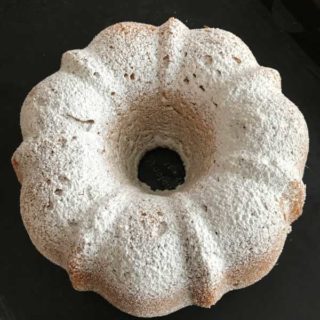 Tunisian Orange and Olive Oil Cake
Tunisian Orange and Olive Oil Cake is made with a large orange that is ground into a pulp plus extra virgin olive oil
Ingredients 
1

very large seedless orange

320 grams

2

large eggs

1

cup

granulated sugar

200 grams

½

cup

plus 1 tablespoon extra virgin olive oil

130 grams

½

teaspoon

salt

1

tablespoon

baking powder

2

cups

plus 1 tablespoon all-purpose flour

290 grams
Instructions 
Preheat oven to 350 degrees F. Grease and flour a 6 inch Bundt pan or a 9 inch round cake pan.

Cut the ends off the orange and then cut it into quarters. Put quarters in a food processor and grind into a pulp. Set aside.

In a mixing bowl, whisk together the eggs and sugar. Add the olive oil and whisk until blended, then whisk in the orange pulp. Next, stir in the salt and baking powder, making sure the baking powder is evenly distributed and doesn't clump, then add the 2 cups of flour and stir until blended.

Pour batter into pan and bake at 350 for 35 minutes or until a pick inserted comes out clean. Allow cake to cool for about 10 minutes in the pan, then carefully invert. Let cool, then dust cake with powdered sugar and serve with sweetened whipped cream and fruit.