St. Patrick's Day is coming up, and I'm pretty of excited about that because Fuzz is heading home between terms (Yay!) and I get to serve Irish Brown Bread! This is a new one for the family, and hopefully they'll like it as much as Small Batch Skillet Cornbread and Beer Bread.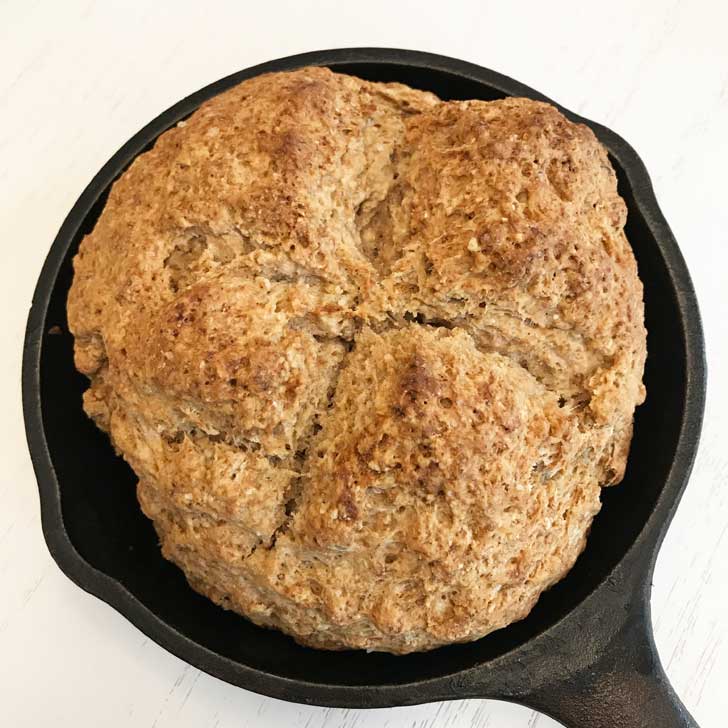 Irish Soda Bread was the other option, but I decided to make Brown Bread because it's a little bit different. The recipe calls for whole wheat flour, wheat germ, and a mixture of all-purpose and cake flour to mimic Irish flour, which is softer. In addition to the parade of flours, it has brown sugar, caraway and buttermilk -- so lots of flavor.
Is this actually authentic Irish Brown Bread? Well, I've never been to Ireland, so I wouldn't know. But the original version from Cook's Illustrated was modeled after Irish Brown Bread sold in Boston's Irish bakeries, so maybe? If you are not convinced you could always make Gemma's Mum's. That one's next on my list, but I do like the toasted wheat term in this one.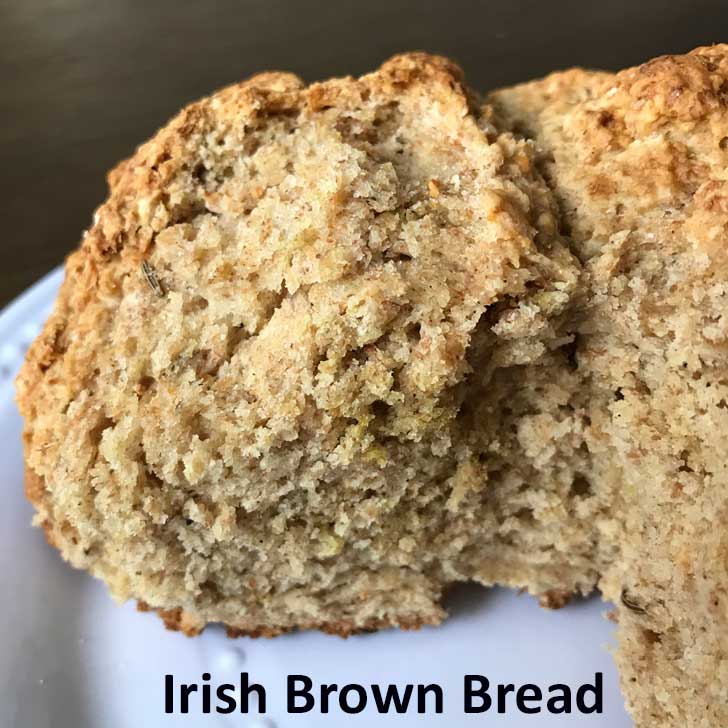 Irish Brown Bread Ingredient Notes
All Purpose Flour and Cake Flour -- A mixture of bleached AP flour and cake flour is supposed to mimic Irish flour, which is made with a softer wheat. However, a mixture of unbleached flour mixed with a little cake flour works just fine. If you are lucky enough to have White Lily, you can omit the cake flour completely and use 170 grams of White Lily, which is also a softer flour.
Whole Wheat -- This is a good way to use King Arthur's organic whole wheat. It is very brown and grainy tasting. But any wheat flour will do.
Wheat Germ -- Bob's Red Mill. Bob's brand wheat germ is not toasted. To toast it, lay it on a baking sheet and bake for about 3 to 5 minutes at 350F. Keep an eye on it.
Buttermilk -- Exactly ¾ cup, but you may need to add a little more if your dough feels too dry. It should be a bit sticky.
Recipe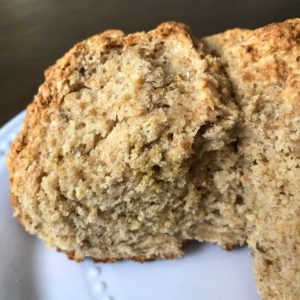 Irish Brown Bread in a Small Cast Iron Skillet
Small batch Irish Brown bread made in a small cast iron skillet.
Ingredients 
2

tablespoons

unsalted butter, softened

(28 grams)

1

cup

all-purpose flour, bleached or unbleached

(140 grams)

½

cup

whole wheat flour, I used organic

(70 grams)

¼

cup

cake flour

(30 grams)

¼

cup

wheat germ, toasted

(15 grams)

¾

teaspoon

cream of tartar

¾

teaspoon

baking soda

¾

teaspoon

salt

1 ½

tablespoons

dark brown sugar, light okay too

(20 grams)

1

tablespoon

caraway seeds

¾

cup

cold buttermilk, plus a little more if needed
Instructions 
Preheat oven to 400 degrees F. Use about 1 tablespoon of the butter to thoroughly grease a 6.5 inch (measured from top to to) cast iron skillet. Set aside.

In a mixing bowl, combine the flours, wheat germ, cream of tartar, baking soda, salt, and sugar. Stir well so that everything is evenly distributed. Add the second tablespoon of butter and and mash it into the flour mixture. Stir in the caraway.

Add the buttermilk and use a heavy duty scraper or a spoon to stir mixture into a soft dough. Turn onto a lightly floured surface and knead 10 times or just until mixture is cohesive, but still a little bumpy. Don't knead until smooth, or the bread will be tough.

Shape mixture into a mound just large enough to fit in the greased pan. Using a razor or a knife, cut two slashes in the top.

Bake for about 45 minutes or until well browned. Internal temperature should be about 190 or a little higher. Let cool for about 15 to 20 minutes before serving.
Notes
For regular Irish Soda Bread, omit the whole wheat flour and the wheat germ.  Increase AP flour to 1 ½ cups and cake flour to ½ cup and use granulated sugar instead of brown.