I wasn't expecting Gluten-Free Oatmeal Cookies, or in this case Gluten-Free Oatmeal Raisin, to be better than wheat versions, but these cookies are awesome! The recipe is a spin on the famous Vanishing Oatmeal Cookies from Quaker. I count the original Vanishing recipe as a top favorite, and this one will go right up there with it. I'd be proud to serve these to anyone who loves oatmeal cookies and not just those sensitive to wheat.
Gluten-Free Oatmeal Raisin Cookies (no fancy name yet) are thick and chewy. They have a tiny, tiny, bit of the usual gluten-free grittiness, but it's barely noticeable and not exactly unpleasant. It blends in with the other textures of the cookie.
Gluten-Free Oatmeal Raisin Cookies Ingredients
The ingredients are similar to the original Vanishing recipe, but with slightly different ratios. For the flour, I've been using Bob's Red Mill 1-1 Blend. And for the oats, I use regular Quaker old fashioned. Oats are gluten-free, but since they are often processed near items with wheat it's best to use a brand labeled gluten-free if baking for someone with sensitivities. All of the spices, dried fruit and nuts are interchangeable.
Variations
So far I've made these with a few different combinations.
Gluten-Free Oatmeal Raisin -- The original with just raisins or raisins and toasted pecans. Toasting the pecans really enhances the flavor.
Gluten-Free Oatmeal, Apple & Cardamom -- Instead of raisins and pecans, use gently crushed apple chips, chopped walnuts and add a pinch or two of cardamom.
Gluten-Free Cranberry, Ginger & White Chip Oatmeal Cookies -- This is my favorite Christmas combo! Omit raisins and use dried cranberries, candied ginger and white chips.
Bittersweet Chip and Dried Cherry -- I like using Ghirardelli chips and the best dried cherries I can find.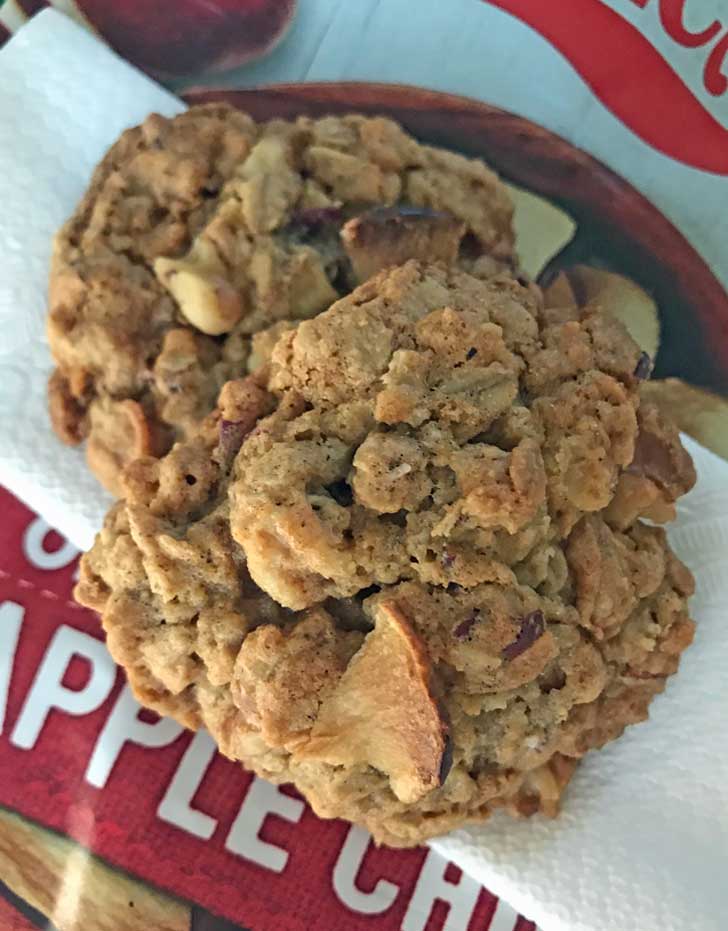 Recipe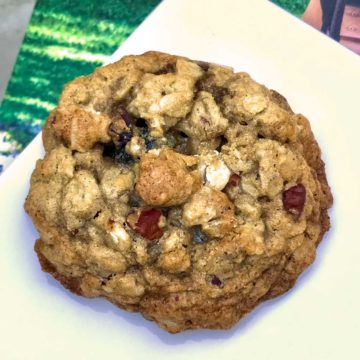 Gluten-Free Oatmeal Raisin Cookies
Soft, chewy, oatmeal cookies made with Bob's 1-1 Flour
Ingredients 
¾

cup

Bob's Gluten-Free Blend**

(105 grams)

½

teaspoon

baking soda

¼

teaspoon

teaspoon salt

¼

teaspoon

cinnamon

⅛

teaspoon

fresh nutmeg (optional)

7

tablespoons

unsalted butter, softened

(98 grams)

6

tablespoons

brown sugar, light

(75 grams)

4

tablespoons

granulated sugar

(50 grams)

1

teaspoon

molasses

(7 grams)

½

teaspoon

vanilla

1

large

egg

1 ½

cups

gluten-free oats**

(120 grams)

⅓

cup

chopped pecans, toasted (optional)

½

cup

raisins or dried cranberries
Instructions 
Mix together gluten-flour, baking soda, salt and spices until well blended. Set aside.

With an electric mixer, beat the softened butter with both sugars, molasses and vanilla. Add egg and beat until blended.

Add the flour mixture and stir until blended, then stir in the oats, raisins and nuts.

Using a cookie scoop or a heaping tablespoon, scoop dough and shape into mounds. Put them on a plate, then cover and chill until ready to bake or bake right away.

Preheat oven to 350 degrees F. Line one baking sheet with parchment paper.

Arrange chilled dough portions 2 inches apart on the baking sheet and bake at 350 for 12 to 14 minutes. Let cool completely on the baking sheet.

Let sit on cookie sheet for a few minutes, then transfer to wire racks to Cool
Notes
You can try with any gluten-free flour blend, but I've been buying the Bob's brand 1-1 so that's what I tested with.  For the oats, I used Quaker old fashioned.  If you are baking for someone with celiac or want to be 100% sure no oats came in contact with wheat, you can use oats labeled gluten-free.