It's time for another back-of-the-bag chocolate chip cookie recipe! This time the recipe is from King Arthur's Gluten-Free Measure for Measure bag. I should add that this is not a partnership or promotion, this is just me trying back of the bag recipes for fun. Since I raved about the Cup4Cup gluten-free chocolate chip cookies, it seemed only fair to try King Arthur's Soft Gluten-Free Chocolate Chip Cookies.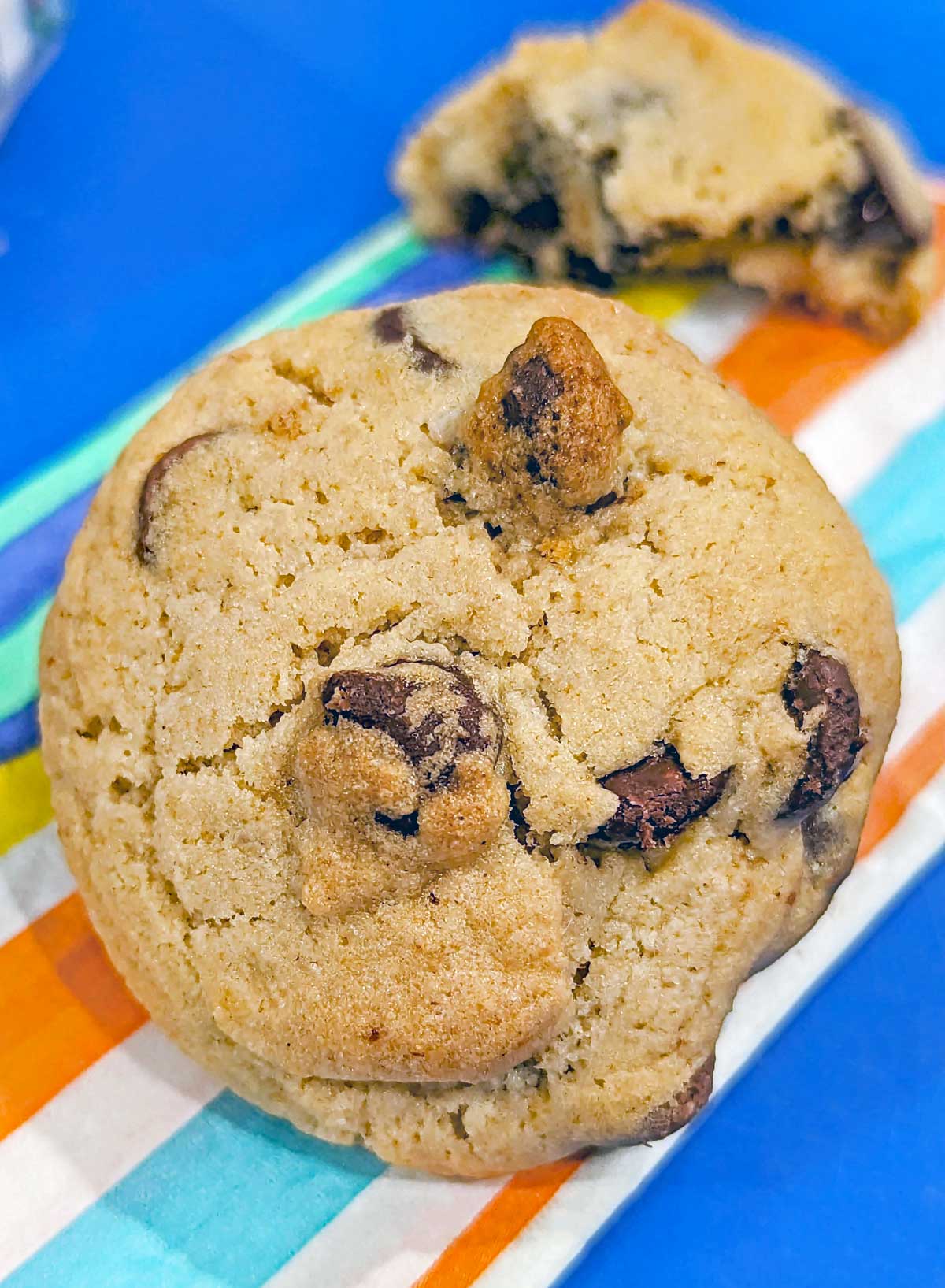 Measure for Measure Chocolate Chip Cookies
Okay, so the Measure for Measure chocolate chip cookie recipe is a little unusual. It calls for only 6 tablespoons of butter, plus honey, milk and a whole tablespoon of vinegar. Also, you don't cream the butter with just the sugar. Instead, you beat the butter, sugar, honey, vanilla and leavening agents before adding the vinegar, egg, milk and flour. I'm guessing this is to help curb any whipping or overbeating, because I get the best results just by mixing with a wooden spoon. Too much beating might make these cakey and light rather than cakey and dense, which is better for cookies.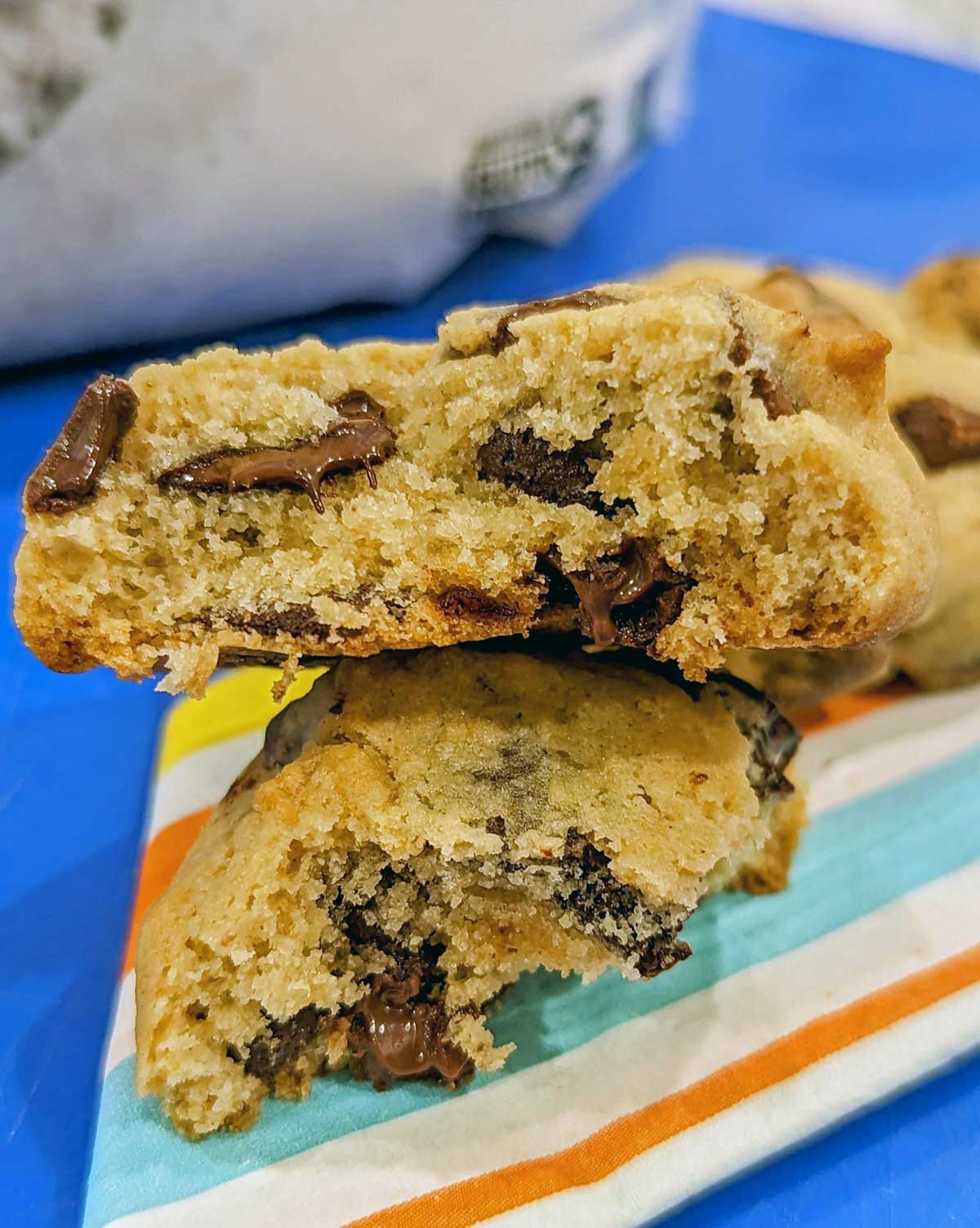 Texture and Flavor
These were just so soft and thick, but also very flavorful. In my first batch I could really taste the vinegar, then I realized I'd left out half the sugar and had to make the cookies again. This happens a lot these days, but eventually I get the recipe right. Once I got it right, I made these again and again, though usually in half batches. You can make a half batch using 2 tablespoons of egg. I make these very quickly by just putting a small mixing bowl on the scale, setting the tare to zero and throwing in all the ingredients by weight. Speaking of which, definitely weigh gluten-free flour. If you do go by volume, pour it in a bowl and whisk for a minute, then spoon it into the cup. But please weigh.
Square Shaped Chocolate Chip
Another fun thing I tried was baking the cookies in a butter-rubbed mini brownie bar pan. They baked into soft square shaped chocolate chip cookies with very buttery tasting edges. I loved how just the butter from the pan edges added so much flavor. So even if you use a nonstick square brownie bar pan, be sure to grease generously with your favorite butter.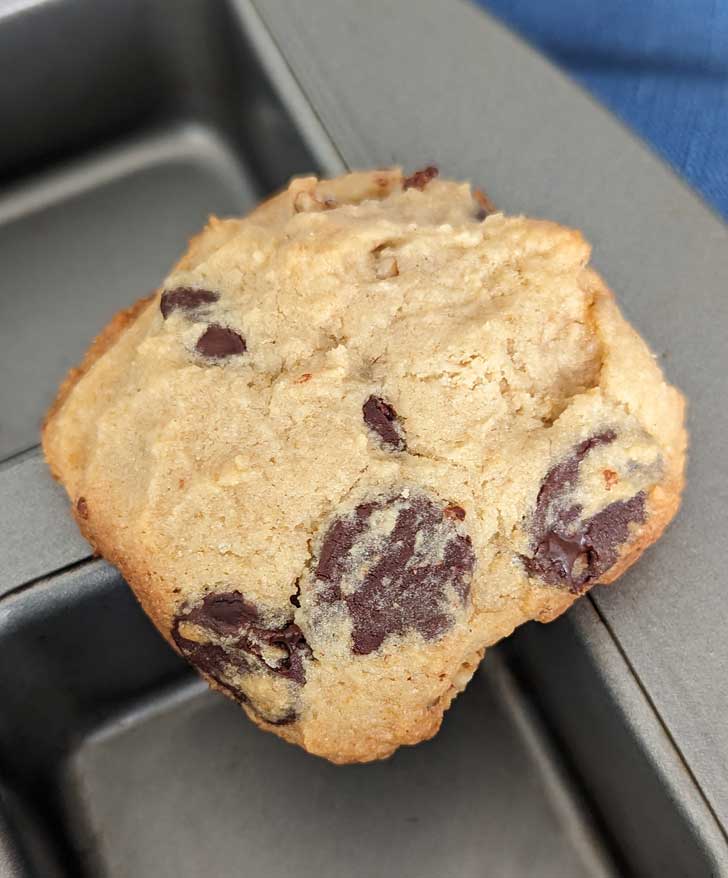 And then there was the gluten-free Oreo stuffed version. I only did this with one of the cookies, but it was so good.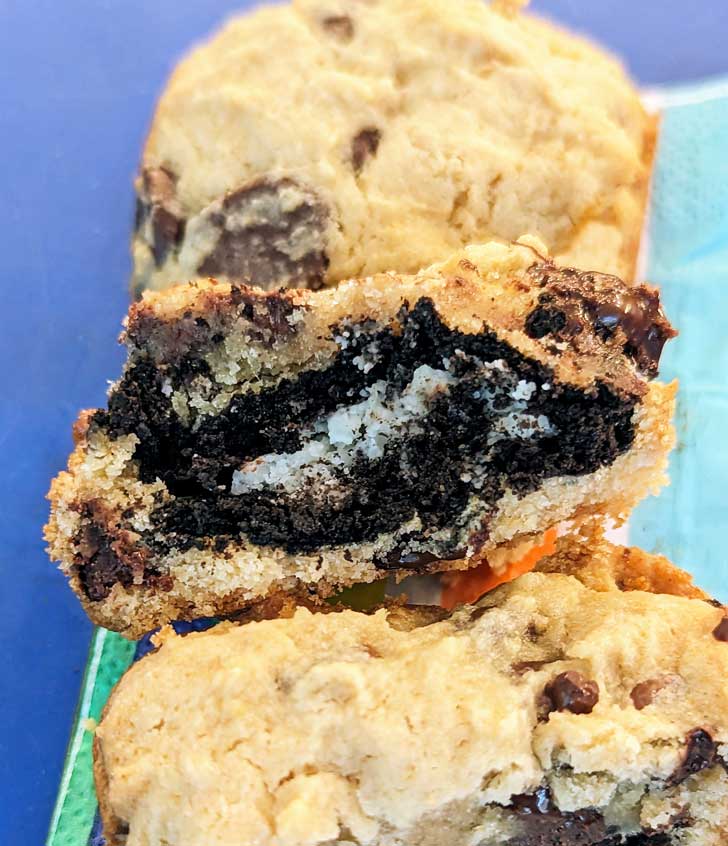 Back of the Bag Gluten-Free Cookies
So that about sums it up for the Measure for Measure cookies. If you are not gluten-free, you may want to buy a bag and use it for cookies just to get an idea of what it's like. I like to think that with gluten-free flour blends, I'm adding extra flavors and textures rather than cutting something out.
Here's a list of some other good back-of-the-bag gluten-free cookie recipes.
Recipe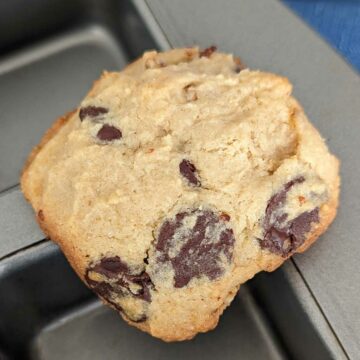 Gluten-Free Chocolate Chip or Chocolate Chunk Cookies
From the back of the Measure for Measure bag, this recipe makes thick, soft, gluten-free chocolate chip cookies. The recipe on the bag says it makes 32, but I make them slightly larger.
Ingredients 
6

tablespoons

unsalted butter, very soft but not melted

(85 grams)

⅓

cup

granulated sugar

(65 grams)

½

cup

brown sugar (use half light and half dark)

(100 grams)

3

tablespoons

honey

(60 grams)

2

teaspoons

vanilla extract

½

teaspoon

baking soda

½

teaspoon

baking powder

¾

teaspoon

salt

1

tablespoon

apple cider vinegar

1

large

egg

2

tablespoons

whole milk

2

cups

lightly spooned Measure for Measure

(240 grams)

1 ½

to 2 cups

chocolate chips, chunks of your choice
Instructions 
Weigh your gluten-free flour to make sure you have only 240 grams.

Put the softened butter, sugars, honey, vanilla, salt, baking soda and baking powder in a bowl and beat with a wooden spoon or heavy duty silicone scraper until blended. Alternatively, use low speed of an electric mixer.

Scrape sides of bowl and beat in the vinegar, egg and milk.

Add the gluten-free flour and beat until blended, then stir in the chocolate chips.

Using a medium size cookie scoop, scoop balls of dough onto a parchment lined baking sheet and bake at 350 degrees for 12 to 14 minutes or until bottoms are just starting to brown. Let cool on the pan for 10 minutes, then remove from pan and let cool some more. These are really good when completely cooled and good slightly warm, too.