My daughter gave me a bottle of tahini for Christmas, so I'm trying to use it while it's fresh. Good thing tahini works well in chocolate chip cookies! This recipe for Tahini Brown Butter Chocolate Chunk Cookies is the latest, and definitely up there with the best! Using Guittard Oro Gold Dark probably helped.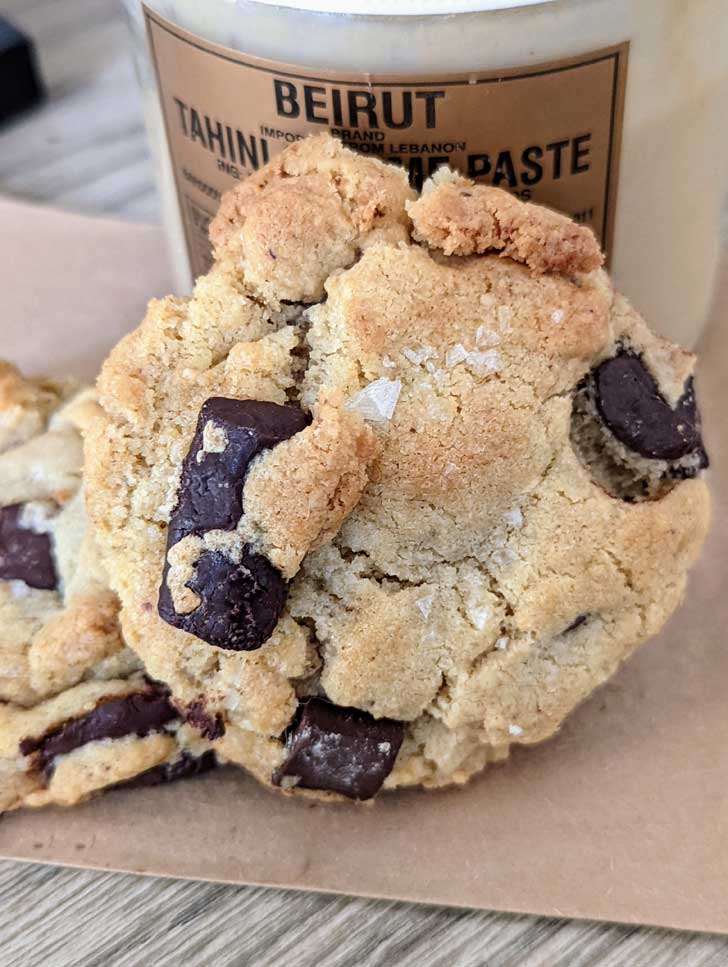 It's Always Freezer Season
It's from Ashley Christensen and Kaitlyn Goalen's cookbook, It's Always Freezer Season. I'm still reading the book and have yet to try other recipes, but there are plenty that sound appealing and not overly complicated or impractical. Plus it's enjoyable to read.
Tahini Brown Butter Chocolate Chunk
But back to the cookies. These were super easy to throw together. The book does not include weights unfortunately, so I put the weight amount I used in the adapted version.
The dough was very dry and I was a little concerned it wouldn't spread, but it spread beautifully and the cookies baked up thick, with sandy outsides and chewy centers. They remind me of the ever popular New York Times/Jacques Torres cookies. The tahini flavor was detectable, but fairly subtle. I think it had a big impact on the texture of the cookies, which was similar to cookies made with shortening.
Tahini
There are so many good brands of tahini. The one Fuzz gave me is called Beirut, which she found at one of her favorite cafe & markets in DC, Janti Cafe. It's a fairly runny tahini, similar to Soom.
Chocolate Chunks
These cookies are probably fine with chocolate chips, but they are excellent with chocolate chunks. I used a mixture, including Guittard's Oro Gold Chocolate Ribbons, which I discovered years ago in a cookie from Whole Foods. They have a unique flavor — kind of smoky, and fruity. It's hard to describe, but they make chocolate chunk cookies a little more interesting. I bought my last batch from Worldwide Chocolate and had a pretty good experience. Shipping was fast.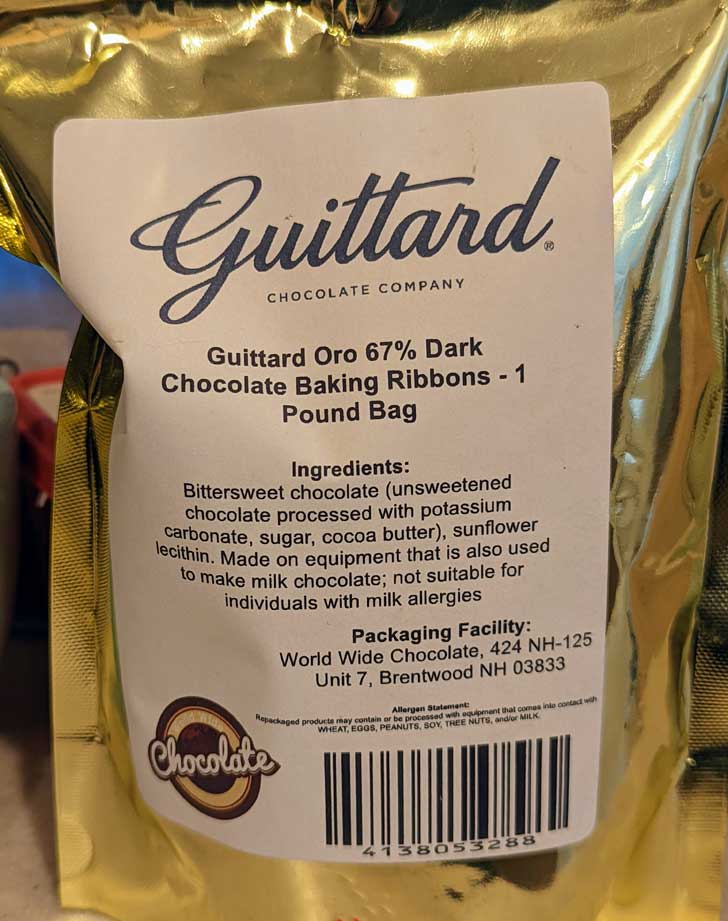 More Recipes With Tahini
Recipe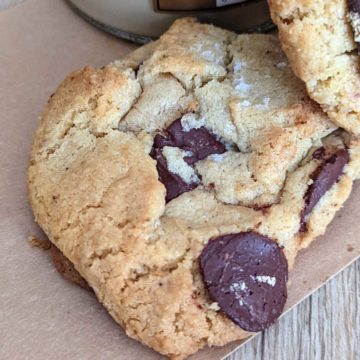 Tahini Brown Butter Chocolate Chunk Cookies
Chocolate chip cookies made with a mixture of butter and tahini.
Ingredients 
1

cup

unsalted butter, cut into chunks

(228 grams)

3/4

cup

tahini

(190 grams)

1

cup

granulated sugar

(200 grams)

1/2

cup

plus 2 tablespoons packed light brown sugar

(125 to 130 grams)

2

large

eggs

1 1/2

teaspoon

vanilla extract

2 1/4

cups

all-purpose flour

(290 grams)

1 1/4

teaspoons

baking soda

1

teaspoon

kosher or sea salt

2 1/2

cup

chocolate chunks or chocolate chips
Instructions 
Brown the butter in a small saucepan. Scrape it into a small bowl, cover and refrigerate just until it solidifies again.

In a mixing bowl, combine the brown butter with the sugar and tahini. Beat with an electric mixer until creamy. Add the eggs, one at a time, beating until incorporated, then beat in the vanilla.

Sift or just mix together the flour, baking soda and salt. Add to the tahini mixture and stir until blended. Stir in the chocolate.

Portion the cookies into balls with a large cookie scoop or quarter cup measure. You should aim for about 20 dough balls. Arrange the dough balls on dinner plates lined with plastic wrap, then cover and chill overnight. If you plan on freezing the dough, chill until very firm, then transfer the dough balls to freezer bags and store until ready to bake.

When ready to bake, preheat the oven to 400ºF Line two baking sheets with parchment paper.

Arrange the cookies on the baking sheets. If dough was refrigerated, bake for about 12 to 15 minutes. If dough is frozen, bake for 15 to 18 minutes.