Tahini is trendy now, so I guess this old recipe for Oatmeal Tahini Chocolate Chip Cookies from Eating Well was ahead of its time. Eating Well cut some saturated fat and added a nutty flavor to their cookies by adding tahini. The idea was creative for the time, and I remember having to describe the "exotic" ingredient to my family, who ended up loving the cookies!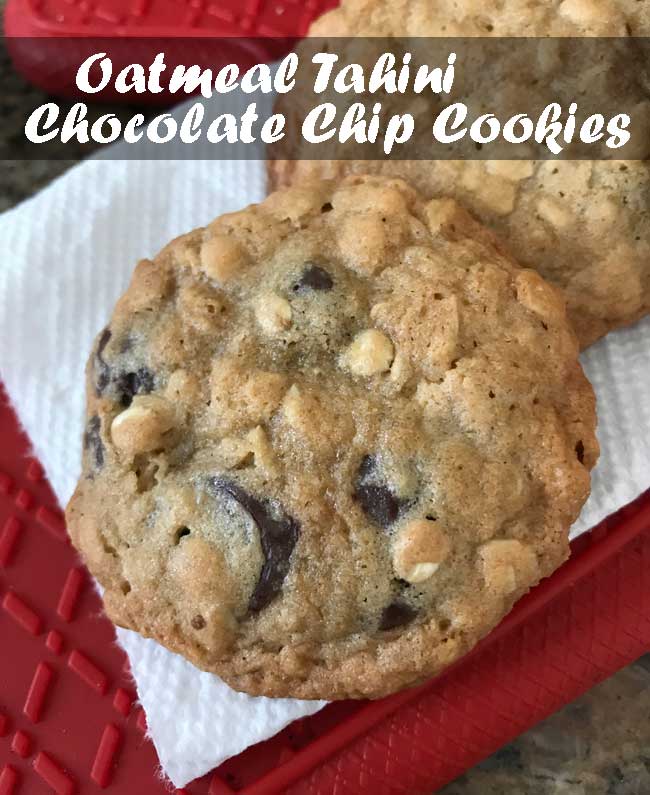 Oddly enough I haven't made them since. However now that I'm seeing tahini in chocolate chip cookies, brownies and even chocolate candy, I'm revisiting the recipe. The cookies are tasty, though I did have to substitute cake flour for the ½ cup whole wheat pastry. I suppose the results of this recipe will vary greatly depending on which brand of tahini one uses. I have a knack for opening a jar of tahini, using it once and letting it go rancid, so this time I bought the most inexpensive brand at the Jewel and it worked just fine.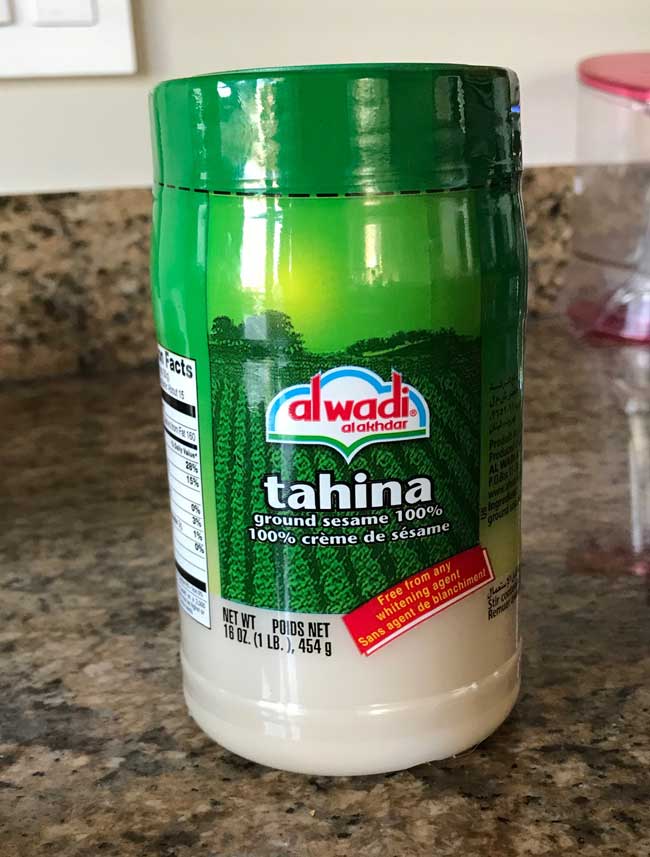 The tahini gives these chewy cookies a back note of nutty sesame flavor. They taste healthier than some other cookies, but still good. Reviews on Eating Well are mostly good (though hilarious when you look at all the changes people made), but some complained about the dough being difficult to shape. My guess is they used too heavy a hand with the flour or had thicker tahini. My tahini was pretty thin as was my dough. In fact I had to chill it before shaping. Still the cookies still baked up nicely and I will not wait another 7 years to make them again.
Oatmeal Tahini Chocolate Chip Cookies
Recipe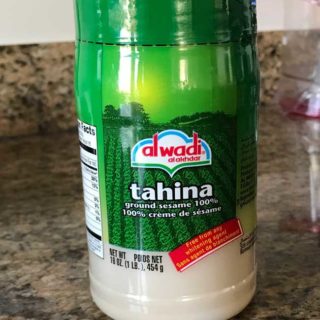 Oatmeal Tahini Chocolate Chip Cookies
Oatmeal Tahini Chocolate Chip Cookies are sweet and chewy oatmeal chocolate chip cookie with a hint of sesame flavor from the tahini.
Ingredients 
2

cups

rolled oats

not instant

½

cup

all-purpose flour

65 grams

½

cup

whole-wheat pastry flour or cake flour

60 grams

½

teaspoon

baking soda

½

teaspoon

salt

¾

teaspoon

cinnamon

½

cup

tahini

120 grams

4

tablespoons

unsalted butter

cut into pieces (56 grams)

⅔

cup

granulated sugar

125 grams

⅔

cup

packed light brown sugar

125 grams

1

large egg

1

large egg white

1

tablespoon

vanilla extract

1

cup

bittersweet or semisweet chocolate chips

½

cup

chopped toasted walnuts or pecans
Instructions 
Preheat oven to 350 degrees F. Line baking sheets with parchment.

Whisk oats, all-purpose flour, pastry (or cake) flour, soda, salt and cinnamon in a medium bowl.

Beat tahini and butter in a large bowl with an electric mixer until blended into a paste. Add granulated sugar and brown sugar; continue beating until well combined-the mixture will still be a little grainy. Beat in egg, then egg white, then vanilla. Stir in the oat mixture with a wooden spoon until just moistened. Stir in chocolate chips and whatever nuts you are using.

With damp hands, roll 1 tablespoon (or rounded tablespoons) of the batter into a ball, place it on a prepared baking sheet and flatten slightly without letting the sides crack. Continue with the remaining batter, spacing the flattened balls 2 inches apart.

Bake the cookies one sheet at a time on the center rack until golden brown, about 16 minutes (I baked mine 13-14). If you bake the cookies two sheets at a time, switch the pans back to front and top to bottom halfway through.

Let cool on the pans for 2 minutes, then transfer the cookies to a wire rack to cool completely. Let the pans cool for a few minutes before baking another batch.