A lot of you love cookbooks as much as I do, so I'm sharing a quick review of one I've been using this week - The Fresh Eggs Daily Cookbook: Over 100 Fabulous Recipes to Use Eggs in Unexpected Ways. Very rarely do I make four recipes from one book in a single weekend, but that's exactly what happened. My favorite of the four was Finnish pulla bread, a lightly sweet cardamom flavored egg bread. I've included the recipe below, but first I'll tell you a little more about the book!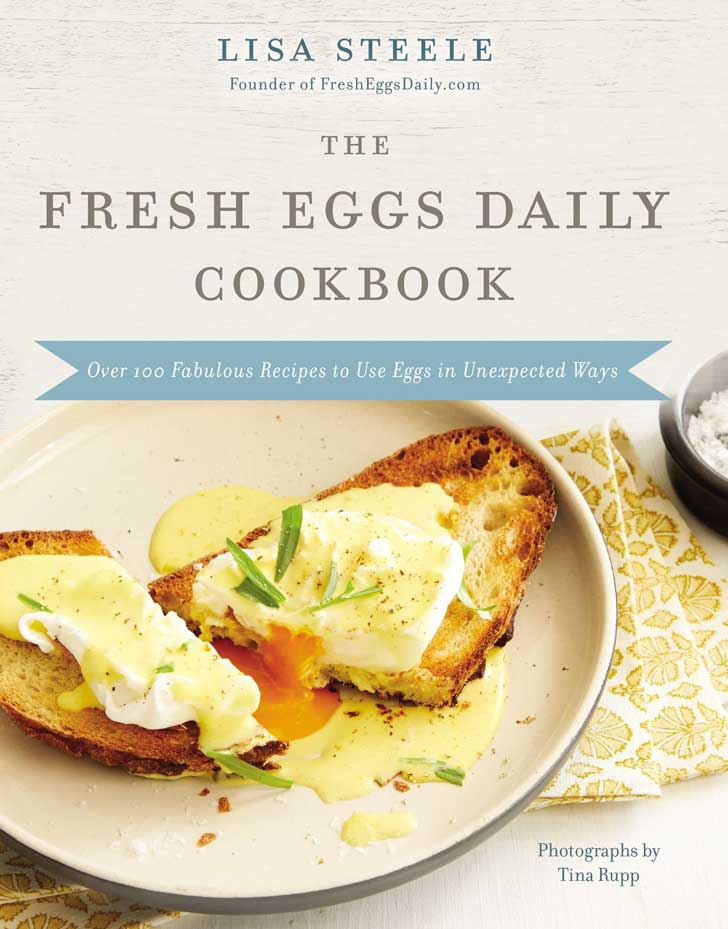 Fresh Eggs Daily Cookbook
The Fresh Eggs Daily Cookbook is by Lisa Steele, who is an expert on all-things chicken. She's written multiple books on their care, created her own line of chicken feed supplements, and has maintained the Fresh Eggs Daily website for over decade. If that's not all, she's a master gardener and an avid cook. So naturally, Lisa's first cookbook focuses on eggs. In addition to recipes, the book has a ton of beautiful photos by Tina Rupp.
Eggs and More Eggs
This book has basically everything you need to know about eggs. Are fresh eggs really better? How can you tell when eggs are fresh? White or brown? What's the secret behind egg cartons? Lisa is definitely what I'd consider an authority on egg cooking, but she has a friendly tone and recognizes that people are individualistic when it comes to how they like their eggs. No egg shaming in this book! Lisa gives multiple ways to scramble, fry, and poach before moving on to the other recipes.
Over 100 Recipes
As far as recipes go, the Fresh Eggs Daily Cookbook has over a hundred that range from variations on favorites to more eclectic things such as boozy egg drinks and homemade colored sprinkles. And then there's every egg dish in between. I tried Lisa's cheese souffle recipe, her Boston cream pie, her peanut butter cookies and finally, the pulla bread, which Lisa (who has Finnish roots) grew up with. Of all the recipes, the pulla was the favorite.
Fresh Eggs Daily Cookbook Pulla Bread
Pulla bread calls for 3 eggs -- 2 in the dough and one you whisk and use as egg wash. It's similar to challah, but a bit sweeter and heavily spiced with cardamom. Pulla bread is typically decorated with Swedish sugar pearls, but sliced almonds are often used as a substitute, so I used almonds. I'll have to acquire some sugar pearls and give them a run, but I really loved the texture and flavor of the almonds here.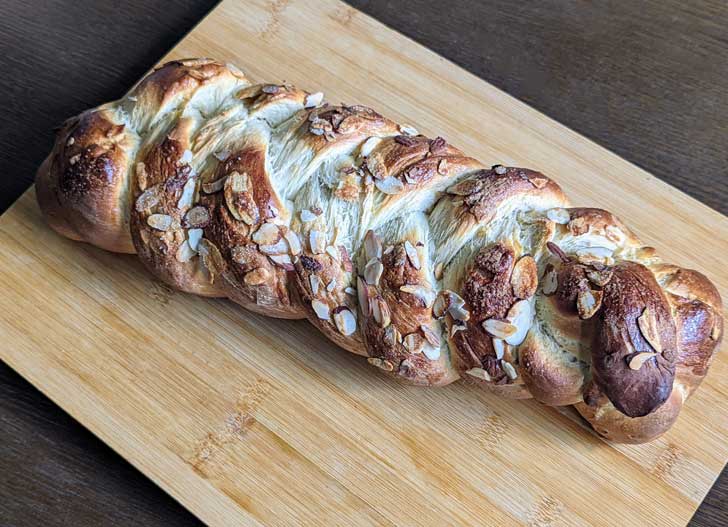 If you make the bread, here are a few things to keep in mind.
A stand mixer is super helpful. I rarely make any yeast breads without one these days, though it is possible and Lisa's recipe mentions that it can be kneaded by hand.
The recipe calls for active dry yeast, but I only buy SAF, so I used the instant yeast, but I dissolved it in warm water the same way I would active dry.
The dough didn't rise nearly as much as I thought it would the first hour. I punched down the dough anyway and set the timer for another 45 minutes (even though the second rise is only supposed to be 30). Again, it rose but was not quite double.
I braided it as usual and gave the last rise about 45 minutes. It rose quite a bit, and then really rose when baked. So don't be discouraged if it doesn't double up too much after the first rise.
Recipe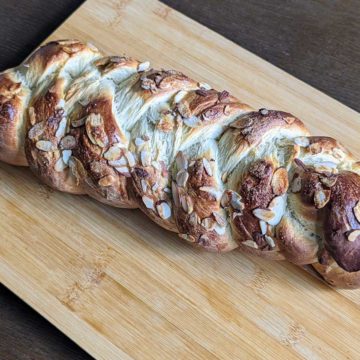 Pulla Bread
Recipe from Lisa Steele, author of The Fresh Eggs Daily Cookbook: Over 100 Fabulous Recipes to Use Eggs in Unexpected Ways. This is a Swedish of Finnish version of Challah. 
Ingredients 
3 ¼

cups

all-purpose flour

2 ½

teaspoons

ground cardamom, divided use

½

teaspoon

kosher salt (Morton brand or table salt

3

large

eggs, divided use (2 in dough, 1 for egg wash)

⅔

cup

whole milk

⅓

cup

granulated sugar

3

tablespoons

butter (recipe calls for unsalted, but I used salted)

cut into

2 ¼

teaspoons

active dry yeast

1

teaspoon

heavy cream

2

teaspoons

Swedish pearl sugar or handful of sliced almonds
Instructions 
In a medium-sized bowl whisk the flour, 2 teaspoons of the cardamom, and salt.

In a small bowl whisk 2 of the eggs.

In a small saucepan over medium-low heat, combine the milk and granulated sugar, then add the butter. Whisk until the butter is melted, then remove the pan from the heat and let it cool to around 100 to 110 degrees (cooling below 120 degrees will prevent the yeast from dying). Whisk in the yeast and let the mixture sit for 10 minutes until the top foams and starts to bubble.

Pour the yeast mixture into a stand mixer with a dough hook. Add the whisked eggs and mix on low to combine.

Add the flour mixture, ½ cup at a time, and combine on low 1 to 2 minutes until all the flour is incorporated. Scrape down the sides of the bowl with a rubber spatula as needed.

Once the dough forms a cohesive ball, increase the mixer speed to medium and knead 10 to 12 more minutes, until the dough is glossy and smooth, not sticky. Alternatively, you can hand-knead the dough. Lightly butter a large mixing bowl and transfer the dough to it. Cover the bowl with a clean, damp kitchen towel or plastic wrap and set it in a warm spot for about 1 hour, or until the dough almost doubles in size. (If your house is cold, trying setting the bowl in front of the woodstove or in a beam of sunshine streaming through a window.)

Punch the dough down, replace the towel or plastic wrap, and let the dough continue rising for 30 minutes.

Preheat the oven to 375 degrees and line a rimmed baking sheet with parchment paper.

Punch the dough down again, then using a bench scraper, divide it into 3 equal balls and let the dough rest for 10 minutes on a floured surface. Then stretch each ball into a 15-inch rope. Lay the ropes side by side and braid them together, pinching each end to secure the braid. Place the loaf on the prepared baking sheet, tuck the ends of the loaf under, then let the dough rise for another 30 minutes.

Once the dough has finished rising, whisk the remaining egg with the heavy cream and remaining ½ teaspoon of cardamom. Generously brush the loaf with the mixture, making sure to get it into all the nooks and crannies. Sprinkle with the pearl sugar (or sliced almonds) and bake on the center oven rack for 25 to 30 minutes until the crust is golden brown. Cool the loaf on a wire rack, then slice and serve.

Leftovers can be wrapped tightly and stored on the counter for a day or so. Reheat by wrapping the loaf in aluminum foil and setting it in a warm oven for several minutes.