I've made plenty of buttermilk pies through the years, but it wasn't until this week that I'd ever even heard of a buttermilk cheesecake. To be more specific, the Tupelo Honey Cafe Buttermilk Cheesecake, made famous by the beloved Southern restaurant. Here's a photo of a slice I cut today, after baking the cheesecake yesterday.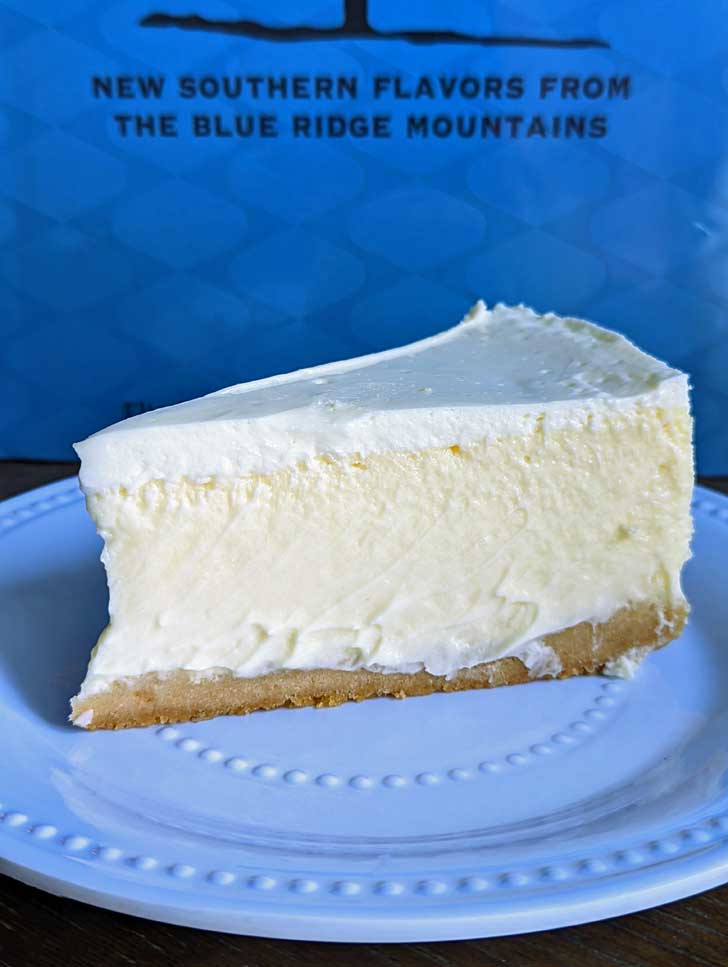 A Very Smooth and Creamy Cheesecake
This cheesecake did not disappoint! It's exceptionally creamy, a little bit tart, with each bite representing the best flavors of the South. I didn't bother adorning it with any fresh fruit or whipped cream, and didn't miss either of those things. Now I'm already looking forward to making it again, and might even experiment some more with different crusts.
Barnum's Animal Cracker Crust
The original recipe calls for a Nilla Wafer crust, but I used Barnum's Animal Crackers, which by the way are really called Barnum's Animals Crackers with an "s". I've always just called them animal crackers. Anyhow, the little hint of lemon (or is it orange?) goes well with the tartness of the cheesecake. But that's not why I chose animal crackers. Really, I was just feeling nostalgic and craving them. They seem smaller now and come in 8 oz bags, though you can still find them in the cute little boxes in some stores. For this recipe you will need almost a full bag. There will be just enough left for sampling, so don't worry. If you can't find animal crackers you can use 48 Nilla Wafers.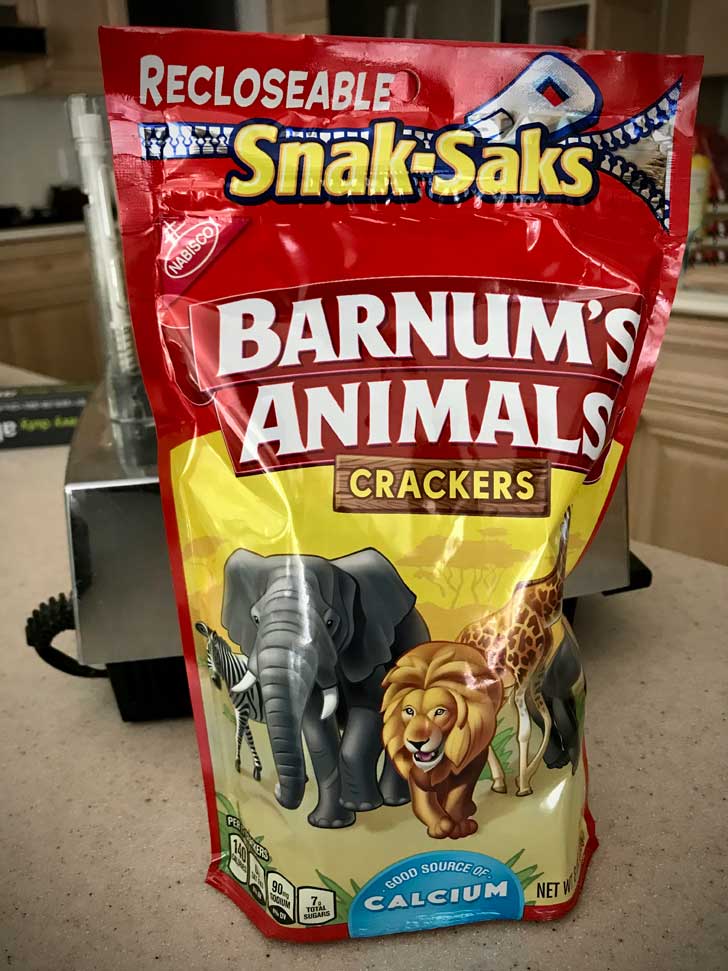 Buttermilk Cheesecake Filling
This is one of the smoothest, creamiest cheesecakes I've ever made. Maybe the stick of butter in the filling plays into that? There's also 3 packs of cream cheese, 1 ¼ cups sugar, a cup of buttermilk, 4 eggs and 2 tablespoons EACH of lemon and vanilla. All that plus a topping of sour cream mixed with powdered sugar.
Mixer or Food Processor
The original directions call for mixing with an electric mixer. Since I had to take out the food processor to grind the animal crackers, I made the filling in the food processor as well. The advantage to using a food processor is you are less likely to beat a lot of extra air into the filling. However, you do have to take the top off often to scrape the sides so there are pros and cons.
Leak-Proof Springform Pan
Boo, a waterbath. But it was worth it. I splurged and bought an 18 inch roll of heavy duty foil instead of the usual 12 inch, and was glad I did. The larger sheets give more complete coverage than the 12 inch, so there's less chance of leakage. If you've never wrapped a springform pan in foil, here's a video on how to do it. Another trick is to skip the foil and just put the 9 inch round pan in a larger size round pan. I've never done the latter, but now that I've made this cheesecake I might treat myself to a 10 inch pan. Reviews in in the link to mention using it as a water bath protector.
Tupelo Honey Cafe Cookbook
And here's a link to the cookbook! It's the source of the cheescake recipe, and also has tons of other modern (but not weird) Southern recipes. I'm really enjoying the book, and it has plenty of good reviews from other people who've wanted to bring a taste of the cafe home with them. If you already have too many Southern cookbooks, make room for one more. And definitely try the cheesecake!
Recipe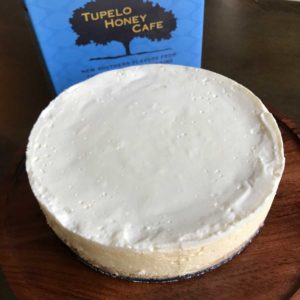 Tupelo Honey Cafe Buttermilk Cheesecake
A very rich, creamy, and smooth cheesecake with buttermilk, sour cream, lemon and vanilla flavors.
Ingredients 
6

ounces

Animal Crackers (2 ½ cups crackers makes 1 ½ cups crumbs or 6 oz)

(170 grams)

3

tablespoons

butter

(42 grams)
Filling
3

8 oz

packages cream cheese, softened

(670 grams)

1

stick

unsalted butter, softened

(114 grams)

1 ¼

cups

sugar

(250 grams)

4

large

eggs

1

cup

whole milk buttermilk (low fat okay too)

(230 grams)

2

tablespoons

fresh lemon juice

2

tablespoons

vanilla extract

1

cup

sour cream, bring to room temperature

(230 grams)

1

cup

powdered sugar

(120 grams)
Instructions 
Preheat the oven to 300 degrees F. Prepare a 9 inch round springform for a water bath by lining the outside with heavy duty foil.

Process 2 ½ cups of animal crackers to make 1 ½ cups of crumbs. Mix the crumbs with 3 tablespoons melted butter. Press into the bottom of the pan and bake for 10 minutes. Set aside to cool while you make the filling.

In the bowl of a stand mixer, beat the softened cream cheese and the butter until smooth. With medium speed of the mixer, beat in the sugar, scraping the side of the bowl often.

Add each egg one at a time, beating on medium just until blended and scraping the sides of the bowl often.

Gradually add the buttermilk, followed by the lemon juice and vanilla. The mixture should be pretty thin.

Pour mixture into the sprinform pan and set in a roasting pan. Double check to make sure it's leakproof, then add hot water to the roasting pan so that it comes up a little over 1 inch on the sides of the springform.

Bake for 1 hour and 25 minutes at 325 degrees F. The internal temperature should be at least 150 degrees F and the cheesecake will be slightly jiggly.

Meanwhile, mix together the sour cream and the powdered sugar. After the 1 and 25 minutes has passed, remove roasting pan with cheesecake from oven and carefully pour the sour cream mixture over the cheesecake. Spread gently to the edges and bake for another 10 minutes.

Remove from the oven and carefully lift the cheesecake out of the pan of water. The sour cream layer is very delicate, so be careful not to touch it (see note). Let cool at room temperature for about an hour or so, then cover and chill overnight.
Notes
If your sour cream layer has any little dents in it, you can wait until the cheesecake is fully chilled, then spread a very thin layer of straight sour cream over the top.