I found last night's "Ice Cream Crunch Cake" on Recipezaar, but the person who posted it didn't know the source and I'm having trouble finding it as well. It's a peppermint ice cream cake with a milk chocolate/Rice Krispie base. It sounds odd, but it tastes like peppermint ice cream and Crunch Bars. Todd really liked it a lot and as a bonus, I used up a bunch of Hershey Bars from the Halloween candy bag.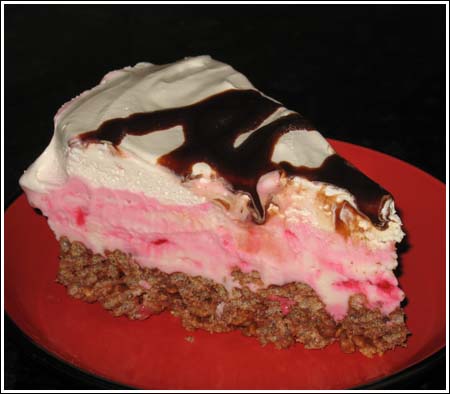 Todd's only small complaint is that the crust does not yield easily enough to the fork. Still, the contrast between the crispy crust and the soft ice cream is very nice and I'll probably make this recipe again the same way.
The original recipe said to use a 10 inch springform pan. This would give you a wider cake with a thinner crust. I only have a 9 inch springform pans so I used that and was happy with the result.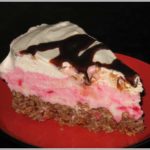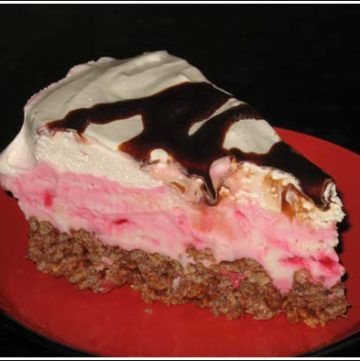 Print Recipe
Milk Chocolate Peppermint Ice Cream Crunch Crunch Cake
Milk Chocolate Peppermint Ice Cream Crunch Cake
Ingredients
8

tablespoons

butter

cut up

6

ounces

milk chocolate

chopped (Hershey Bars)

3

cups

crispy rice cereal

6

cups

softened peppermint ice cream

2

cups

sweetened whipped cream or whipped topping

Chocolate syrup
Instructions
Line inside of a 9 inch springform pan with non-stick foil or line with regular foil and spray foil generously with cooking spray.

Place butter and chocolate in a large microwave-safe bowl and melt on high for 30 seconds. Stir. Repeat until chocolate is melted. Pour cereal into chocolate and stir to coat. Empty cereal mixture into greased, foil lined pan and press to make a crust. Place in the freezer for 20 minutes.

Remove from freezer and spread softened peppermint ice cream evenly over the top. Freeze until it's a bit more firm (about an hour), then spread whipped cream or whipped topping over ice cream. Cover with plastic wrap and freeze for another 3 hours or more

Grasp foil, lift from pan and set on a platter, peeling away foil. Garnish with chocolate syrup. Let pie sit for 15 minutes before cutting, then with a Chef's knife, cut into wedges.

Note: If you line the pan with non-stick or greased foil, you won't actually take the sides off the pan, but around here springform pans have the highest sides (a little over 3 inches) and regular 9 inch pans are too shallow.
Notes
The cook time designated is not accurate and just accounts for the chill time.