I have a favorite apple bread recipe. I don't know if I love it for itself or just the memories of baking it on a snowy day in our old Chicago condo with Lizzie and HAL curled up by the window and the el train passing by in the distance. It seems baking apple bread = hygge, and I was trying to recreate that this morning with a new cardamom infused apple bread recipe.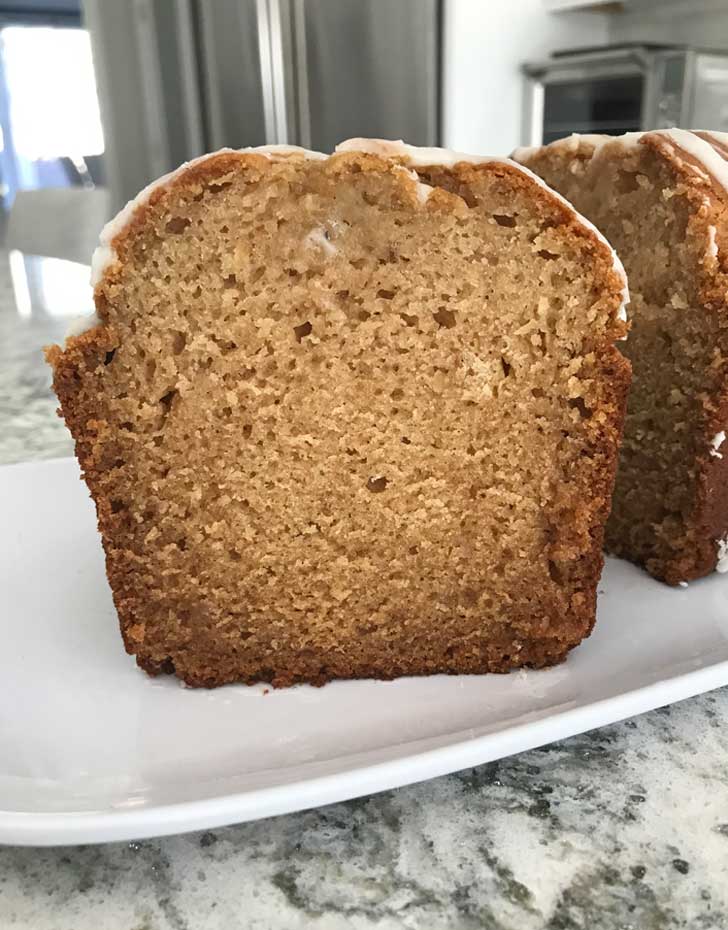 New Apple Bread Recipe
Well, I didn't quite achieve the same level of hygge as before because the house is much bigger and the bread didn't infuse the whole place with its scent. That, plus it's sunny out and relatively warm for a January day. But the bread did smell great when we pulled it from the oven and it had risen quite nicely. One of my new ovens is a Blue Star which I purchased mainly for the range, but I am loving the large gas oven underneath. It's a little steamier than my old one and I feel like breads are rising higher. The apple bread is a good example. It looks as pretty as it tastes — not too apple-y, but with lots of spice.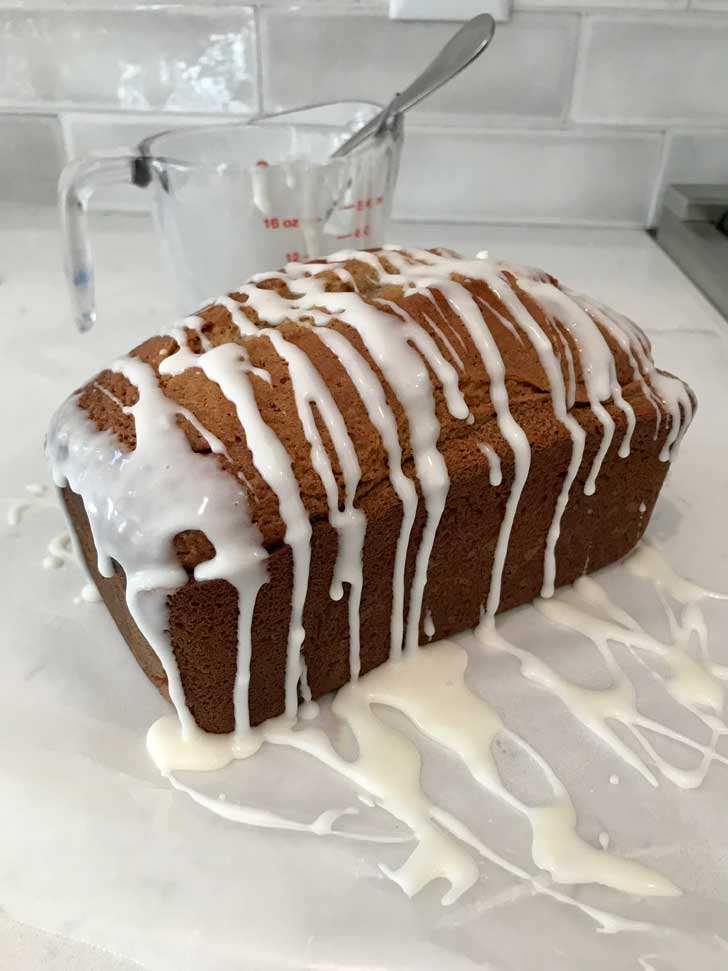 Cardamom
Speaking of which, my goal was to use cardamom but I took it one step furter and combined the cardamom with cinnamon, nutmeg and allspice to make a homemade apple pie spice blend. The proportions for apple pie spice are usually 4 parts cinnamon, 2 parts nutmeg, 1 part allspice and 1 part cardamom, but I made a cardamom heavy blend to put emphasis on that flavor. We've all been craving it lately. Last month it was almond extract, and this month we're on the cardamom train.
Applesauce vs. Apple Bread Recipe
Technically this is Applesauce Bread but I'm calling it apple bread because I had to use actual apples and turn them into applesauce using this recipe. Things will be a lot easier if you just use pre-made applesauce! Here's a picture of the bread right after I drizzled it with icing. I've never been very good at artfully drizzling, but I've found a grapefruit spoon with a rounded tip helps somewhat. It didn't stop me from glopping it on the end pieces, but I did that on purpose.
Loaf Pan Size
For us, this is a pretty large loaf. It should fit a standard 9×5 inch loaf pan, but I used a high sided 8×5 inch loaf pan I bought a while back at TJ Maxx. It's a Jamie Oliver branded pan and I love it so much, but I'm bummed because they seem to have discontinued the line. I hope they bring it back or that someone starts producing more high sided loaf pans because the high sides give so much extra support to lower-gluten breads and high rising quick breads. Until then we have Pullmans.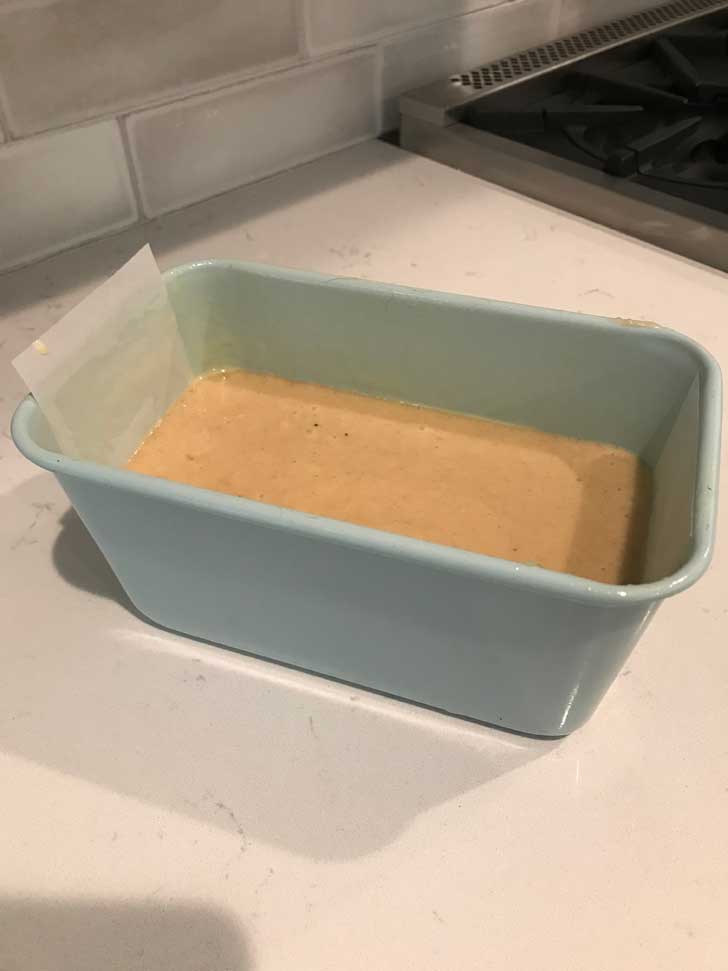 Anyhow, here's the recipe! And here's a link to my old favorite which is also good and heavier on apple flavor.
Recipe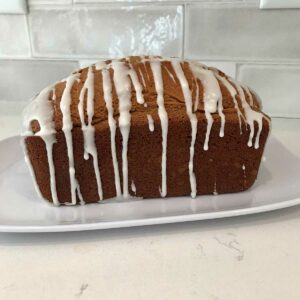 Cardamom Apple Bread Recipe
An easy apple bread recipe made with apple pie spice blend (cardamom, cinnamon, allspice and nutmeg). Feel free to increase the spices if you like a lot of spice.
Ingredients 
2

cups

all-purpose flour

(260 grams)

1

teaspoon

baking soda

1/2

teaspoon

baking powder

1/2

teaspoon

salt

1/2

teaspoon

cardamom

1/4

teaspoon

cinnamon (increase to 1/2 teaspoon if you like more spice!)

1/8

teaspoon

nutmeg

1/8

teaspoon

allspice

2

large

eggs

1

cup

granulated sugar

(200 grams)

1/2

cup

canola oil

(114 grams)

1 1/4

cups

unsweetened applesauce

2

tablespoons

whole milk
Opaque Icing
1

teaspoon

butter, unsalted or salted

1

cup

powdered sugar (confectioners' sugar)

(120 grams)

1/4

teaspoon

vanilla

2-3

tablespoons

whole milk
Instructions 
Preheat oven to 350 degrees F. Grease a 9×5 inch loaf pan and line with a strip of parchment paper if desired. Grease again and dust with flour.

Weigh the flour or measure carefully and sift. Whisk together the flour, baking soda, baking powder, salt, and spices until thoroughly blended.

In a mixing bowl, whisk together the eggs, sugar, oil and applesauce until well blended.

With a heavy duty scraper, stir in the flour mixture followed by the milk until well-blended.

Set the loaf pan on a rimmed baking pan and bake for about 1 hour or until a skewer inserted comes out clean.

Let the bread cool in the pan for about 10 to 15 minutes, then carefully turn from the pan.
Icing Recipe
Melt the butter in a 2 cup microwave-safe measuring cup or a bowl.

Add the sugar and stir it around, mixing in the butter, then add the vanilla.

Gradually add the milk, starting with 1 tablespoon and stirring well, until consistency is just right for drizzling over the loaf.

Drizzle over loaf. I like doing this with a pointy grapefruit spoon.