I came back from doing errands and the house smelled awful. "Oh no! The cat's sick." I thought, then remembered I'd put some food in the crockpot earlier and the smell was just dinner. Once I realized what it was, it didn't seem as gross. It's all in perspective I suppose.
The crockpot stuff was ready, so I wrapped it up and put it away. Unfortunately, the house still smelled and I wasn't looking forward to Fuzz's reaction when I brought her home from school. It got me thinking. The only way to undo bad crockpot smell is with good crockpot smell. It seemed like the perfect excuse to try Crockpot Cherry Dump Cake. The bad news is, I can't turn on the crockpot until 5 since it only takes 3 hours and I serve dessert around 8 or later.
Other versions of the recipe use blueberry pie filling, but here at my smelly home, we're going with cherry because that's what we have. I'm leaving the pecans off for now because I don't want to waste good nuts on something that might not be worthy of them. I think it will be good, though.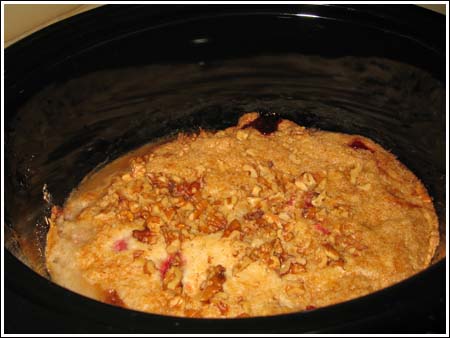 Crockpot Dump Cake....(!)
Cherry dump cake made in a slow cookier
Ingredients
1 (21 oz) can cherry or blueberry pie filling
1 package yellow or white cake mix
8 tablespoons butter, cut up
1/2 C. chopped pecans or walnuts, toasted if you have time
Instructions
Rub the slow cooker generously with some of the butter. Place pie filling in the slow cooker. Mix dry cake mix and remaining butter until crumbly, sprinkle over filling. Sprinkle with nuts. Cover and cook on low for 2 - 3 hours. Serve warm in bowls.
Notes
To halve the recipe, use half can or more pie filling, 1 3/4 cup cake mix, 4 tablespoons butter and half the amount of nuts. Use this version for small model crockpots. If you don't have a crockpot and want to make a small version, use the half version and bake it in a 9 inch deep dish glass pie plate or an 8 inch square pan. Bake at 350 degrees for 35 minutes or until cake mix is golden brown. And of course, you can also make the full version in a 13x9 inch cake pan. It's dump cake! Easiest recipe ever.
Related posts: