While Fuzz was making her snapper on the breakfast table, I made today's cookie next to the kitchen sink. They are, after all, called kitchen sink cookies.
Kitchen sink cookies call for a little bit of everything including chocolate, nuts, raisins and oats. Some recipes use quite a bit of oats, but the recipe I used today was a little different in that it was more like a big, flaky, chocolate chip cookie.
John's Kitchen Sink Cookies baked up high with a crispy shell and moist and light inside. The dough was on the dry side, but I kind of liked it because it reminded me of a very rich scone or biscuit studded with chocolate. I'd be interested to hear what other people think.
Reading the reviews on Every Day food was entertaining. A few people complained that theirs were "flat as pancakes" which baffled me, as mine were almost as high as biscuits. Some people described the texture as cakey. I don't think that quite fit either. All I know is I liked these. I think I might try the next batch with European style butter.
The only changes I made to John's were to use dried cranberries instead of raisins, bittersweet chips instead of chunks and golden syrup in place of light corn syrup. I also made half a batch which yielded 12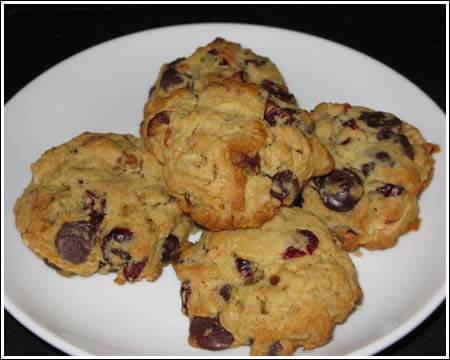 Related posts: