Originally found on Every Day Food (and now on Martha Stewart), John's Kitchen Sink Cookies call for a little bit of everything including chocolate, nuts, raisins and oats. Some Kitchen Sink Cookies use quite a bit of oats, but "John's" recipe is a little different in that the cookies are more like a big, flaky, chocolate chip cookies with barely noticeable oats. The recipe also calls for only brown sugar (no granulated) and a tiny bit of corn syrup, so the dough is sturdy and less sweet and can hold a lot of add-ins.
My first batch baked up high with a crispy shell and moist and light inside. The dough was on the dry side, but I kind of liked it because it reminded me of a very rich scone or biscuit studded with chocolate. I'd be interested to hear what other people think.
Reading the reviews on Every Day Food was entertaining. A few people complained that theirs were "flat as pancakes" which baffled me, as mine were almost as high as biscuits. Some people described the texture as cakey. I don't think that quite fit either. All I know is I liked John's Kitchen Sink Cookies and might try the next batch with European style butter.
The only changes I made to John's were to use dried cranberries instead of raisins, bittersweet chips instead of chunks and golden syrup in place of light corn syrup. I also made half a batch which yielded 12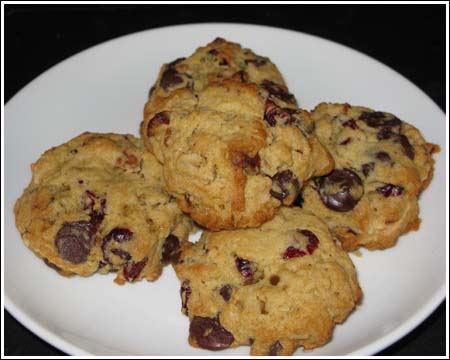 John's Kitchen Sink Cookie
1 1/4 cups unbleached all-purpose flour
1/2 teaspoon coarse salt
1/4 teaspoon baking soda
1/2 teaspoon baking powder
1 stick (114 grams) unsalted butter, room temperature
1/2 cup brown sugar (100 grams)
3/4  teaspoon corn syrup
1 large egg
1/2 tablespoon vanilla extract
1/4  cup old-fashioned rolled oats
1/4 cup pecans
1 cup chocolate chips
Preheat oven to 375 degrees. Line a large baking sheet with parchment paper; set aside.
In a large bowl, whisk together flour, salt, baking powder, and baking soda; set aside.
In the bowl of a stand mixer, beat the butter, brown sugar, corn syrup and vanilla until light and fluffy. Beat in the egg, scraping bowl often.
With mixer on lowest speed, stir in the flour mixture, followed by the oats, nuts and chips.
Drop by 2 inch balls onto baking sheets. Bake cookies, rotating sheets halfway through, until golden brown, about 12 to 14 minutes. Let cookies cool on sheet 2 minutes before transferring to wire racks to cool completely.