Amish Sugar Cookies is a recipe from John, who gave it to me during a period where I was crazily trying to clone Lofthouse Cookies. At the time, I put together a list of recipes that people said reminded them of Lofthouse Cookies.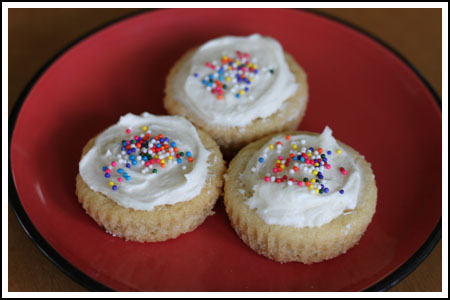 All in the Amish Sugar Cookies Family
I made a cakey sour cream clone recipe from Recipe Goldmine, a recipe from a scrapbookers' forum that was supposed to be the original, and I tried some recipes here and there for cookies with names like Melt-In-Your-Mouth Sugar Cookies and Sawdust Cookies. None of these were the same as Lofthouse, but the Amish Sugar Cookies seem to have the same make-up in terms of ingredients – lots of flour, both regular and powdered sugar, lots of fat (oil and butter, though Lofthouse uses margarine) and a little egg, starch and leavening.
Some of my batches of Melt-In-The Mouth type cookies were greasy, and I attributed that to not weighing my flour, but most of the batches were pretty darn good. My favorite being the one a commenter named John posted which swaps out a cup of the flour for 1 cup cornstarch. I do believe the cornstarch makes the cookies a little lighter, whiter, and more crumbly and therefore closer to Lofthouse than other recipes. They're still not the same, but good in their own right.
Here's the recipe for John's Amish Sugar Cookies, though I did halve it. I made this batch with unbleached flour, but you'll get a whiter and slightly less flat cookie if you use bleached. It's your call, but there's a difference in texture and appearance.
Because the dough I made this morning with unbleached flour kept baking up a little flatter than I liked, I did a little experiment and baked it in paper lined cupcake tins. These were my favorite! The wrappers gave them a cute little ridged look and kept the cookies from spreading too much so there was a better cookie to frosting ratio.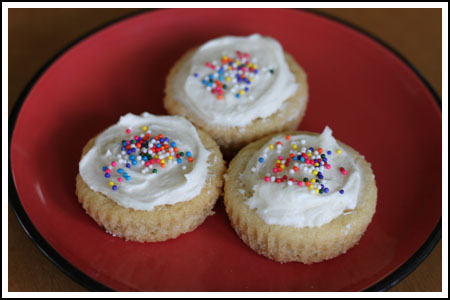 John's Amish Sugar Cookies
Cookie recipe that's supposed to be similar to Lofthouse. I don't think it is, but the cookies are very good.
Ingredients 
1/2

cup

granulated sugar

(100 grams)

1/2

cup

confectioners' sugar

(60 grams)

1/2

cup

salted butter or use 1/2 cup unsalted plus 3/8 scant teaspoon salt**

(114 grams)

1/2

cup

vegetable oil

1

large

egg

1/2

tsp

vanilla extract

1 3/4

cup

all-purpose flour, bleached if you have some

(240 grams)

1/2

cup

cornstarch

1/2

tsp

baking soda

1/2

tsp

cream of tartar
Frosting
4

tablespoons

butter

(52 grams)

1 3/4

cups

powdered sugar

1/2

teaspoon

vanilla plus any other flavorings you like

almond, orange

1-3

tablespoons

whole milk

Pinch

salt if using unsalted butter
Instructions 
Preheat oven to 375 degrees F.

Cream the sugar, confectioners sugar, butter and oil. Reduce speed of mixer and beat in the egg and vanilla.

In a separate bowl, thoroughly stir together flour, cornstarch, baking soda and cream of tartar. Gradually add flour mixture to butter mixture. Batter should be too soft to roll, but thicker than actual batter. You can bake the cookies immediately or chill the dough until you're ready. Chilled dough is easier to work with.

When ready to bake, scoop up tablespoons of dough and shape into 1 inch (ish) balls. Place each ball in a cupcake wrapper lined muffin tin and bake for 10-12 minutes or until cookies appear done. Let cool completely. The cookies are very tender, so I froze mine before icing. Ice the frozen cookies. Keep in a covered container.

Makes about 2 ½ dozen cookies

**Margarine works too, and the ingredient list on the original Lofthouse cookies includes margarine.