I've added a new vanilla to the collection. It's Sonoma Syrup Company Vanilla Bean Extract "Crush". Not surprisingly, it makes terrific homemade vanilla ice cream.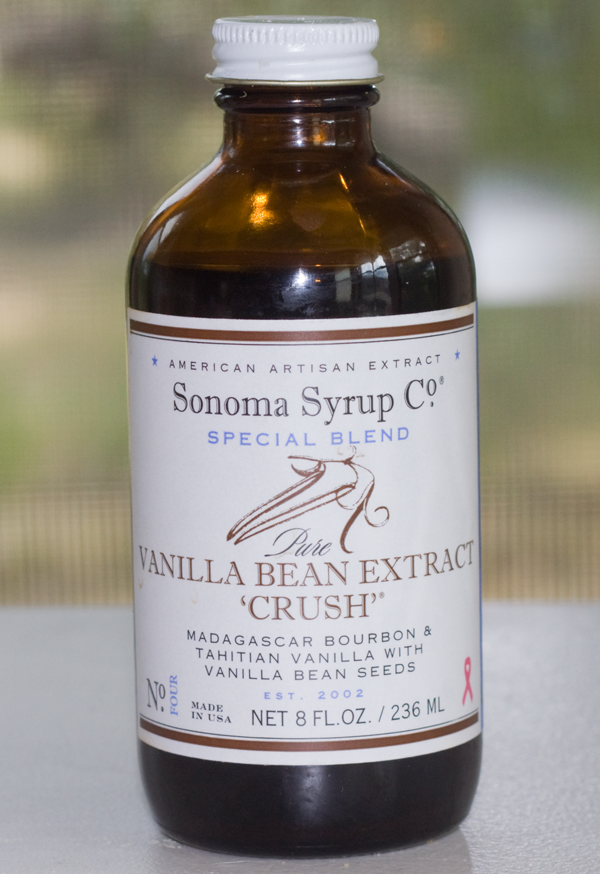 Sonoma Syrup Company
Lisa recommended this vanilla extract in the comment section a while back, and I just happened to stumble upon it in the gourmet section of a local liquor store. It's a blend of Tahitian and Madagascar vanilla with crushed vanilla seeds thrown in. I like it because it has just a tiny bit of the Tahitian floral essence, plus enough Madagascar vanilla to keep it from being too "exotic" tasting. I've tried it in pound cake, brownies and best of all, this ice cream which might just be our new favorite.
This was adapted from The Perfect Scoop: Ice Creams, Sorbets, Granitas, and Sweet Accompaniments
. Unlike the original, which uses beans, I use high quality extract, add one egg yolk and use organic whipping cream which I've recently started buying and which seems to have a better, fresher, flavor than the usual. With all the egg yolks in this recipe, it's also worth paying a little more for the eggs.
Recipe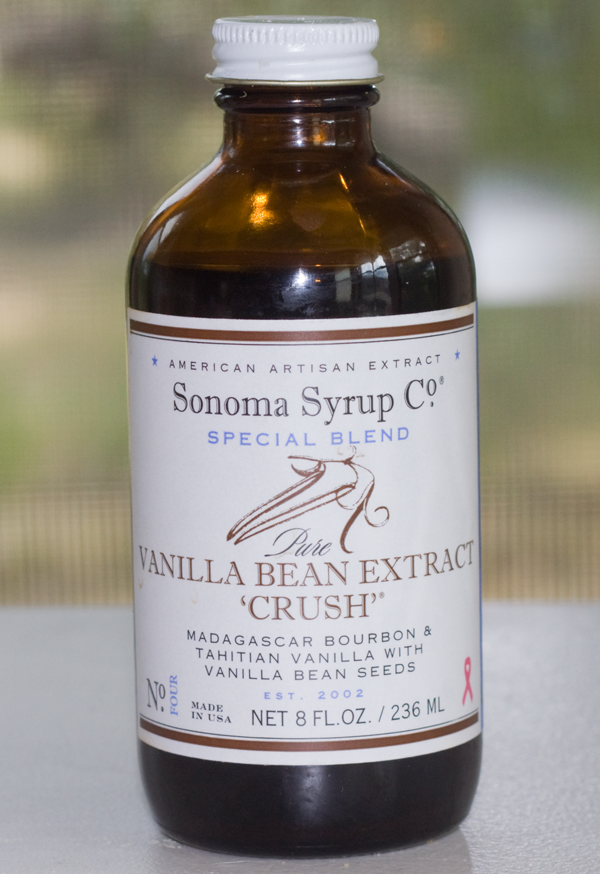 Sonoma Syrup Company Vanilla Crush
Vanilla ice cream made with a blend of fancy vanilla from Sonoma Syrup Company. Of course you can use any vanilla you want!
Ingredients 
1

cup

whole milk

(230 grams)

3/4

cup

granulated sugar

(150 grams)

6

large

egg yolks

(100 grams)

1/8

teaspoon

of salt

2

cups

organic heavy cream (you can use non-organic too)

1

tablespoon

Sonoma Syrups Vanilla Crush (or your favorite)
Instructions 
Set a sieve or strainer over a clean bowl and set aside.

Put the milk and half of the sugar in a large saucepan set over medium-low heat. I use a 3 quart All-Clad.

Meanwhile, in a mixing bowl (I like using a mixing bowl with a spout), whisk the remaining sugar, the six egg yolks, and the salt.

When the milk mixture comes to a simmer, carefully pour a few tablespoons at a time into the egg mixture, whisking all the while. Pour the the egg/milk mixture back into the saucepan and continue whisking over medium low heat, raising heat slightly as necessary, until mixture reaches 160 degrees on a thermometer. It won't be as thick as pudding at this point. Pour through the sieve into the clean bowl. Whisk in the 2 cups of cream and the vanilla.

Cover with a piece of plastic wrap and put in the refrigerator for about 4 hours or until very cold. Process as per the directions on your ice cream maker.

Makes about 3 1/2 cups.