I'm dying to cut into Fuzz's birthday cake because we tried a new recipe. We used a chocolate cake Katy posted in the comment section of "Go To Cakes" and tried out a Swiss Meringue Buttercream for the frosting. I am not sure whether I like Swiss Meringue Buttercream, but won't pass judgement until I try it on the final cake.
For now, I wanted to mention a cake I was reminded of this morning while going through cake photos….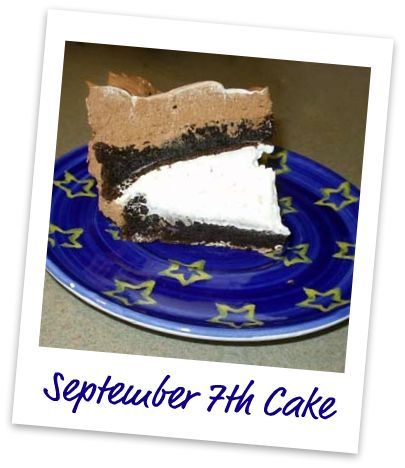 A few years ago, I ordered an amazing piece of cake at a restaurant called Chez Zee.
The cake was called "Maida's Cake" and was described as a chocolate cake with a whipped cream center and rich chocolate icing. It tasted as good as it sounded, and I left Chez Zee determined to find the recipe. After describing the cake to my friend Priscilla, she knew right away it was "September 7th Cake" — Maida Heatter's own birthday cake. Priscilla pointed me toward the recipe in a Maida Heatter book and I made it the next day. Mine was a little different than Chez Zee's, but just as good.
It's been a while since I made a September 7th cake, but the photo jogged my memory and I plan to make it again soon. When I do, I'm going to take a much better picture than this one!
If you'd like to try the recipe yourself, you can find it in Maida' Heatter's book of Great Chocolate Desserts
If you need the recipe now, check here. Someone posted it on Yahoo Answers, so grab it while you can.
P.S. That photo was taken with an old camera and the filling is overexposed, but you get the idea.
Related posts: