This recipe reminds me of the oatmeal bars my babysitter used to make. She was actually kind of a mean babysitter, but she was a good baker and I liked her treats which included these buttery and crispy oatmeal bars which are unique in that they do not contain any flour. I never got the recipe from Colleen, but years later I found a similar one in a Maida Heatter cookbook. Maida called hers "Aspen Oatmeal Bars.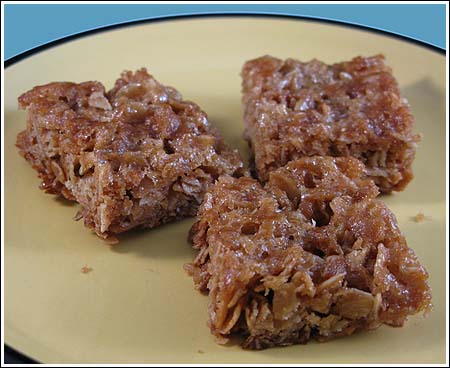 Using Maida's recipe, I made the bars as written below. I don't know why Maida called them "Aspen" unless it has something to do with being rich. They are very buttery.
Crispy Oatmeal Bars (adapted from Aspen Oatmeal Bars)
1 stick unsalted butter (4 ounces)
1 cup packed brown sugar
¼ teaspoon salt
1 teaspoon baking powder (makes sure it's not lumpy)
2 cups old fashioned or quick cooking oatmeal – not instant
Preheat oven to 350 degrees F. Generously butter an 8 inch square metal pan.
In a heavy saucepan, heat the butter over medium until it melts just enough to coat the pan-bottom. Add the brown sugar and melt together, stirring once or twice, until butter is fully melted and sugar is shiny. Remove from heat and stir in salt and baking powder – make sure the baking powder doesn't lump (Maida sifts it in, I just stirred it well). Add the oats and stir to make a thick mixture, then dump the mixture into the buttered pan and spread it to the edges
Bake for exactly 25 minutes. You will probably smell burning, but this is the butter and sugar touching the sides of the pan. Remove from oven. It will look like a big, soft, gunky mess. Loosen the soft, gunky mess with a knife and let it cool on rack for about 30 minutes. It will firm up. When firm but still warm, pry out of the pan and place on a cutting board. Score into bars (trim edges if you want), but don't peel apart because they are still delicate at this point. Let the bars cool. They will crisp as they cool. Makes about 12