UPDATE: This September 7th cake post is long due for an update. Having made the cake multiple times since I posted this, I've added a few notes. It's a great cake and with no flour, it's naturally gluten-free (though anyone seriously concerned would need to check labels etc.). I usually halve the original September 7th cake recipe and make it in two 6 inch round cake pans, so the new pictures reflect a half-batch version. The only tricky part about this cake is the chocolate icing. If you whip the cream even the slightest bit too much it has kind of a curdled, grainy appearance. When this happens the icing still tastes great, but it takes away from the overall appearance.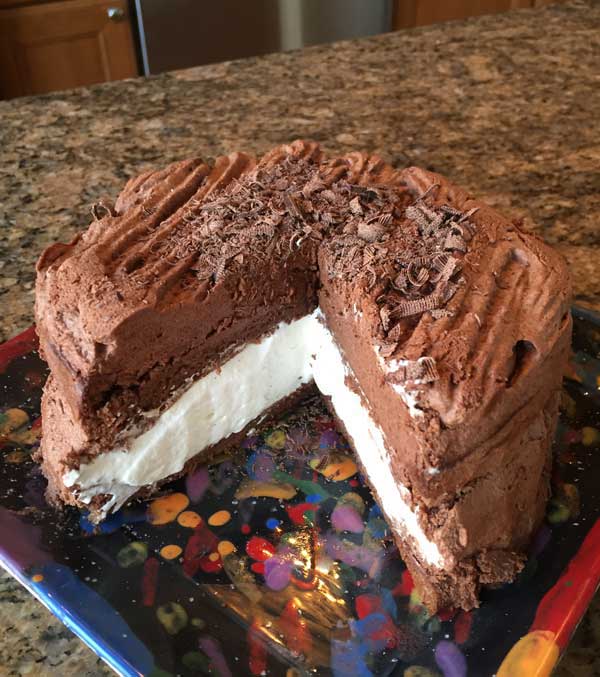 More Updates: This recipe is not complicated, but it is different than most cakes as the cake is just a mixture of cocoa, eggs and sugar. There is no flour, and it is normal for the cake to puff up in the oven and deflate. Don't be alarmed when this happens because it will all come together in the end.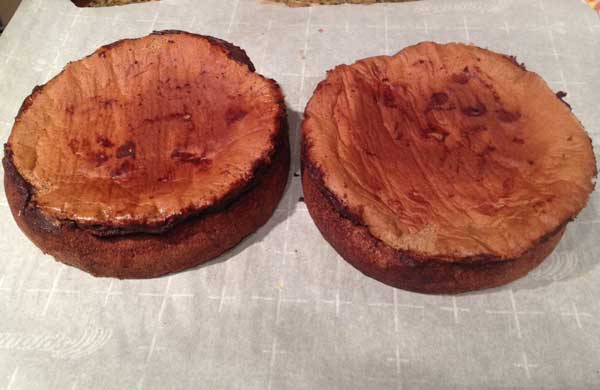 Also, the un-iced stacked layers look pretty messy. Don't worry. The icing has the texture of whipped cream, so it's easy to fill in inevitable crevices you'll have along the sides.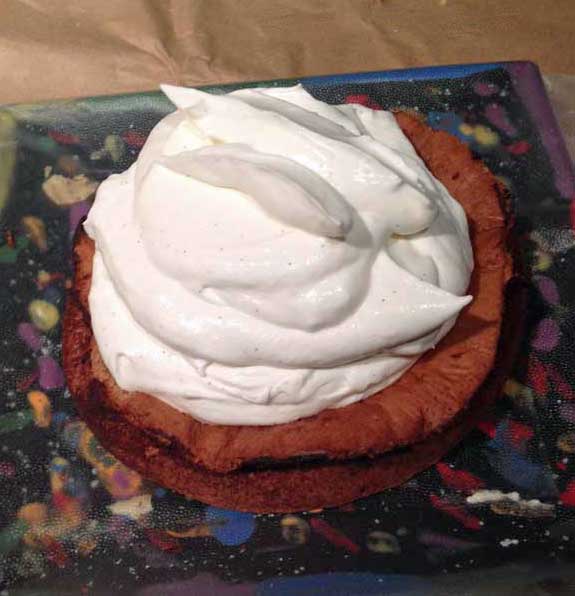 OLD POST:
I'm dying to cut into Fuzz's birthday cake because we tried a new recipe. We used a chocolate cake Katy posted in the comment section of "Go To Cakes" and tried out a Swiss Meringue Buttercream for the frosting. I am not sure whether I like Swiss Meringue Buttercream, but won't pass judgement until I try it on the final cake.
For now, I wanted to mention a cake I was reminded of this morning while going through cake photos….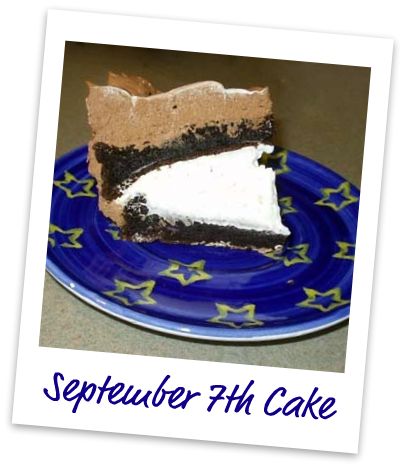 A few years ago, I ordered an amazing piece of cake at a restaurant called Chez Zee.
The cake was called "Maida's Cake" and was described as a chocolate cake with a whipped cream center and rich chocolate icing. It tasted as good as it sounded, and I left Chez Zee determined to find the recipe. After describing the cake to my friend Priscilla, she knew right away it was "September 7th Cake" — Maida Heatter's own birthday cake. Priscilla pointed me toward the recipe in a Maida Heatter book and I made it the next day. Mine was a little different than Chez Zee's, but just as good.
It's been a while since I made a September 7th cake, but the photo jogged my memory and I plan to make it again soon. When I do, I'm going to take a much better picture than this one!
If you'd like to try the recipe yourself, you can find it in Maida' Heatter's book of Great Chocolate Desserts
If you need the recipe now, check here. Someone posted it on Yahoo Answers, so grab it while you can (Update:  Or use my adapted version below).
P.S. That photo was taken with an old camera and the filling is overexposed, but you get the idea.
September 7th Cake
September 7th Cake is a light textured cake filled with a whipped vanilla cream and iced with a rich chocolate frosting.
Ingredients
Cake:
6 extra-large eggs, separated
3/4 cup sugar
1/4 cup unsweetened cocoa powder, plus 1 tablespoon
1/4 teaspoon salt
Filling:
3/4 teaspoon gelatin
1 1/2 tablespoons cold water
1 1/2 cups heavy whipping cream
1/3 cup powdered sugar
3/4 teaspoon vanilla
Chocolate Icing:
8 ounces semisweet chocolate. chopped
2 ounces unsalted butter
1 tablespoon instant coffee powder
1/4 cup boiling water
2 cups heavy whipping cream
1/4 cup powdered sugar
1 teaspoon vanilla extract
Instructions
Preheat oven to 375. Grease two 9" round cake pans and line the bottoms with rounds parchment paper. Grease paper and dust insides of pans with flour.
Using the whisk attachment of a stand mixer, beat yolks in mixer at high speed for about 5 min until light. Add half of the sugar and beat another 5 minutes until very thick and mixture forms a wide ribbon when the beaters are lifted. Add cocoa and beat until completely mixed in.
Using a handheld electric mixer, beat the egg whites and salt in a metal bowl until egg whites hold soft peaks. Very gradually add the remaining 6 tablespoons of sugar. In small additions, fold about half of the whites into the chocolate mixture, then fold the chocolate mixture into the remaining whites. Turn into pans and smooth each layer. If you have a scale and want to make sure the batter is evenly divided, weigh 8 ounces of batter into each pan.
Bake in lower third of oven for 30-35 min. until layers spring back when pressed with fingertip and begin to come away from sides of pan. Loosen warm cakes with a knife, then remove layers from pan, remove paper, and invert again to let layers cool right side up. They will buckle and sink and be uneven, but that's to be expected.
Place 4 narrow pieces of parchment paper around edges of cake plate and place the first layer of cake upside down so that it touches the parchment pieces, but the parchment pieces are still sticking out from under the cake.
Filling: Sprinkle gelatin over water in small cup and let stand for 5 min, then dissolve over hot water. Remove from heat.
Set aside 3 tablespoons of the cream and put the rest in the mixing bowl. Add sugar and vanilla to the cream in the mixing bowl and whip only until it holds a soft shape. Quickly stir remaining cream into the dissolved gelatin and pour into the softly whipped cream. Continue whipping until cream holds a firm shape. Cover bottom layer of cake with cream and cap with top layer. Refrigerate while preparing icing.
Icing: Place chopped chocolate and butter and coffee (which has been dissolved in boiling water) in a saucepan over very low heat or in double boiler. Stir occasionally until melted and remove from heat. Cool just to room temperature. Alternatively, you can put it all in a microwave-safe bowl and heat at 50% power, stirring every 30 seconds, until smooth.
Beat cream, powdered sugar and vanilla together just until mixture thickens and barely holds a shape. If you overdo it here, the icing will be too stiff and will have a slightly curdled appearance. Fold half the cream gradually into the chocolate mixture, then fold that into the remaining cream. Use as much of the icing as you need to fill in any hollows on the sides of the cake and then smooth icing all over. Pull away the parchment paper pieces the cake is sitting on.
Refrigerate at least 6 hours or overnight and serve cold. To slice without squashing cake, insert the point of a sharp knife in the center of the cake, then cut with an up-and-down sawing motion.