Those of you who use the blondie category section might notice that it is being revamped. This will take a while, but it's already slightly easier to navigate. For instance, I can now see the breakdown of different types of cookies and am noticing some contrasts. For instance, there are 51 recipes for brownies and 5 for blondies – give or take a few that I categorized wrong or didn't categorize at all (slacker).
So here's another blondie recipe.
I'm starting with pure, unadulterated blondies, and by that I mean no rum, no butterscotch, no chocolate chip and especially no peanut butter blondies because those really aren't even blondies. Tree nuts are an exception because blondies need something to liven them up.
This recipe, is supposed to be a copy cat version of blondies sold by the Helms Bakery Truck. If you are lucky enough to live in a neighborhood with a bakery truck, give me your address because I'm calling my realtor. All we have is a roach coach which just doesn't compare. See, I've never heard of people going on-line in search of "roach coach" recipes. That Helms truck must have been something.
Quick rundown on how these turned out. If you are a blondie aficionado, you might really love these. They had smooth tops, dense & soft centers and the flavor of brown butter and vanilla. I'm more of a brownie girl, so I'd like to hear the opinions of those more into blondies. And do try these, as the recipe is a little different than the usual.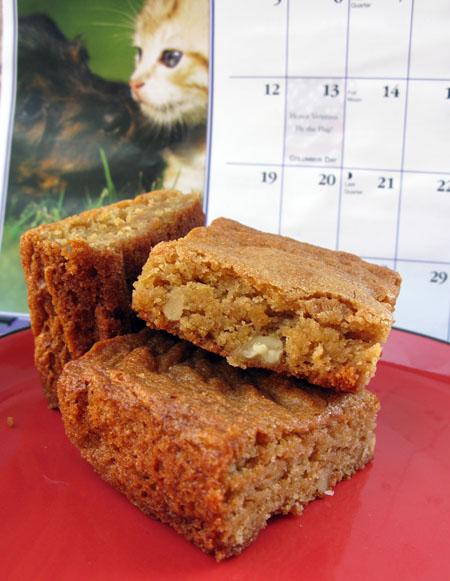 Blondies (Supposedly, clones of Helms Bakery)
1 cup all-purpose flour
1/4 teaspoon baking powder
1/4 teaspoon baking soda
1/2 teaspoon salt
8 tablespoons unsalted butter
2/3 cup (packed) light brown sugar
1/4 cup granulated sugar
1 egg plus 1 egg yolk
1 tablespoon light corn syrup
2 teaspoons vanilla
1 cup chopped, toasted walnuts or pecans
Preheat oven to 350 degrees F. Line an 8 inch square metal pan with parchment or line with foil and grease the foil.  If you only have a glass pan, preheat oven to 325 F.
Mix together the flour, baking powder, baking soda and salt.
Melt the butter in a small saucepan over medium-high heat. Cook an additional 3 to 4 minutes, stirring constantly, until the butter has turned a light golden brown. Remove from heat and beat in the brown and white sugars. Let cool to room temperature.
Stir in the egg and yolk, then the corn syrup and vanilla. Stir in the pecans, then fold in the flour mixture. Scrape batter into a generously greased 8-by-8-inch pan, spreading to the edges.
Bake 25- 30 minutes or until top is golden brown and toothpick inserted in center comes out clean. Cool on rack and cut into bars.  Note:  If you used glass, blondies should take about 35 minutes at 325F.  For glass, it's better to bake "low and slow".
Makes 12 2-by-2-inch brownies
Related posts: