These Honey Blondies are from America's Test Kitchen Naturally Sweet, an excellent book with over 100 recipes featuring alternative sweeteners.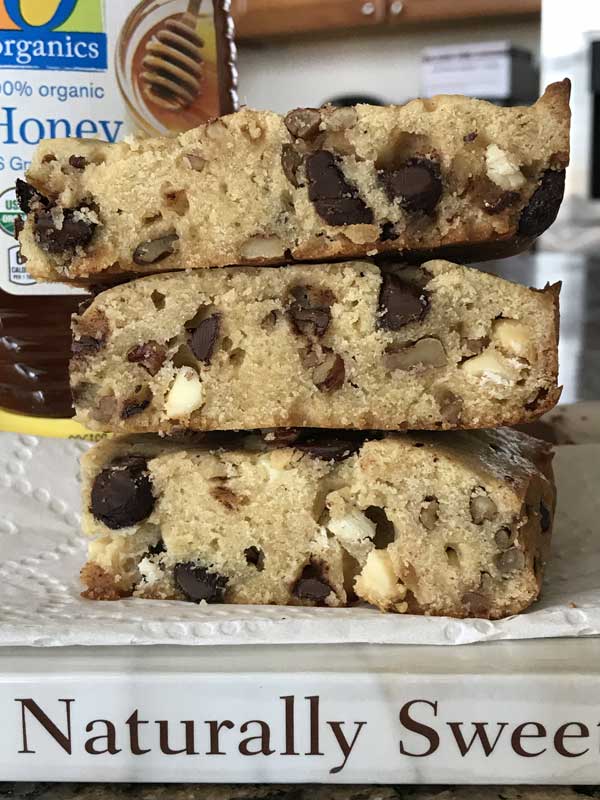 Honey Blondies
For the first recipe, I chose Honey Blondies because I almost always have honey on hand and they just sounded good.  However, Naturally Sweet has loads of tempting recipes made with sweeteners such as Sucanet, coconut sugar, date sugar, honey and maple syrup. There's also a handful of recipes sweetened with just plain chocolate or no added sweetener other than fruit.
At first I was hesitant to pick up the book because I'm in the "I'd rather eat one bite of a sugary dessert than a full serving of reduced sugar" camp, so I just wasn't into it. But then I started reading the book and it won me over, as the goal is to use the alternative sweeteners to make desserts that are just as good if not better. But there are rules and chemistry issues at play, because this is America's Test Kitchen after all.
Science Behind Reduced Sugar Recipes
The book discusses the science behind reduced sugar recipes. For instance, how honey and maple syrup aren't always interchangeable, how using less sugar requires more flavorings, how using less sugar requires more liquid, and way more info than I have time to list. So let's just get back to the blondies.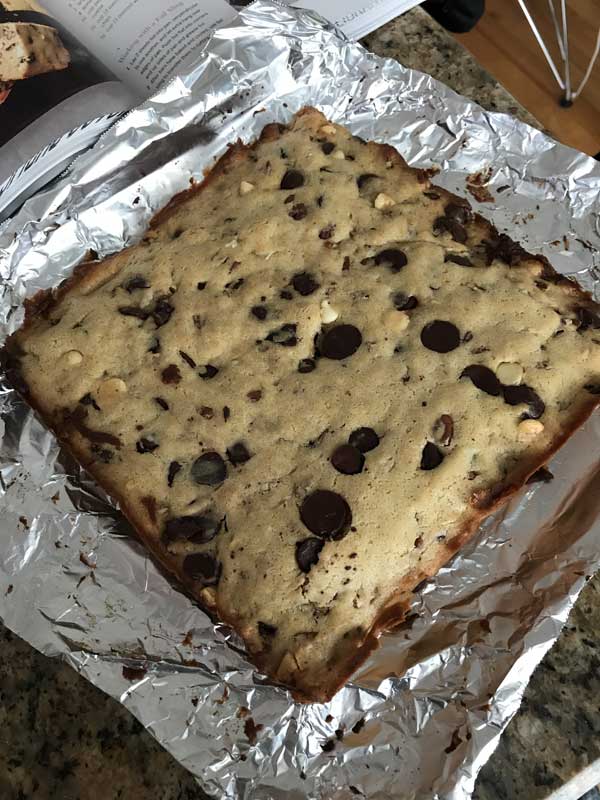 Notes on Creating Honey Blondies
When America's Test Kitchen tried making blondies by just replacing sugar with honey, the blondies came out cakey. In addition, the blondies were greasy – so fluffy, cake-y, and greasy all at the same time. Ick. But then they started experimenting and found that using extra egg yolks instead of some of the butter fixed the textural problem by giving the crumb some body and structure. Only 6 tablespoons of honey was enough to provide a good level of sweetness, but to make the brownies more satisfying and flavorful, the team used 4 whole teaspoons of vanilla, toasted the pecans and used a mixture of semisweet and white chips. At the end, they took each blondie from 25 grams of sugar to 13.
Here's the recipe for those of you ready to try the recipe, but I highly, highly recommend this book.
Recipe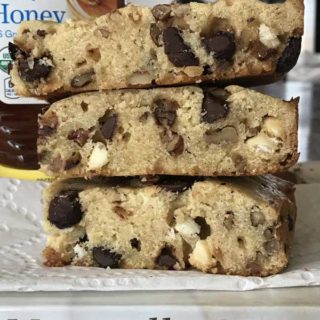 Naturally Sweet Honey Blondies
Honey Blondies recipe based on one from America's Test Kitchen Naturally Sweet. These are velvet-y and soft with richness from the chips and nuts, so don't reduce the add-ins.
Ingredients 
1 ¼

cups

6.25 oz/175 grams all-purpose flour

½

teaspoon

salt

¼

teaspoon

baking powder

8

tablespoons

114 grams unsalted butter, melted and cooled

6

tablespoons

honey

1

large egg plus 2 large yolks

4

teaspoons

vanilla

½

cup

toasted and chopped pecans

3

oz

semisweet chocolate chips

3

oz

white chocolate chips
Instructions 
Preheat oven to 350 degrees. Line the inside of an 8 inch square metal pan with foil. I use nonstick foil.

In a medium bowl, combine flour, salt and baking powder.

In a large bowl, whisk together cooled melted butter, honey, egg, egg yolks and vanilla. Whisk in flour mixture, then fold in pecans, chocolate chips and white chocolate chips. Pour into prepared pan and smooth the top.

Bake on the center rack for 23 to 25 minutes, until slightly browned on the edges. Do not overbake. Let cool in pan for at least 20 minutes. Lift from pan and cut into bars or squares.
Notes
I'm not a huge fan of white chips, but I followed the directions and feel they do indeed work quite nicely here. The next time I make these I plan to use Brazil nuts.