Finlandia Butter Blondies are (you guessed it!) blondies made with a ridiculously good butter called Finlandia. If the name sounds familiar, you probably recognize it from their cheese, which has been in US delis for over 50 years. I don't know how long they've been importing their butter, but I'm starting to see Finlandia more often in mainstream grocery stores.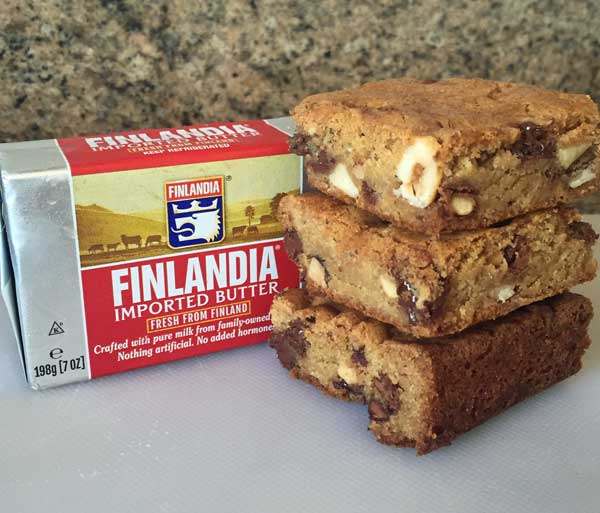 7 oz Blocks
Finlandia butter comes 7 oz blocks in both unsalted and salted. The unsalted variety is cultured, which means it has a live bacteria added and has a slightly tangy flavor, while the salted is made with cream, salt and milk. I like both varieties, though I do sprinkle the unsalted with flakes of sea salt when using it as a spread.
Finlandia Butter Salted and Unsalted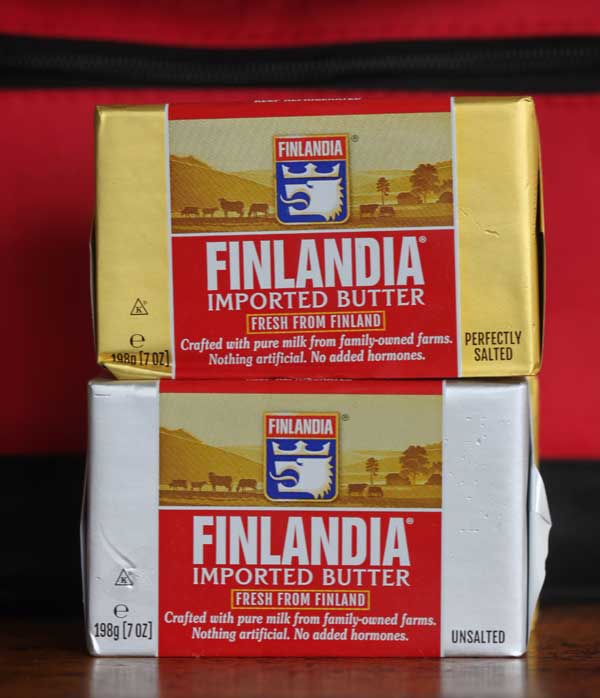 As for baking, European style butter is one of my favorite ingredients and I was very happy when Finlandia offered a sample to use in a recipe. I wanted to use it in a baked good that would really showcase the flavor of the butter, and both pound cake and blondies came to mind.
Finlandia Classic Butter Pound Cake
The first thing I made was the Classic Butter Pound Cake from the Finlandia recipe collection. It was fantastic, so I made it again and added a stripe of chocolate by combining ¾ cup of the batter with some chocolate. This cake gets its leavening from air instead of baking powder, so plan on using your stand mixer.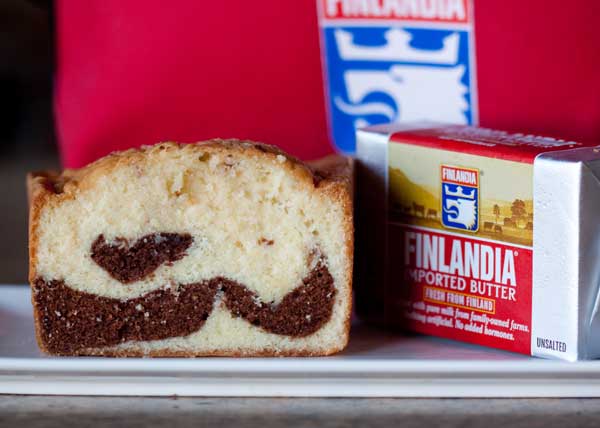 The blondies are a little easier to make than the pound cake, and there's no stand mixer required. This is my usual recipe, and I think the blondies taste better and have more butter flavor with the Finlandia. I used hazelnuts and chocolate chips for this batch, but any kind of nuts and chips will do.
Recipe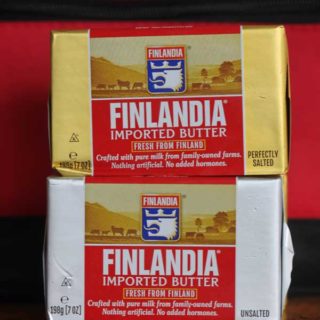 Finlandia Blondies
Finlandia Butter Blondies
Ingredients 
1

cup

unbleached all-purpose flour

140 grams

¾

teaspoon

baking powder

¼

teaspoon

salt

8

tablespoons

unsalted Finlandia butter

114 grams

1

cup

packed brown sugar

210 grams

1

large egg

1

teaspoon

vanilla

½

tablespoon

rum

1

cup

bittersweet or dark chocolate chips

½

cup

toasted nuts

your favorite (I used hazelnuts here)
Instructions 
Preheat oven to 350 F degrees F. Line an 8 inch metal pan with foil and grease the bottom.

Mix together the flour, baking powder and salt; set aside.

Melt butter in a large saucepan set over medium heat. Add the brown sugar to the warm butter. Remove from heat and let the mixture cool for 5 minutes before beating in the egg.

With a spoon or whisk, gently beat in the egg, vanilla and rum. Stir dry ingredients into batter. Let the batter cool down if it is still warm, then stir in the chips and nuts.

Spread in pan and bake for about 35 minutes or until pale golden and edges start to pull away from the sides,

Let cool completely, then lift from pan and cut into squares.