Today's second recipe was inspired by the fact that I needed something sweet and wanted to use up some mini marshmallows. This was adapted from Southern Living and the recipe below is for a full batch. You can easily halve it and make it in an 8 or 9 inch square pan.
In the photo, the "mud" hasn't quite set and the bars still look a little gooey, but after a few hours in the refrigerator, the mud firmed up.
These were pretty good. I expected them to be too sweet, and while they were sweet, they weren't as cloying as Texas Sheet Cake. My mom liked them so much she took them home to share with her neighbors.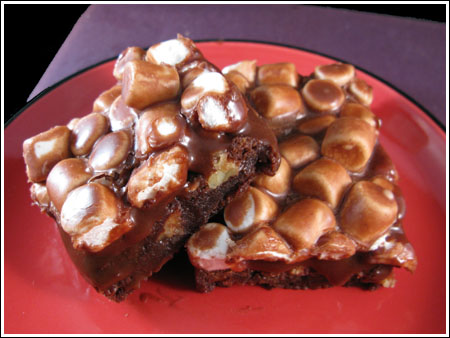 Mississippi Mud Brownies
8 oz unsalted butter
4 ounces unsweetened chocolate, cut up
2 cups granulated sugar
1 cup all-purpose flour
¾ teaspoon salt (use 1/8 if using regular butter or margarine)
4 large eggs
3/4 teaspoon vanilla extract
1 cup pecans, toasted and chopped
About 3 cups miniature marshmallows
Fudge Frosting:
2 oz unsweetened chocolate
4 oz unsalted butter
1/2 cup evaporated milk
1/4 teaspoon salt (omit if using regular butter or margarine)
5 cups sifted powdered sugar (measure after you sift)
Preheat oven to 350 degrees F. Line a 13×9 inch metal pan with foil and spray the foil with cooking spray.
Melt the butter and chocolate together in a large saucepan (3 qt). Remove from heat and let cool slightly (only about 5 minutes).
Mix together the sugar, flour and salt and add to the chocolate mixture. Beat in the eggs and vanilla then stir in the pecans. Pour into pan and bake for 25-30 minutes.
Remove hot pan from oven and sprinkle marshmallows evenly over the top. Make the frosting.
Frosting: Melt the chocolate and butter together in a saucepan. When they are just about melted, stir in the milk and stir until smooth. Stir in salt if using.
Place powdered sugar in a mixing bowl. Pour the chocolate mixture into the sugar and stir well. Using a hand held electric mixer, beat until smooth. Pour over marshmallows. Let cool at room temperature for about an hour then move to the refrigerator to chill and set. When ready to serve, lift from pan and carefully cut into bars. Makes about 2 dozen.
Related posts: