It's about time to try another new recipe, but we just moved into a new house and I'm still getting organized. So for now here's a list called Favorite Brownie Recipes of All Time.  These are the brownies I make most often.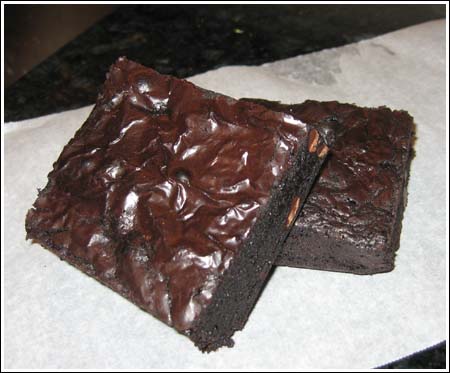 New to the List
Ralph Lauren's Brownies -- Really good combination of both cakey and fudgy.
Loaf Pan Brownies
Rocky Road Loaf Pan Brownies -- You can serve them warm and gooey or freeze to set and cut into neat squares.
Old Reliable Brownie Recipes
School Colors Brownies -- My slightly adapted brownie recipe from The Queen of Chocolate, Alice Medrich.
Hershey's Deep Dish Brownies -- Recommended years ago by a friend who is one of those people who picks one brownie recipe and sticks with it for life.  These are good "in-between" cakey and fudgy brownies.
One Bowl Cocoa Brownies -- An old favorite made with pantry staples.
Triple-Chocolate Brownies -- Slightly richer than the two listed above, these brownies have bittersweet and unsweetened chocolate in the recipe.
Trader Joe's Brownies -- These are made with Trader Joe's 72% chocolate. If you can't use Trader Joe's chocolate, use another brand, but make around 72% and then rename the brownies.
Frosted Brownies -- These are slightly cakey and perfect with the frosting. Hershey's uses a trick of adding water to make the brownies chewy.
Best Fudge Brownies Ever -- I used to make these with Hershey's Dark and they were so good -- almost black in color (as in the photo above) and with a deep, rich flavor. Unfortunately Hershey's "improved" the formula of their Special Dark and it changed the brownies for the worse. You can still make them using a different brand of Dutch process cocoa and they're still good, they were just kind of different with the old Hershey's Dark.
Super Rich Brownie Recipes
Baked Brownies are good. They can be borderline greasy, but not always. There's a Baked Brownies in a Glass Pan version, which I stated in my notes was better. This theory needs more testing.
The Farm of Beverly Hills Brownies.  Very rich and extremely fudgy.  Best on day 2.
Double Chocolate Chip Brownies -- Some people really love these.  They're very convenient when you have a surplus of chocolate chips.
Secret Ingredient Brownies
Melted Marshmallow Brownies --- Sorry I recommend this recipe so much, but these are really good (and an excuse to buy marshmallows). The Cape Town Brownies are similar.  They are not overly rich, yet not dry.  Some people say they are like Corner Bakery's brownies, but I think they are better.
Looking to use up some bananas? These Banana Chocolate Brownies are (actually) really good and the banana does enhances the brownies without overpowering.
Old Brownie Recipes I Love But Sometimes Forget About
Julia Child's Brownies -- One of the best whipped versions. The Boudin Bakery recipe is also excellent. Both of these recipes call for the eggs and sugar to be whipped, giving the brownies a light yet still rich and fudgy texture.
Gluten-Free Brownies
Almond Butter Fudge Brownies -- A good one to make if you are out of flour.  My friend Bev came up with a gluten-free peanut butter version.
This is my personal favorite recipe for gluten-free brownies. It's called Gluten-Free Brownies.
Peanut Butter Topped Brownies
Dorie Greenspan's Peanut Butter Fudge Brownies
Marshmallow Krispies Topped Brownies -- The best way to doctor up boxed brownies is to top with marshmallows, Rice Krispies, chocolate and peanut butter.
You can find more brownie recipes here.