This recipe is based on a recipe from The Peppers Cookbook by Jean Andrews. I wasn't sure I'd like the ground ancho, so I made a half batch. The brownies are muy bueno and the ancho tastes perfect and not at all overpowering or like something thrown in for the sake of being unique. Still, I was hesitant at first so I made a half batch. If you want to make the full batch, just double this and bake in a 13×9 inch pan. But here's how I did it.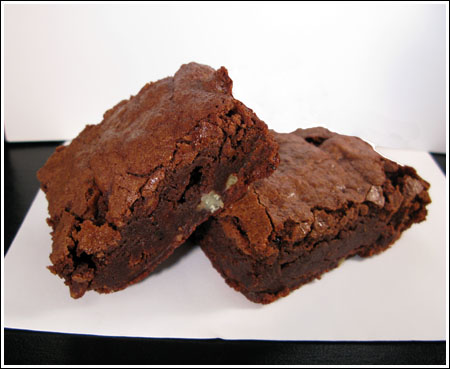 Brownies with Toasted Ancho
Brownies with toasted ancho chili
Ingredients
Brownies with Toasted Ancho
4 oz unsalted butter (114 grams)
3 oz unsweetened chocolate (85 grams)
1 ancho pepper, toasted and ground (1 tablespoon)**
1/4 very scant teaspoon salt
1 ¼ cups plus 2 tablespoons granulated sugar (270 grams)
2 large eggs plus 2 tablespoons egg, lightly beaten with a whisk
3/4 teaspoon Mexican vanilla
3/4 cups all purpose flour (100 grams)
3/4 cup chopped toasted pecans
Instructions
Preheat oven to 350 degrees F. Line an 8 inch metal pan with foil and grease bottom of pan only.
Melt the butter in a microwave-safe mixing bowl. Add the chopped chocolate and stir until it is completely melted. If it doesn't completely melt, microwave for another 30 seconds and stir. Stir the ground ancho powder into the melted chocolate/butter mixture. Whisk in the salt and sugar, followed by the beaten eggs and vanilla. Add the flour and stir until it is almost mixed in, then add pecans and stir until flour disappears. Pour into pan. These brownies are fairly thick, so you'll have a lot of batter.
Bake brownies on center rack for about 40 minutes. At 35 minutes, test with a toothpick. Your brownies should have *very* moist crumbs. I let mine bake for the full 40 minutes, then cooled in an ice bath.
When completely cool, lift from pan and cut into 9 large brownies (or 6).
Notes
** There are many ways to toast anchos, but for this recipe I removed the stem and seeds, broke up the ancho, threw the pieces in a hot dry skillet and moved them around for about 2-3 minutes until they started to smell good. I moved them to my small coffee/spice grinder and ground the ancho to make 1 tablespoon powder. It was so much better than store-bought.
Related posts: