UPDATE:  I've made this butterscotch pie recipe many times since I first posted it in 2010. Over the years I've grown to prefer a whipped cream topping rather than the meringue.  However, it's good with meringue if that's what you're into.  One thing you should know is that this pie is creamy.  It's stiff enough so that you can cut it and it won't run all over the place, but it is like butterscotch pudding in creamy pie form.   I've posted the updated version at the bottom.  The meringue version can be found using the link within the text.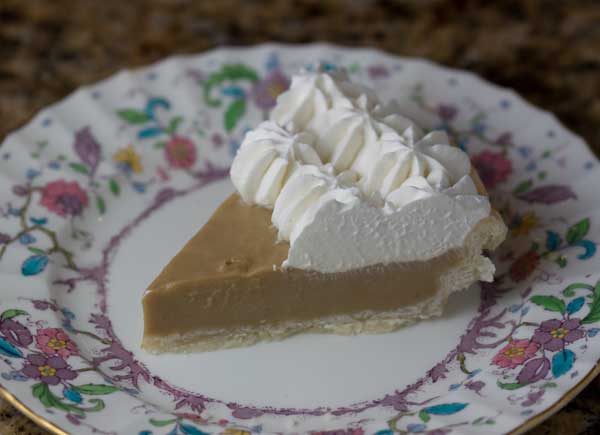 ———————————————————————————
After a trip to the store yesterday for some fresh cream of tartar, I made a third butterscotch pie. Because the second recipe was so good I only made minor changes, and I think with or without those changes this pie is *the one*. At least for now.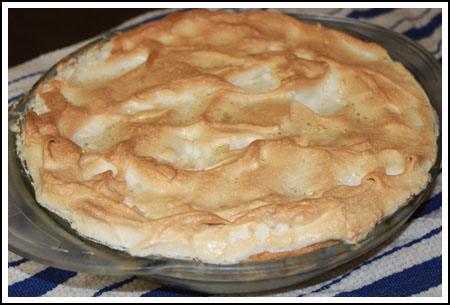 About those changes, rather than re-type the recipe I just incorporated them into the recipe I posted yesterday and will discuss them a little more after the jump
First, I used half dark and half light brown sugar. Light brown sugar tasted fine, but the dark brown sugar heightened the flavor. Since dark brown sugar is a little heavier and sweeter cup for cup, I didn't pack it in quite as much.
Next, I made sure to warm the milk. Okay, so I did that in the first pie too, but I wanted to emphasize that because it really speeds things up and not all recipes say to do this. If you start with warm milk, you should only have to whisk about 6 minutes max. To warm the milk, just put the 2 cups in a microwave-safe glass measure and heat it for about a minute before proceeding with the recipe. And definitely use whole milk.
Another thing I felt improved the pie was using European style butter. When I buy ESB, I buy the salted type, so I used salted butter and found the little bit of salt plus the richer than usual butter made a difference.
The bad news is, the version made with the dark brown sugar and the fancy butter didn't slice quite as neatly. But that might have been due to my problems with the crust. As usual, that particular crust recipe tends to stick to the side of the dish.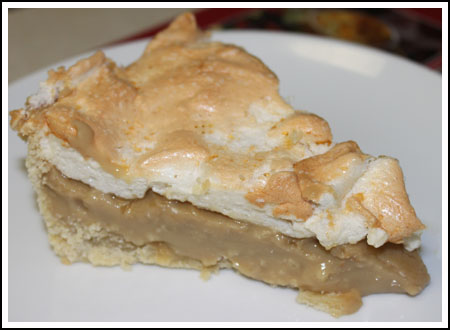 Now about the crust, I've been experimenting. The first time around I used a graham crust as directed in the recipe. It was very good, but for the next two pies I used plain pastry – Best Ever Pie Crust from allrecipes.com and another from CI/ATK. The allrecipes.com crust with the 1 cup flour, ½ cup fat, ¼ cup water ratio was a little too "short" for my tastes, but it did slice neatly and didn't stick to the sides of the pan. The CI/ATK one was good, but not anything super special. Right now I think my favorite crust is still Greg Patent's from Baking in America, but for now I recommend you go with your own favorite pie crust recipe.
So that's it for butterscotch pie for now. I think what I really need to work on is crust since I'm still recipe hopping.

Butterscotch Pie -- The Best for Now
Butterscotch Cream Pie topped with whipped cream. This pie is creamy -- neither too stiff nor runny. Make sure to use whole milk for best results.
Ingredients
1 9 inch pie crust, homemade or store-bought, baked
3 large egg yolks, room temp
2 cups whole milk
4 tablespoons flour
1 big pinch salt
4 tablespoons butter, European style or Land o Lakes**
1/2 cup light brown sugar
1/2 cup dark brown sugar
1 teaspoon vanilla extract
Whipped Cream
1 cup whipping cream
2 tablespoons granulated sugar
1 teaspoon vanilla
Instructions
With a fork, mix the three egg yolks together in a small cup or bowl.
In a large, microwave-safe glass measuring cup, warm the milk,
In a second bowl, whisk flour with half of the warm milk, until smooth.
Whisk the egg yolks and the salt into the milk/flour mixture, then whisk in the remaining cup of warm milk. Set aside.
Place the butter in a saucepan and soften it a little over medium heat. Add the brown sugar and whisk or stir for about 2 minutes or until butter is melted and sugar has dissolved. Whisk the milk mixture into the saucepan. Continue whisking constantly over medium heat until mixture thickens and bubbles — this should only take 2-3 minutes. After big bubbles start to form, continue whisking for another 2 minutes.
Remove from heat and stir in the vanilla. Lay a sheet of greased waxed paper directly over the top to prevent a skin from forming and let cool for about half an hour at room temperature.
Transfer to the baked pie shell and chill thoroughly.
Shortly before serving, prepare the whipped cream. In a chilled metal bowl using chilled beaters, beat the cream and sugar until stiff peaks start to form. Beat in the vanilla. Pipe around edges of the pie.
Related posts: