After a trip to the store yesterday for some fresh cream of tartar, I made a third butterscotch pie. Because the second recipe was so good I only made minor changes, and I think with or without those changes this pie is *the one*. At least for now.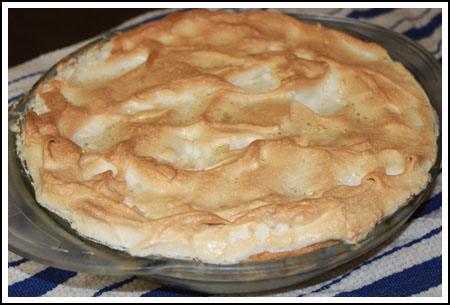 About those changes, rather than re-type the recipe I just incorporated them into the recipe I posted yesterday and will discuss them a little more after the jump
First, I used half dark and half light brown sugar. Light brown sugar tasted fine, but the dark brown sugar heightened the flavor. Since dark brown sugar is a little heavier and sweeter cup for cup, I didn't pack it in quite as much.
Next, I made sure to warm the milk. Okay, so I did that in the first pie too, but I wanted to emphasize that because it really speeds things up and not all recipes say to do this. If you start with warm milk, you should only have to whisk about 6 minutes max. To warm the milk, just put the 2 cups in a microwave-safe glass measure and heat it for about a minute before proceeding with the recipe. And definitely use whole milk.
Another thing I felt improved the pie was using European style butter. When I buy ESB, I buy the salted type, so I used salted butter and found the little bit of salt plus the richer than usual butter made a difference.
The bad news is, the version made with the dark brown sugar and the fancy butter didn't slice quite as neatly. But that might have been due to my problems with the crust. As usual, that particular crust recipe tends to stick to the side of the dish.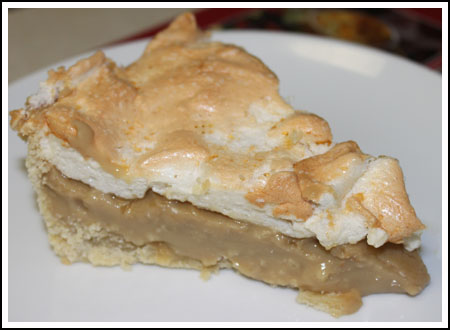 Now about the crust, I've been experimenting. The first time around I used a graham crust as directed in the recipe. It was very good, but for the next two pies I used plain pastry – Best Ever Pie Crust from allrecipes.com and another from CI/ATK. The allrecipes.com crust with the 1 cup flour, ½ cup fat, ¼ cup water ratio was a little too "short" for my tastes, but it did slice neatly and didn't stick to the sides of the pan. The CI/ATK one was good, but not anything super special. Right now I think my favorite crust is still Greg Patent's from Baking in America, but for now I recommend you go with your own favorite pie crust recipe.
So that's it for butterscotch pie for now. I think what I really need to work on is crust since I'm still recipe hopping.
Related posts: