This tart started out as an excuse to try an interesting French tart dough recipe from David Lebovit'z blog, but it was so good it might just replace our usual coconut cream pie.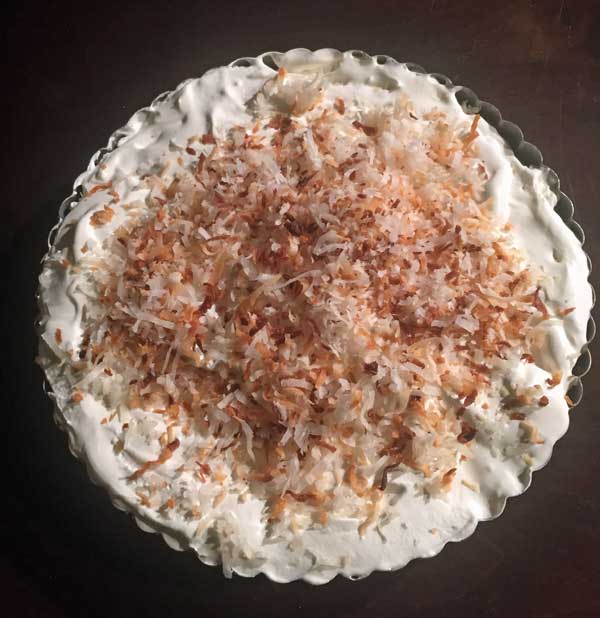 Coconut Cream Tart Dough
First, a little about that crust. It was given to David by a French friend who makes tart crusts by melting butter, oil and sugar together in the oven and then stirring the flour. It's certainly a more relaxed approach to making pastry crust, and in the end it was a good crust so I'd probably use the technique again. As for the filling, this recipe is similar to my usual coconut cream pie, but it's a little smoother and creamier and uses fewer egg yolks and butter. It's relatively inexpensive and makes just enough filling for a shallow 9 inch pie or in this case, a 9 inch tart.
If you try the French tart dough, let me know what you think. I recommend following the directs on David's blog (and using mine for the filling).
Recipe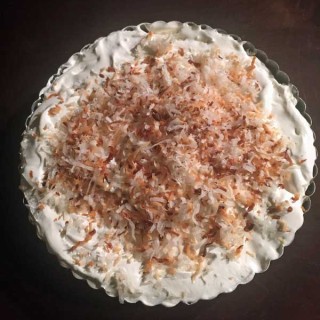 Coconut Cream Tart
Coconut Cream Tart
Ingredients 
1

baked 9 inch tart shell

see note

½

cup

granulated sugar

3

tablespoons

cornstarch

¼

tsp

salt

2

eggs yolks

slightly beaten

2

cups

half and half

1

tablespoon

butter

1

teaspoon

vanilla extract

1

teaspoon

coconut extract

optional

⅔

cup

sweetened flaked coconut plus extra for topping

3

cups

sweetened whipped cream

fresh or non-dairy whipped topping
Instructions 
In a large saucepan away from heat, combine the sugar, cornstarch and salt. Add the egg yolks and stir to make a thick, yellow paste, then gradually whisk in the half and half.

Put the saucepan over medium heat and whisk constantly until mixture begins to boil and thicken. When mixture thickens and boils, continue whisking for 1 minute. Remove from heat and whisk in the butter. Let cool slightly, then stir in the vanilla extract, coconut extract and ⅔ cup coconut.

Let filling cool, then transfer it to the tart shell, spreading to the edges. Cover with a piece of plastic wrap and refrigerate until cold. Spread whipped cream over the top and sprinkle with reserved coconut. To toast the reserved coconut, bake it on a foil lined tray at 350 just until edges start to brown, then mix it all up on the pan. Let cool.
Notes
Easy Tart Crust Recipe
6 tablespoons unsalted butter, cut into pieces
1 tablepoon vegetable oil
3 tablespoon water
1 tablespoon sugar
⅛ to ¼ teaspoon salt (I prefer ¼)
1 cup plus 2 tablespoons (150 grams) all-purpose flour
In an oven proof bowl (Pyrex or Pampered Chef Batter Bowl), combine the butter, oil, water, sugar and salt. Put the bowl in the hot oven for 15 minutes or until butter starts to brown. Carefully remove from oven and stir in the 150 grams (heaping cup) of flour. It should clump up into a ball. Let it cool to touch, then press it over and up the sides of a 9 inch removable bottom tart pan. Set the pan on a baking sheet and bake for about 15 minutes or until edges are nicely browned.