I usually make Coconut Cream Pies with whipped cream on top, but sometimes I'm in the mood for a big, billowy meringue, and the family loves a good Coconut Meringue Pie. This one's my favorite as of late because it's an all-milk pie. I almost always have the ingredients on hand, it's inexpensive, and the texture is so creamy and soft. And there's no cream in the recipe! Also, the meringue topping is lighter than whipped cream and higher in protein, making this pie a super food. Okay, maybe not super in that particular way. Updating to add -- the coconut sprinkled on top of the meringue before being baked makes it taste like a giant coconut macaroon on top of the pie.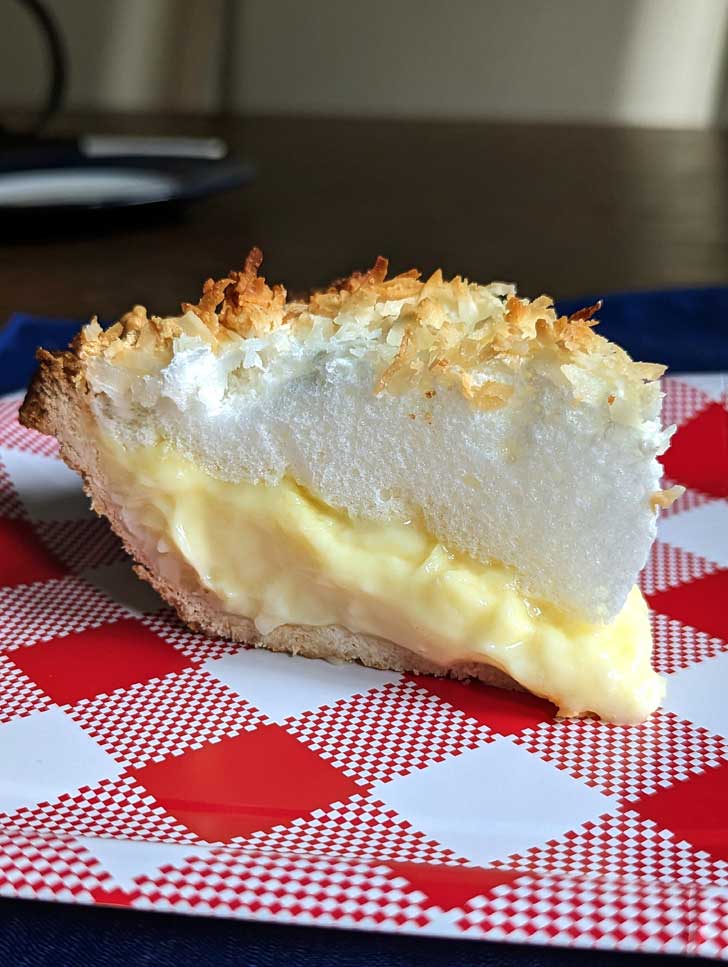 Sweet and Creamy Filling
The coconut filling is sweet and goes well with a salty, buttery, pastry crust or a maybe a graham crust. A graham cracker crust might get soggy under this, but that doesn't mean it won't work. I just think the sweet filling contrasts well with a salty, pastry crust. If you are using the little Keebler store bought crusts or a very shallow pie dish, you'll need to either halve the recipe or fill two crusts. You should also know that this filling has a little more "flow" to it. It shouldn't unpleasantly runny, but it has a high ratio of milk to cornstarch so it's not as stiff as some of the other pies. However, it's kind of worth the extra softness because the filling is so smooth and creamy. Also, if you are wondering what that particular crust is it's a rolled graham crust.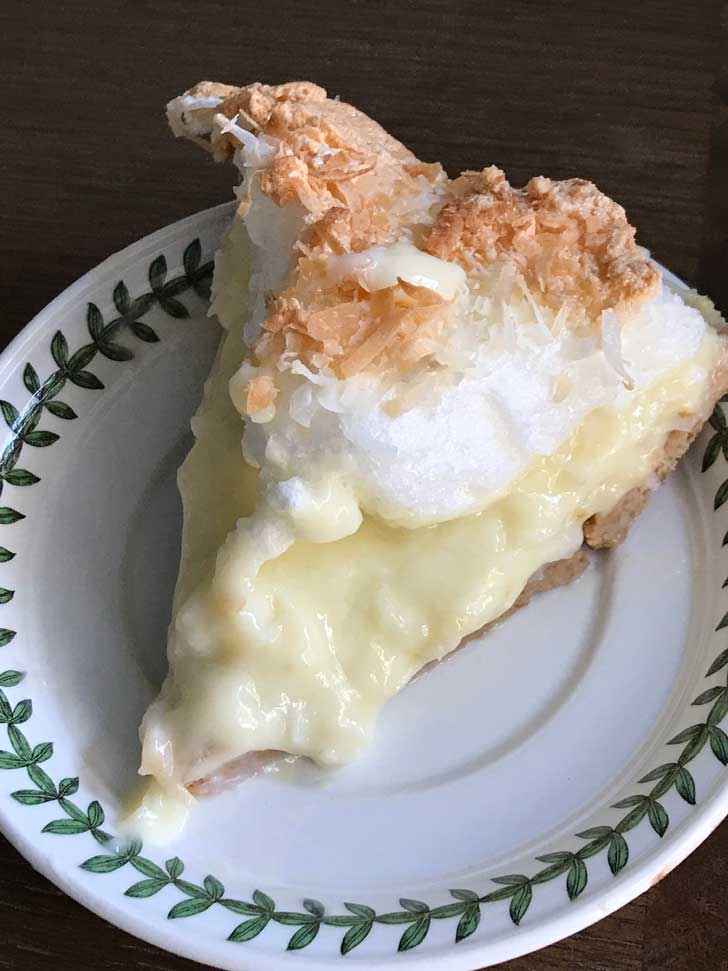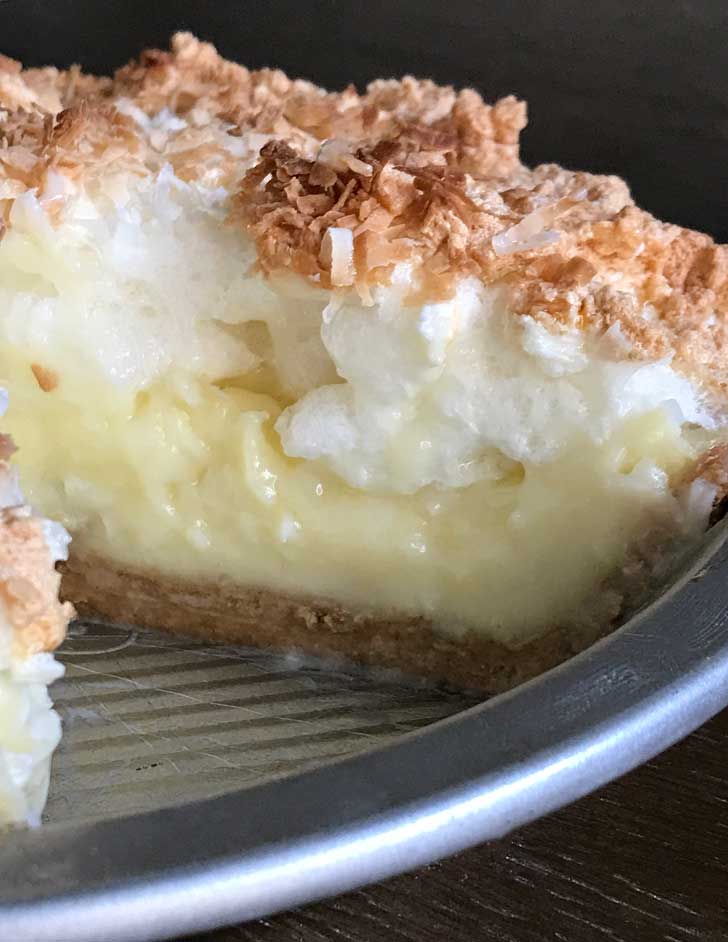 Meringue Topping
I almost always make the meringue first for a couple of reasons. It's nice to get it out of the way, but it's also best to put the meringue on a very hot filling. In theory, this is supposed to help cook the bottom of the meringue and prevent weeping. You obviously don't want to let your meringue sit for a long time, so when making it first it's important to have everything ready to go. Another note. I've seen versions of this pie where the meringue has as little as 3 tablespoons of sugar. A less sweet meringue like that might be a good partner to the sweet pie, but I prefer a sweeter meringue even with the sweet filling, so I've kept it as ⅓ cup. Feel free to use less sugar in the meringue.
All-Milk Coconut Meringue Pie Alternatives
As mentioned, this pie is sweet and not the stiffest. If you want a stiffer and less sweet Coconut Cream Pie, there are lots of others on Cookie Madness. My daughter's favorite is the Claremont Diner Coconut Cream Pie, which has more of a Bavarian cream style texture and calls for gelatin.  There's this one, which is also made with milk but is smaller. And then I also have one topped with maple flavored coconut chips which is a lot richer.
Recipe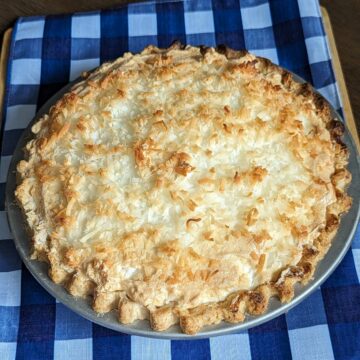 Coconut Meringue Pie
This is a very sweet coconut cream pie with a soft and creamy filling. It makes a lot and will fill a deep dish pie crust, so if you are using a smaller pie crust you'll have a bit of leftover filling. If you are using something like storebought Keebler crusts, you can probably fill two.
Ingredients 
Meringue Topping
4

large

egg whites

⅛

teaspoon

cream of tartar

⅓

cup

sugar
Filling:
1

cup

granulated sugar, scant

(190 grams)

¼

cup

cornstarch

(32 grams)

4

large

egg yolks

¼

teaspoon

salt

3

cups

whole milk (24 oz)

3

tablespoon

unsalted butter

(42 grams)

1 ¼

cups

flaked

(¾ cup) and (½ cup)

1 ½

teaspoon

vanilla extract

or vanilla paste

½

teaspoon

coconut extract (optional)
Pie Crust
1

9-inch

deep dish pie crust, baked
Instructions 
With this recipe, you'll be making the meringue first. Be sure to have all of your filling ingredients and equipment lined up and ready to go so that the meringue doesn't sit for too long.

Preheat oven to 325 degrees F. and have ready a rimmed baking sheet to set the pie on.

In a large mixing bowl, beat the egg whites and cream of tartar until peaks just start to form, then very gradually add the sugar. Continue beating just until the mixture holds stiff peaks. Set aside.

In the top of a double boiler off the heat, stir together the sugar, cornstarch, salt and egg yolks. Gradually add cold milk, whisking until smooth. Meanwhile, begin heating water in the lower part of the double boiler.

Set the top of the double boiler over the simmering water. Cook, whisking vigorously to help break up and dissolve the egg yolks, until very thick -- almost as thick as cooked pudding or rich cream gravy. Temperature should be around 183 degrees F. It should not boil and it won't seem thick enough to hold, but you are going to bake it for 30 minutes so it will get more heat.

Once hot and thick, remove from the heat and stir in the butter, ¾ cup of coconut and vanilla. If using coconut extract, add that too. Pour hot mixture into the baked pie shell.

Carefully spoon meringue over, sealing the edges the best you can. Sprinkle remaining coconut over the top.

Set the pie on the rimmed baking sheet and bake at 325 degrees F. for about 30 minutes. Let cool, then chill for several hours or overnight. This makes enough for a fairly deep dish pie.
Notes
For a homemade graham cracker crust, mix together 1 ½ cup graham cracker crumbs, ¼ cup sugar, 1 pinch of salt and ⅓ cup melted unsalted butter.  Press into bottom and up sides of a shallow 9 inch pie tin.  Bake at 350 for about 8 minutes.