In honor of Todd's birthday, I'm sharing a recipe for Coconut Meringue Pie. Will this one replace our all-time favorite Coconut Cream Pie?  I'll have to get back to you on that, but for now I can tell you that this one is very good and different in that it has a higher ratio of half & half to eggs and a topping of coconut-sprinkled meringue which has a macaroon like quality.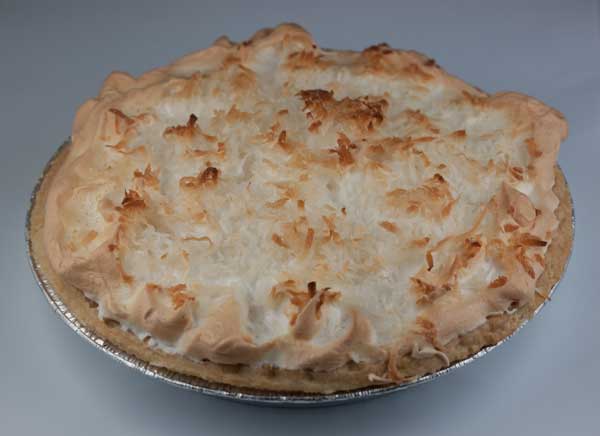 This coconut meringue pie was also really easy to throw together because the filling was mixed in the saucepan and the egg yolks didn't require any tempering. We liked it a lot, but I have other recipes to try so as usual, I'll cut the remaining pie into slices, freeze, and wrap individually. I'm not sure what I'd do without my freezer.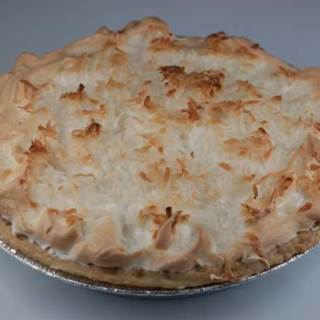 Coconut Meringue Pie
A creamy coconut pie with a meringue topping.
Ingredients 
Meringue
3

large egg whites

Pinch

of cream of tartar

¼

cup

sugar
Filling:
2

egg yolks

½

cup

sugar

3

cups

half & half

1/3

cup

cornstarch

Pinch

of salt

1 1/2

teaspoon

vanilla extract

3

tablespoons

unsalted butter

1 ½

cups

sweetened flaked coconut
Instructions 
Preheat oven to 350 degrees F. Have ready a fully baked 9 inch deep dish pie crust.

Put the egg whites in a mixing bowl and have the cream of tartar, sugar and handheld mixer ready so that you can make the meringue quickly and put it on the hot filling.

To make the filling, combine the egg yolks and sugar in a large (3-31/2 quart) saucepan. Gradually add the half & half, then add the cornstarch and stir until well mixed. Put the saucepan over medium heat and bring to a boil, stirring constantly until mixture thickens. Continue to boil and stir for about 1 ½ to 2 minutes. Remove from heat and stir in the butter and vanilla, then add 1 cup of the coconut (save remaining ½ cup for topping). Keep the filling in the pan while you make the meringue.

Working quickly, make the meringue. Beat the egg whites and cream of tartar until they are foamy, then gradually add the sugar and beat until stiff peaks start to form.

Pour the hot filling into pie crust, then spread the meringue on top of the hot filling, sealing the edges. Sprinkle remaining ½ cup coconut on top and bake at 350 for 15 minutes or until meringue is browned. Let cool at room temperature for about an hour, then transfer to the refrigerator for several hours so that pie can chill and firm.
Notes
This recipe was loosely adapted from a recipe from the Southwest Texas Dairy Farmers.