Our first Girl Scout meeting was a success, and so were the Malted Chocolate Chip Cookies. I set them out on a plate and then baked up a quick batch of Pillsbury refrigerated sugar cookies as a non-chocolate alternative. The girls appreciated the cookies, and one future baker asked for the recipe. We had a lot to do, so I waited until the end of the meeting then ran upstairs and printed out a copy of the Malted Chocolate Chip recipe. When I handed it over to her she looked at me and said "No, I wanted the recipe for those sugar cookies." I showed her the packaging. Her mom looked relieved.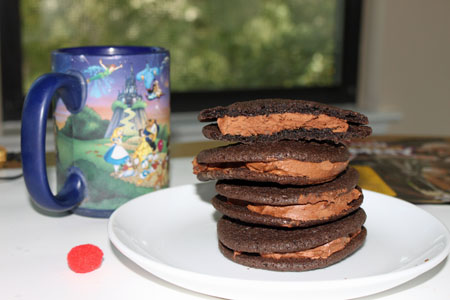 So that's my story, the point of which is never go out of your way to bake from scratch. Just kidding. A little dark humor for today to match my mood. Now how about some dark cookies? I made these for myself, but will of course share the leftovers with my friends at Todd's office. The last time I sent these (a loooooong time ago), people went nuts.
These are very dark and chocolaty and have a good bit of malt flavor. When chilled, they become very sturdy so you can easily wrap them in cellophane or stick them in a (Halloween?) goody bag. They'd alse be great with Halloween sprinkles, which I'm starting to see here and there.
Chocolate Malt Sandwich Cookie Recipe Here
Related posts: