If you are looking for the cookie recipe from the side of the Harris Teeter brand sugar bag, here it is! I'm posting it because this recipe keeps coming up in conversation among friends and family. I like the recipe too, and don't want to lose it when they change the bag. It's basic, but good.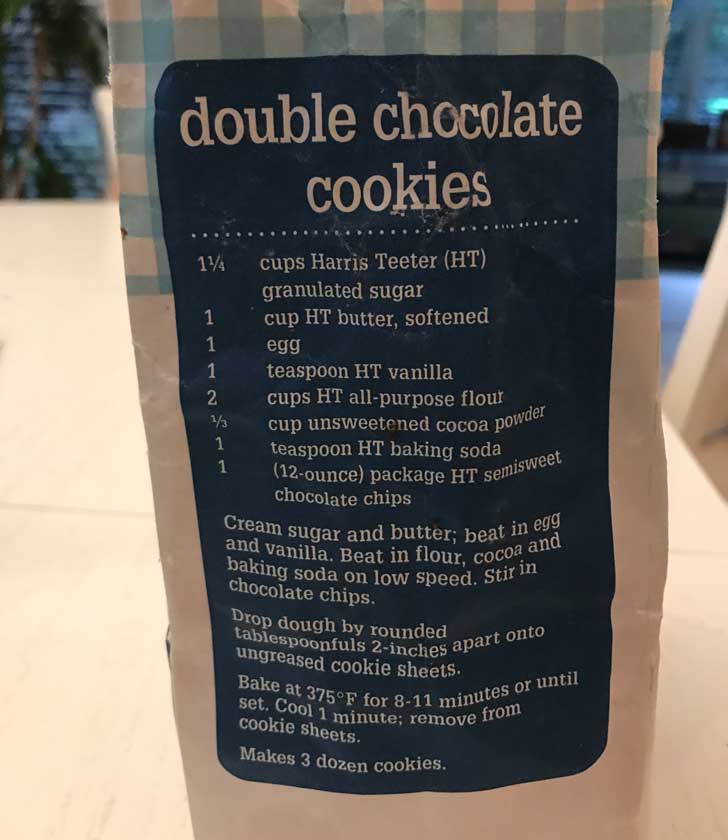 Texture and Flavor
So like I said -- basic. The Harris Teeter sugar bag cookies are medium thickness, very chewy, have a ton of cocoa flavor. They don't have any brown sugar, so the cocoa flavor really comes through (which is not to say there's nothing wrong with a little brown sugar!). These just seem really chocolaty. But what I really like is their chewy texture and how they bake up with a lot of crevices. In addition to that, the recipe works wonderfully with gluten-free flour.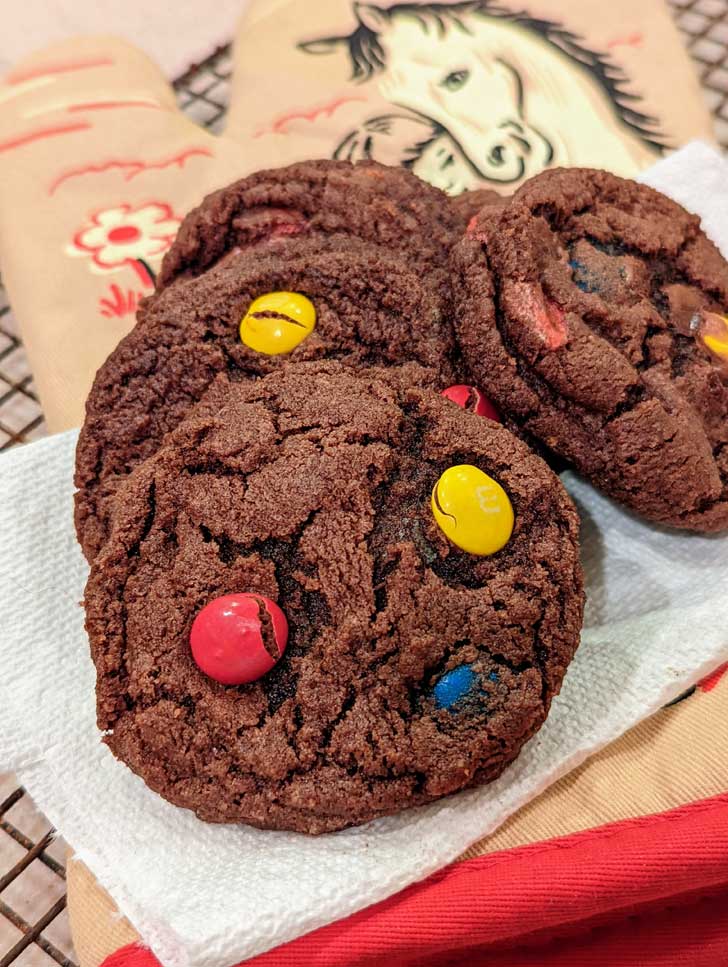 Gluten-Free Version with Bob's 1 to 1
The only kind of gluten-free flour I have now is Bob's 1 to 1 Gluten-Free Flour. It worked well as usual as a 1 to 1 sub without any major changes. However, I did test one little trick for making gluten-free cookies less gritty, which is to add cream cheese. I do feel that adding 3 tablespoons of cream cheese to the butter mixture cuts the grit. The cookies were good without it, but a little better with. Another tip for making gluten-free cookies is to add a little cream cheese.
Harris Teeter Sugar Bag Cookies Recipe
These are pretty easy, but here are some tips.
Adding M&Ms is always a good idea, but especially in these cookies. They're very chewy, so the crunchy M&Ms go well. I had some left over from the Instant Pot Mayonnaise Cake.
Make sure to use salted butter or add about ¾ teaspoon salt to bump up the flavor. I know someone who used unsalted butter and didn't add salt (it was Fuzz) and complained the cookies tasted flat. She tasted them again with salt and there was a world of difference.
I tested this cookie recipe with different cocoa powders. For one batch I used a mixture of natural and Dutch and the other I used just natural. The cookies made with the natural cocoa powder baked up a little thicker, but I liked the texture of the cookies with the mix of Dutch and natural better. You really can't lose with either.
For a deeper flavor, add ½ teaspoon instant espresso powder.
As mentioned above, if you are making a gluten-free version using gluten-free flour, add 3 tablespoons (42 grams) of cream cheese to the butter. The cream cheese makes the gluten-free cookies taste less gritty.
Similar Cookies
Recipe
Harris Teeter Sugar Bag Cookies
The Double Chocolate Cookies from the side of the Harris Teeter brand sugar bag.
Ingredients 
2

cups

unbleached all-purpose flour

(260 grams) or 260 grams gluten-free flour**

⅓

cup

unsweetened cocoa powder, natural, Dutch or a mix of the two cocoas.

(30 grams)

1

teaspoon

baking soda

¾

teaspoon

salt only if using unsalted butter

2

sticks

unsalted butter or salted butter (omit salt if salted)

softened (230 grams)

1 ¼

cup

granulated sugar

(250 grams)

1

large

egg

1

teaspoon

vanilla

½

cup

M&Ms (optional)
Instructions 
Preheat the oven to 375 degrees F. Have ready two ungreased baking sheets.

Mix the flour, cocoa powder, baking soda and salt (if using) together in a bowl and set aside.

Using an electric mixer, cream the sugar and butter. Beat in egg and vanilla, then add the flour mixture and stir until blended. If using chocolate chips or M&Ms, add them too.

Drop the dough by mounds on the baking sheets spacing mounds about 2 inches apart. You can use a rounded tablespoon or a large cookie scoop, in which case you won't get as many cookies and they will take slightly longer to bake.

Bake one sheet at a time on center rack for 8-11 minutes or until cookies appear set. If you made the cookies larger, it may take 12 to 13 minutes. Remove from oven and let cool on baking sheet for about 2 minutes. Transfer to a wire rack to finish cooling.
Notes
I use Bob's 1 to 1 gluten-free flour.  Tip:  If using gluten-free flour, try adding 3 tablespoons of cream cheese in with the butter.  It helps curb grittiness.